The third annual NOLA Mac n' Cheese Festival presented by Waitr returns to Louis Armstrong Park this weekend! Come carb up while listening to live music and meandering through the local artist vendor market from 11am-6pm. The weather is supposed to cool off significantly this weekend, so those that endured Beignet Fest last weekend won't have to battle the same heat.
Come carb-up while listening to Live music and shopping our local artist market. This year, there are 15 different food and beverage vendors participating waiting to serve up your new favorite mac n cheese snack. Vendors include local favorites such as Squeezy Street Lemonade, Frey Smoked Meats Co., Manning's, and more. While indulging in your favorite cheesy bites, don't forget to enjoy the awesome live music including a closing set from NOLA songstress Robin Barnes!
Check out the music schedule below:
11:00 – 11:30 AM – DJ Doug Funnie

11:30 AM – 12:30 PM – Red Hot Gentilly Peppers
12:30 -1 PM – DJ Doug

1:00 – 2:00 PM – Marigny Street Brass Band with Big Chief Juan Pardo

2:00 – 3:00 PM – Mac n' Cheese Eating Contest and Best Mac n' Cheese winner announcement

3:00 – 4:00 PM – J & The Causeways

4:00 – 4:30 PM – DJ Doug Funnie

4:30 – 5:30 PM – Robin Barnes
Some new additions to the festival this year include a dedicated "Kid's Zone" presented by the Special Olympics of Louisiana. A portion of festival profits from this event will benefit the SOLA organization.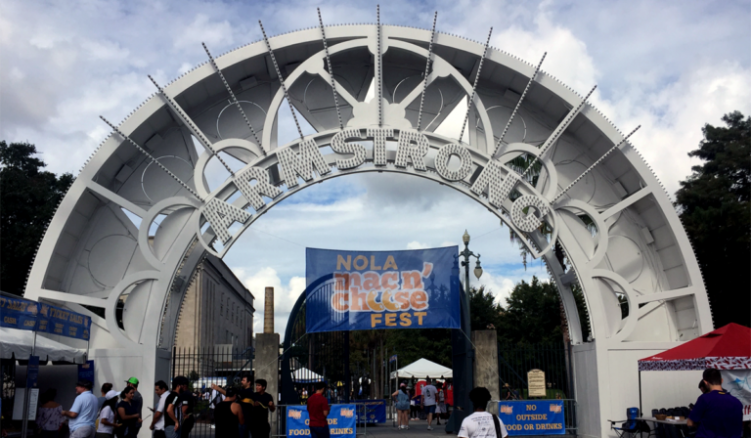 Turning things up even more is the guest celebrity judges honing in on the top cheesy dish. Judges include Evie of @Evie_Eats, Stephen of @TheNola15, and The Organ Grinders.
Images via Mac N Cheese Festival.