Folk-pop troubadour Mat Kearney is coming to New Orleans with his acoustic trio later this month. Grab your tickets here.
---
When Mat Kearney started recording music During an impromptu trip to Nashville, he knew he had found his calling. Shortly after, he called home to Oregon and told his family he wasn't coming back. Since then, the singer/songwriter has recorded multiple Top 20 hits and seven studio albums. This fall, the singer is traveling the country with his Acoustic Trio Tour. Featuring special guest Marc Scibilia, the tour will stop at Civic Theatre on November 10.
Kearney's latest full-length, 2021's January Flower, is a collection of honest, stripped-down songs that brings the musician back to his singer-songwriter roots. In January 2019, Kearney packed up his recording gear and decamped to an isolated house in Joshua Tree. During the desert respite, a massive storm hit, deluging the area with record rainfall and shutting down all power. With the light of the wood-burning stove to guide the way, Kearney took the opportunity to explore music from a new angle, armed with only his voice and an acoustic guitar. This was the beginning of a year-long process of rediscovering why he loves writing songs in the first place.
January Flower recalls Kearney's early work on his gold-selling album, Nothing Left To Lose. His vast touring history, which includes treks with John Mayer, Sheryl Crow, and NEEDTOBREATHE, is evident in the vibrancy of his songs. The musician has seen his tracks placed on Grey's Anatomy, 30 Rock, and NCIS. Overall, he has over 2.5 billion global streams. It's been a long and winding path to where he is now, but it's a journey he's happy to be taking.
Mat Kearney in New Orleans
Hot off the January Flower tour, Kearney took quickly back to the road for his Acoustic Trio Tour. Much like his latest album, this tour showcases the artist back in touch with his songwriting roots: simple guitar playing, vulnerable lyrics, and a love for music. The tour also features special guest and fellow songwriter Marc Scibilia, with whom Kearney collaborated on the latest single "Smile."
Don't miss Mat Kearney with Marc Scibilia at Civic Theatre in New Orleans on November 10. Tickets start at $29.50.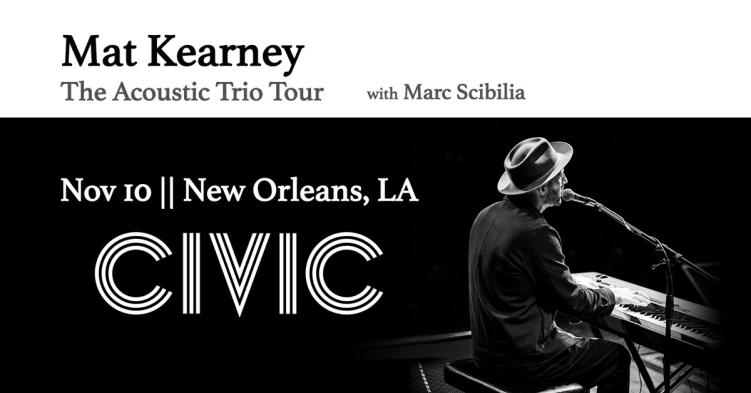 ---
Doors: 8 PM | Civic Theatre | Thurs. November 10, 2022
---
This editorial is Supported By BROOKLYN MADE PRESENTS. Supported by is an advertorial series used to describe editorially independent River Beats content that is supported by a client's advertising spend.