Over Halloween weekend, the city of New Orleans is more alive than ever. The Big Easy's schedule over Halloween weekend is jam-packed with festivities full of music, food, art, and culture that will guarantee a scary-good time. If you're a music connoisseur of ear-bending varieties of the electronic industry, you might want to find yourself at Mardi Gras World Saturday night for the annual Hell's Gala Feat. Steve Aoki, Mija, Bleep Bloop, Wuki + more. Winter Circle Productions and Encore Entertainment have put together a spectacular, genre-defying line-up of diverse headliners to play on two stages along with several of the local scene's biggest artists.
Although we already know the night is guaranteed to be a wild ride, our anticipation is through the roof to see where Mija takes us. Los Angeles-based DJ/producer Amber Giles, better known as Mija, makes her return to Mardi Gras World, shortly after kicking off her FK A GENRE Tour just over a week ago. Ever since her spontaneous b2b sunrise set with Skrillex on the Kalliope stage at Bonnaroo 2014, Mija has been making a name for herself throughout the industry. From that set, Skrillex knew she wasn't a talent to overlook and took her under his wing.
From there, she showed the world what she had to offer when she landed a set at TomorrowWorld just months later. At TomorrowWorld she dominated with a loaded two-hour set that had everyone asking for more. Mija has a beautifully sporadic style to her sets and mixes that will take you around the block of every genre from house, to techno, to old school hip, to drum and bass, and then some. She plays everything in the book but does it with such high skill and energy that she's taking the industry by storm with her sets, mixes and released tracks on Skrillex's label OWLSA.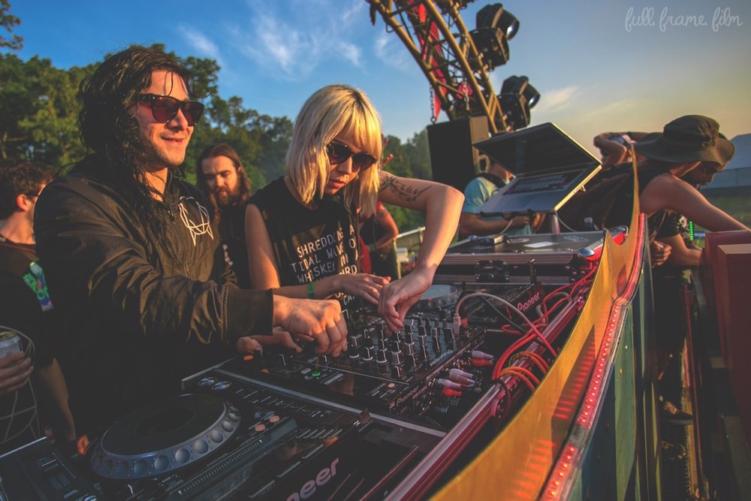 Her style stands as the inspiration for the FK A GENRE movement that she has curated into a tour which features some of the biggest names in the industry such as: A-Trak, Anna Lunoe, Kill the Noise, Justin Martin, Wuki, and many more eclectic artists from all across the board. Each tour date has separate lineups featuring artists from a range of genres who will be following the tour's motto. The tour allows for no boundaries or restriction of setlists and the artist's' freedom to play whatever and whoever they please. The chance to be able to see these artists perform at their fullest level of expression is truly something special. To gear up for the tour, Mija released a FK A GENRE mix earlier this month that has us on our seats for a little taste of the tour that we'll receive at Hell's Gala.
[soundcloud url="https://api.soundcloud.com/tracks/286036633″ params="color=ff5500&auto_play=false&hide_related=false&show_comments=true&show_user=true&show_reposts=false" width="100%" height="166″ iframe="true" /]
Mija will be playing as support for the infamous cake-launching producer, Steve Aoki along with local DJ/producers Klutch and P-Tab on the Hell's Gala Stage. A local collective, Dohm Collective will be hosting the Dohm Stage featuring the high energy space-bass producer Bleep Bloop. Wuki, electro-bass DJ/producer from Denver, will also be joining the party in the Dohm with the local Dohm Collective members: Sunsabetchez, LoMeyn, Zupparty, Dino Brawl and C-Lab. This bill is one out of this world and is guaranteed to be a scary good time for a Halloween celebration.
Tickets for Hell's Gala are on sale now!
CONNECT WITH RIVER BEATS
facebook |twitter | instagram | youtube | soundcloud  | mixcloud