Sometimes, you just need some comfort food and a lunch beer. NOLA Pizza Co., the new Pizza spot inside NOLA Brewing, announced a new take on a regional staple – the plate lunch.
Sometimes known as a "meat-and-three," a Louisiana plate lunch is traditionally loaded with southern-style comfort foods and hearty sides. Typically served cafeteria-style, plate lunches feature large portions that merge the comforts of home-cooking with the convenience of buffet-style dining.
With lunching New Orleanians in mind, the local pizzeria created their own version of the plate lunch. Available for $9.95 from 11 am – 3 pm on Mondays – Thursdays, the special consists of
2 New York-style pizza slices
A side salad
A NOLA Brewing non-alcoholic Hop'd Tea or 12 oz. core lineup draft beer, which includes: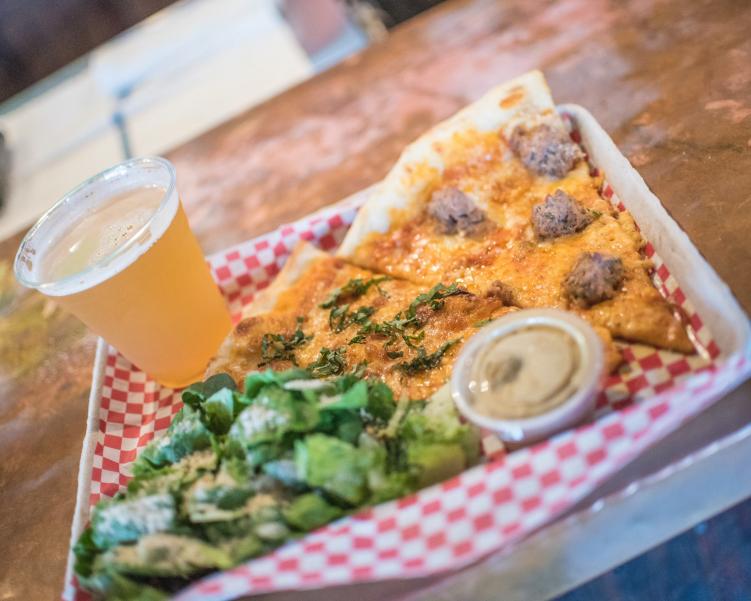 It may not be smothered pork chops of crawfish étouffée, but this modern twist on a historic classic will be sure to keep the office workers and congregating lunchers happy. And you may have swapped your traditional gravy-topped starch for a local beer, but we can't imagine you're complaining.
Plus – this option is less likely to have you falling asleep at your desk after your lunch break.
NOLA Pizza Co. opened to the public on Sunday, November 1, 2020, after NOLA Brewing expanded to include the classic 'za. The indoor/outdoor pizzeria serves up traditional NYC-style pizza.
---
Follow River Beats New Orleans to stay up to date on your favorite restaurants IN NEW ORLEANS.
featured images via NOLA Pizza Co.