If you're a music-lover in New Orleans, you know about peaches. Not only is it a local and historic staple, but it's even been named one of the best record stores in the world.
The family-owned shop has been in NOLA since 1975 – though not always at their iconic Magazine Street location. Since then, the NOLA grown music emporium has become internationally known, and will always have a place in our hearts.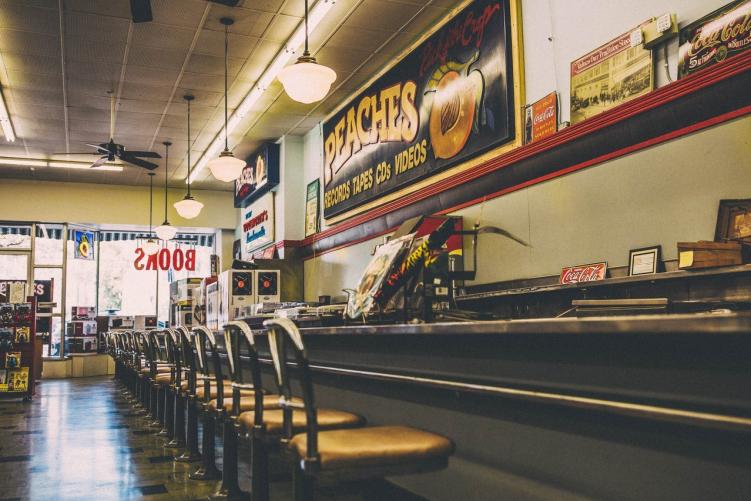 Originally opening in Carrollton 45 years ago, a flourishing community and a friendly neighborhood vibe have been at the heart of Peaches Records since the beginning. Store owner Shirani Rea owns the shop and runs it with the help of her children Lee and Lillie.
In 2016, the shop moved to Magazine Street, right by the iconic dive-bar Ms. Mae's. They first opened in only one of two side-by-side shops that had previously been antique stores. Before long, they took over the ~ 15,000 square feet of retail space that they now have.
Rea sites her love for the music and the city of New Orleans as the heart of the business. And with regular celebrations & performances throughout the year – Peaches has become a must-stop for anyone passing through looking to take a peek into the New Orleans music scene.
"I fell in love with the passion of the musicians in my city and I wanted to do whatever I could to help them succeed. I wanted the world to hear their music."

Shirani Rea, owner of Peaches Records
Aside from the masses of vinyl records and CDs that line the aisles, they also carry a fun selection of gifts items. From artist-themed coffee mugs and stickers to locally made pillar candles, toys, tee-shirts, and gag gifts – Christmas shopping anyone?
Though events are at a saddening-halt for the moment, Peaches usually hosts live music and community events with increasing regularity. You can check out their calendar for news and updates here.
As the music and New Orleans lovers we are here at River Beats, we're certainly grateful to have Peaches in town. And in a time when local establishments need our support now more than ever – consider stopping by Peaches for some of your Christmas shopping this year.
---
Follow River Beats New Orleans to stay up to date on your favorite places IN NEW ORLEANS.
---
featured image via Peaches Records