Rosalie Botanicals is a treasure trove for young witchy women and herbal enthusiasts. The herbal shop and workshop space specialize in Western medicinal herbs and extracts all while offering regular training on holistic medicine.
When you walk into the small shop space right off the Bayou St. John, the expansive herb wall is the first thing to catch your eye. All of their herbs and teas are organically grown or ethically wildcrafted.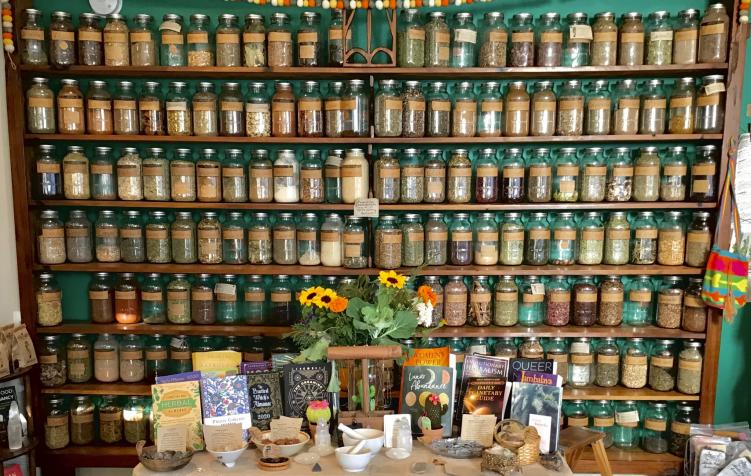 Not just an herb shop, Rosalie also offers a growing assortment of high quality & affordably priced organic essential oils, carrier oils, bulk shea and cocoa butter, local honey and beeswax, and other hard-to-find ingredients so that locals can create their own herbal and beauty concoctions.
Looking for some nice gifts to give but don't have the time to make them yourself? No problem. You can also shop for their curated selection of handmade natural products. They have everything from soaps and gems to syrups, salves, bath salts, and perfumes. You can also pick up a good, witchy book or two. The shop openly takes pride in supporting local makers, and many of their suppliers are local, woman-owned, or both!
If you're interested in incorporating herbal medicine into your daily wellness, you can work one-on-one with a clinical herbalist to address acute or ongoing issues with the custom-tailored herbal routine.
Rosalie Botanicals also serves as a community hub for learning about herbal healing & natural health. Their extensive curriculum of classes and workshop series has intrigued flocks of local herbalists. Their most popular is the hands-on, beginner herbalist course called The Heart of Herbal Medicine. They also host donation-based, community events such as our monthly New Moon Women's Circle. You can see their calendar page for more info on local events.
You can support Rosalie Botanicals this season by booking a shopping appointment or scheduling a curbside pickup. The shop is located at 3201 Toulouse St. and is open from Wednesday to Saturday, 10 am – 4 pm.
---
Follow River Beats New Orleans to stay up to date on your favorite places IN NEW ORLEANS.
---
featured image via Rosalie Botanicals