Nestled deep in a trippy blend of Mother Nature's groove and a kaleidoscope of abandoned structures, Oakdale is humming with a familiar cosmic rhythm. Fête du VOID returns…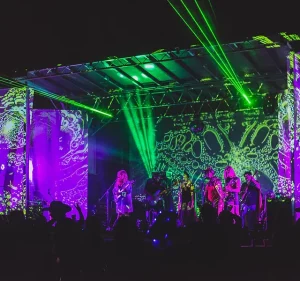 Fête Du VOID is your yearly ticket to a 2-day cosmic camping extravaganza nestled in the enchanting heart of Oakdale, Louisiana. This out-of-this-world experience is the brainchild of none other than our local groove wizards, The Iceman Special. They're the ones steering this psychedelic ship through the cosmos sailing from September 29th to October 1st.
As you wander through these reimagined spaces, you'll spiral into a surreal tapestry of history, nature, and music. It's a testament to the festival's commitment to going green and the far-out ability of human creativity to vibe with the environment.
So, without further ado, let's dive into the Top 5 Reasons why you should ride the wave to Fête du VOID next weekend: 
---
1. Cosmic Musical Odyssey:
Picture this: Multiple stages, some hidden indoors and others basking under the open sky, serving as portals to host a stellar lineup of bands and DJs from every corner of the land. It's a melting pot of musical magic where genres collide, and intergalactic jams unfold.
2. Artistic Extravaganza:
It's not just about the music. Fête du VOID is a canvas for artists and creators to unleash their imagination. You'll find captivating visual art installations, interactive experiences, and a celebration of all things creative.
3. Community & Connection:
Beyond the music and art, Fête du Void is a gathering of like-minded souls. It's a place where strangers become friends, and the sense of unity and positivity is palpable. It's more than a festival; it's a family reunion.
4. ALL NIGHT DELIGHT TILL MORNING SERENITY
The fun kicks off on Friday at 1 p.m. and continues into the late hours, giving you a full day of musical enjoyment after setting up camp. Plus, enjoy the perks of self-care each morning. Whether it's yoga at Le Pavilion or mimosas at the Food Court, you can set the perfect tone for your day.
5. Swamp Funk Pioneers:
With their signature "swamp funk" sound, be prepared as The Iceman sets the tone for an unforgettable musical experience. With their newest album having dropped earlier this month, they will be sure to get you moving and ignite the vibes.
---
Fete Du Void is more than just a festival; it's a transformative experience waiting to be explored. Tickets are still available on their website, so act now and ensure you don't miss out on this unforgettable experience just a week away.
Embrace the unknown, celebrate the music, and tune in to the rhythm of Fete Du Void. Your cosmic journey awaits!