The 2021 Fête Du Void happens October 1 – 2 in Oakdale, Louisiana. Get your tickets here.
---
"We are honored to hold the torch yet again for this culture and community." As more and more fall events get canceled, this message from the Fête Du Void team comes with reassurance.
The local, Louisiana festival has had no choice but to hunker down and wait out the pandemic over the past year and a half, but as the music and arts experience continues to grow, their 2021 resurgence is shaping up to be pretty triumphant.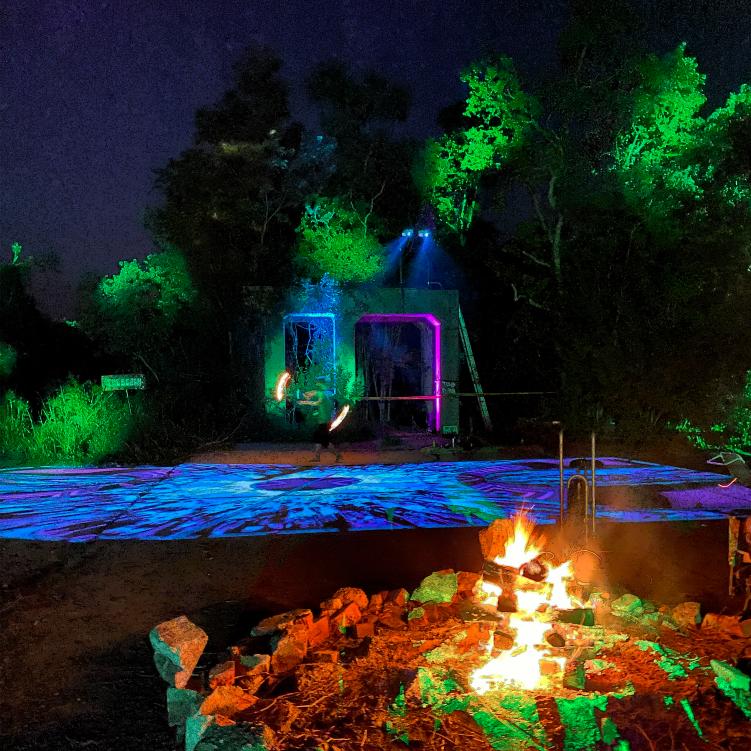 Fête du VOID is an annual 2-day camping, music & arts getaway located in Oakdale. Louisiana.  The event is pioneered and led by the local "swamp funk" band, The Iceman Special. The festival features multiple stages – both indoor & out – that host bands & DJs from all over the country.
Even prior to the pandemic, the camping fest was a limited capacity event. It's a major ethos of the artist's group to give a BIG festival experience with a SMALL footprint.
This year, the team boasts over 40 acts and performances in the two-day lineup at the beginning of October. With a WIDE variety of genres, it's the upcoming Louisiana music scene that represents the heart of Krewe De VOID. Zydeco, psych-rock, punk, jazz, acoustic, ambient, electronic, theater, you will find it all at Fête.
After a year with little to no musical life in the city, it's clear the team is hungry for some action.
"We have been doing some serious ground work over the last two and a half years. Our goal is to open this more than once a year, for a safer way to experience outdoor music."
In an act of nature-based collusion, the Fête Du Void team repurposed the overgrown ruins of Oakdale for magical, music stages. The venue is located by The Hardwood Mill, a historic Lumberyard built in the early 1900s. It started the entire town of Oakdale and essentially initiated the Lumber industry in Central Louisiana.
Nowadays, Oakdale is a mix of abandoned structures with overgrown nature reclaiming its territory. Innate lovers of nature, Team FDV cleaned up the ruins and repurposed them for new structures and stages.
When it came time for The Iceman Special to produce their 2020 Album, "Circular Purple Circus," they bunkered in this very spot. In that way, the album is strongly based on actual events while living in this utopia.
Registered as a 501(c)(3) non-profit organization, the Fête team cites mental health as a wellness cornerstone of the festival. It's their hope that through an amazing weekend experience, festival-goers will leave with a positive attitude towards life and towards others.
"We hope that more Louisiana music fans give us the chance to prove ourselves in making this grassroots, community-built festival a staple in this state and in this unique culture," quotes the team.
---
Fête Du Void takes place on October 1st – 2nd in Oakdale, LA
Follow River Beats New Orleans to stay up to date on Music IN NEW ORLEANS.