If you've yet to catch the buzz around Nola-based group People Museum, then get ready. With the release of their single "Eye 2 Eye", the duo has made it clear that they're coming for your ears—and with the rest of their album, I Dreamt You in Technicolor, they'll take your full attention while they're at it
People Museum is formed by the collaboration of artists Claire Givens and Jeremy Phipps. Both artists, Louisiana-raised, come from a rich musical background.
Jeremy, a trombone player who found his groove performing in marching bands and jazz groups, adds a brass influence all across the project. Claire, a singer learned from the churches of North Louisiana, is distinct as well. The two share an interest in pop production, a bond that merges two unique southern influences into a fresh perspective on their upcoming LP.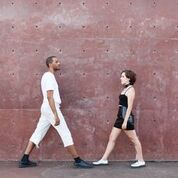 Take for example, the aforementioned new release, "Eye 2 Eye". The song is a clean production, making a statement about the new style People Museum is creating.
Givens uses her voice to weave a story about disconnected lovers who just can't meet. A trombone licks, smoothly supporting the percussion and the rhythm of a chorus that is sure to find a home in your head.
It's a move that feels natural, especially for local Big Easy listeners. It's an addition that creates diversity and distinctness in the group's sound—a succinct, brass-infused style of alt-indie pop.
The rest of the album plays out like the single. There's a pleasant section of harmonies on "Its Too Real". Some beautiful brass veins in the numbers, "Closing", and (a prior release), "Fly By". And all across the album serious lyrics abound which arrive in a fresh, inviting style.
Every work on I Dreamt You in Technicolor assures us that People Museum knows exactly who they are, and that they have more to come.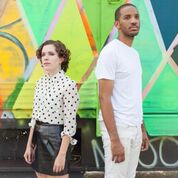 People Museum's debut album I Dreamt You in Technicolor comes out September 28th. Check out the show, and follow River Beats for upcoming coverage.
Listen to People Museum's newest single "Eye 2 Eye" on Soundcloud, or get down with them live at some upcoming gigs:
8/31 @ 102.3 WHIV FM, New Orleans
9/15 @ Atmosphere Bistro, Lafayette
9/28 @ Saturn Bar, New Orleans
Featured Picture Credit: People Museum Facebook