The LSU Tigers are coming off of a disappointing 2017 season. In a broader sense, LSU football is coming off a string of subpar seasons. The Tigers have not played in a SEC championship game since 2011, and Alabama has clearly separated themselves from their SEC West competition.
However, there are plenty of reasons for Tiger fans to be optimistic. LSU consistently features NFL talent and blue-chip recruits, so they will be well equipped to handle a daunting conference schedule. Will this be the year the Tigers play to their potential, or will LSU be remanded to a third straight Citrus Bowl?
Schedule Preview: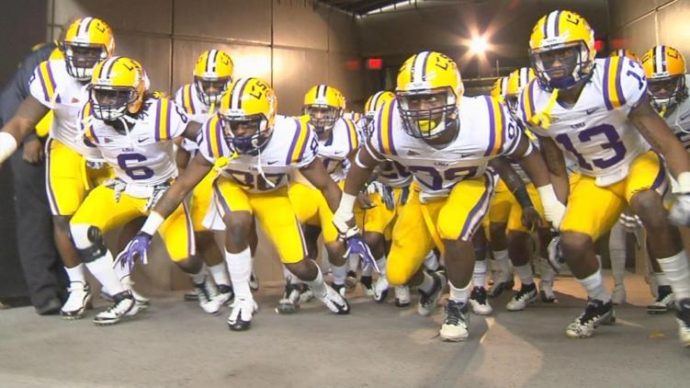 September 2 – Miami vs LSU (neutral field)
Ed Orgeron's crew will open the 2018 season against Miami in AT&T Stadium. Last year, Miami didn't lose a game until December, and the Hurricanes will be equally formidable in 2018. This opener will be an early indicator of LSU's poise in marquee games.
If the Tigers can move the ball and keep the "turnover chain" concealed, they will escape the Lone Star State 1-0.
September 8 – Southeastern @ LSU
College football season doesn't officially start until LSU obliterates an FCS opponent at Tiger Stadium. Think of Southeastern as the Generals, and LSU as the Globetrotters. Sure, we know how the game is going to end, but the real fun is watching LSU light up the scoreboard.
If all goes according to plan, the game will be out of hand by halftime and the Tigers will coast to 2-0.
September 15- LSU @ Auburn
LSU opens its SEC schedule with an imposing task: stare down the Auburn Tigers at Jordan-Hare. Auburn won the SEC West in 2017, and all signs point towards another stellar year for Alabama's second-best football team. I want to have faith in LSU, but this game has all the earmarks of a flop for the purple and gold.
If Auburn starts fast and makes LSU play from behind, it might be a long 60 minutes. I have LSU stumbling back to Baton Rouge at 2-1.
September 22 – Louisiana Tech @ LSU
Read the week 2 preview above, and replace "Southeastern" with "Louisiana Tech". LSU figures to dismantle the Bulldogs without much stress. Hopefully, the Tigers can use their de facto bye week to fine tune the offense as they approach the heart of their schedule.
September 29 – Ole Miss @ LSU
Say what you will about Ole Miss, but they're usually a scrappy team. The Rebels have a frustrating tendency to play above their level in big games. However, LSU has the luxury of playing in Death Valley, which may prove to be vital.
The Tigers also have a clear talent advantage over Ole Miss on both sides of the ball. I expect the Rebels to land some body blows before LSU pulls away in the second have and improves to 4-1.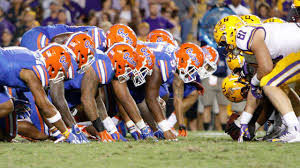 October 6 – LSU @ Florida
This game represents a crossroads for the Tigers. If they survive the showdown in The Swamp, LSU can stride towards the finish line with momentum. A loss, however, would spell the end of any longshot playoff aspirations.
LSU has no excuse to be anything less than fully engaged. I believe the Gators will give LSU a full 60 minutes, but a turnover late saves the Tigers. LSU moves to 5-1.
October 13 – Georgia @ LSU
The one thing LSU has working in its favor is home field advantage. However, the Georgia Bulldogs are the real deal. The Tigers need to play their best four quarters of football to stay in this game. If the stars align, LSU has enough firepower to steal a win from Georgia.
Realistically, the Bulldogs will outclass LSU and knock the Tigers to 5-2.
October 20 – Mississippi State @ LSU
By this point, LSU will most likely be out of the playoff race. There's no shame in that, the Tigers were always going to be on the outside looking in. LSU will face Mississippi State in the second game of a brutal three-game homestand. I'll give the Tigers the benefit of the doubt, but a loss to Mississippi State could be bad news for Ed Orgeron.
I expect the Tigers to improve to 6-2 leading up to the Alabama game.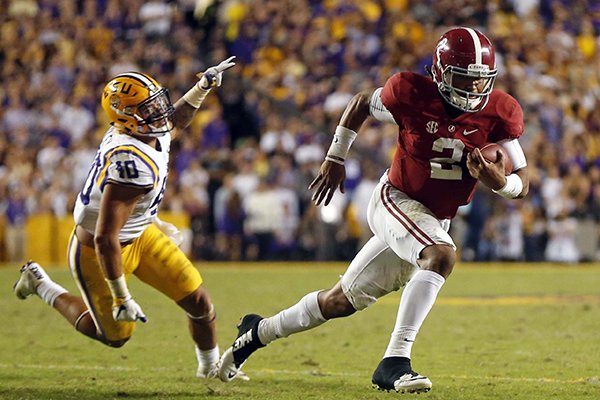 November 3 – Alabama @ LSU
Every LSU fan knows this is the biggest game of the year, every year. Even though LSU is outmatched, they always play with extra intensity when the Tide comes to town. Is it going to make a difference? Probably not. Alabama has been the class of college football for a decade, and Nick Saban has another all-world roster set to continue that trend.
The Tigers will put up a good fight for the home crowd before falling to 6-3.
November 10 – LSU @ Arkansas
With three conference losses, an SEC championship birth is now out of the question. LSU will shift their mindset towards bowl positioning and play freely against the Razorbacks. Arkansas rarely gives LSU serious trouble, and the same should hold true on November 10.
Barring something unforeseen, the Tigers should win this road game comfortably and move to 7-3
November 17 – Rice @ LSU
In their final home game, LSU will take out the disappointment of a rocky second half on a helpless Rice team. This game will be a much-welcomed reprieve from an otherwise diabolical schedule.
To put it plainly, LSU will be scoring early and often. Rice, on the other hand, not so much. Is there a mercy rule in college football?
November 24 – LSU @ Texas A&M
LSU wraps up the regular season with a trip to College Station. The beaten, weary Tigers team will need to dig deep in order to finish the year strong. The Aggies always play tough in front of their home fans, and they are capable of putting up points in bunches. However, the Tigers have a depth of impact players that Texas A&M cannot match.
If LSU gets consistent stops on defense, the Aggies may not be able to hang for long.
Summary:
I believe LSU finishes the season 9-3 with a handful of impressive wins and three conference losses. The Tigers will show their usual flashes of brilliance, but they are not ready to compete for a national championship in 2018. If LSU survives their schedule with less than three losses, that would be a fantastic year for Ed Orgeron.
Featured Image courtesy of LSU Athletics