You can't keep the parties from spilling into the streets during Mardi Gras season. So why not turn them into one giant block party? That's what Picnic Provisions and Whiskey is doing to celebrate the Krewe of Thoth on Sunday the 23rd.
While the massive floats and carnival royalty rolls by, guests of the Picnic block party can enjoy a drink on the restaurant's Magazine St. lawn. Wet your whistle with beer buckets, bloody marys and even a specialty king cake daiquiri from the modern eatery.
Having just opened last September, Picnic was recently awarded by New Orleans Magazine's Best of Dining 2019. Come for the parade, but stay for the delectable grab and go chicken and cozy, homestyle atmosphere.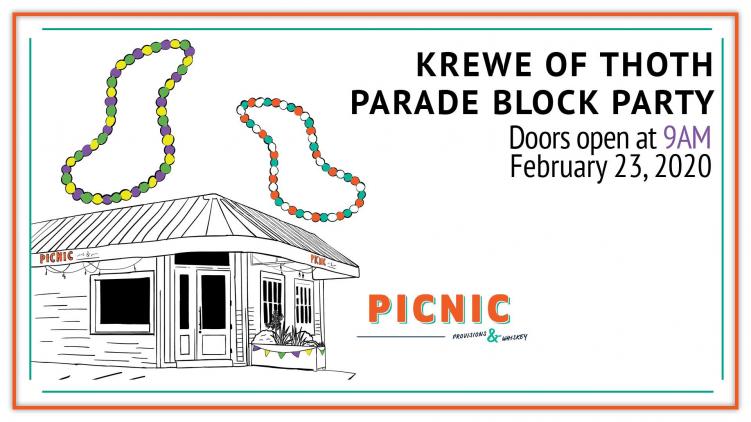 When the three co-founders of Picnic Provisions + Whiskey joined forces, they wanted to bring "a cozy neighborhood spot, great food, outdoors, and a great atmosphere." Through award-winning, homestyle fried chicken, welcoming decor and specialty whiskey flights, it's hard not to fall in love with the newest uptown corner spot.
Join the neighborhood celebration with the Picnic block party during the Thoth Parade on Feb. 23. The restaurant will open early – at 9 am – for the big day. Grab your friends, a bucket of chicken, a king cake daiquiri and claim your spot on the lawn.
---
Follow River Beats New Orleans to stay up to date on events in New Orleans
---
This editorial is Supported By Picnic Provisions & Whiskey. Supported by is an advertorial series used to describe editorially independent River Beats content that is supported by a client's advertising spend.
Featured Image via Getty Images