This article is the first part of a series covering the Preservation Hall Foundation's Sousafund Program. Our next piece features a conversation with last years' recipients, and Preservation Hall Foundation Programs Director Ashley Shabankareh.
---
The folks at the Preservation Hall Foundation are sounding the horn on the approaching deadline for applications to their 2019 Sousafund Program.
Sousafund is a program that grants instruments, in this case tubas and upright basses, to socioeconomically disadvantaged music students. With marching band season right around the corner, the need for these instruments is peaking. The Preservation Hall Foundation's announcement calls for school administrators, mentors and educators to recommend at-need students for application. The deadline is August 30th.
The Sousafund program began last year with an initial class of four students. One of the most unique aspects of the program is that the instruments are granted on a direct, individual basis. The beneficiaries, rather than school music programs, are loaned ownership of the instruments. Students maintain this ownership as long as they continue to play. The opportunity to convert into permanent ownership is available if the students elect to pursue a career in musicianship.
Applications are open to all music students in Orleans and Jefferson Parishes until August 30th. If you are an at-need music student, or know someone who is, send them to the application link here: Sousafund 2019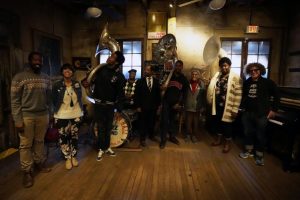 ---