Do you love New Orleans? Of course, you do. Do you want to support local artists this holiday season? We hope you do. If you're still looking for a unique and classically New Orleans gift, Preservation HALLiday Grams are the newest way to support a favorite local establishment.
The HALLiday Grams are available for any recipient in Orleans or Jefferson Parish. These are a great, limited-time option for music fans still looking for special holiday gifts for local family, friends, or themselves!
With proceeds benefitting the Hall and providing much-needed income for its 60+ musicians still fighting big losses due to COVID-19's impact on our local music scene, a $250 HALLiday Gram delivered by a Preservation Hall musician includes:
A two-song, porch-side musical performance
1 Black PHJB Drum Logo Unisex Tee & 1 Kelly Green PHJB Drum Logo Unisex Tee
PHJB Drum Ornament (with working drum pedal!)
Alexa Pulitzer "Long Pad" Stationery Notepad
2 Preservation Hall Sweater Coozies
2 Preservation Hall Enamel Pins
1 Wooden Postcard
Preservation HALLiday Grams serves as a bridge to the days in which Hall's doors will be open again to fans, friends, and family across the world.
A Preservation Hall store representative will contact recipients to schedule the delivery and musical visit to take place between December 18 and December 23, from 12 PM to 6 PM CDT. A valid Orleans or Jefferson Parish delivery address and current recipient contact information is required.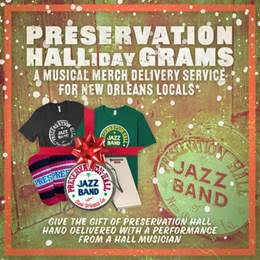 To reserve a Preservation HALLiday Gram, purchase additional merchandise or for more information, please visit the Preservation Hall online store..
Follow River Beats New Orleans to stay up to date on your favorite artists IN NEW ORLEANS.
---