It is every Above & Beyond fans dream to get picked to press the button. This infamous tradition quite ironically began on accident and is now one of the most beloved connections A&B can make with their fans. According to Tony McGuiness, they had "been playing 'Sun and Moon' quite a lot, and obviously, we hear it three times a week when we play, but most people only hear it maybe once a year." This makes the moment even more special, as this series of events almost didn't happen!
There are a slew of fans who have been lucky enough to get chosen. People go all out to get picked: huge signs, outrageous totems, matching t-shirts. In the end, their picks are completely random.
Check out some of the stories below from fans who will forever treasure pushing the button.
September 20 – Secret show – Amanda marie
"I couldn't believe I'd get to see these three men who've shaped the last ten years of my life so intricately musically [on September 20th]. They've always been there in the triumphs and the valleys. […] The moment comes and the button push is seconds away and I see Paavo [Siljamäki] grab my good friend Jeff and I start bawling for him… then… nothing short of magic occurs…
"In the last glimpse I look at Paavo, we make eye contact and he mouths the word 'you' to me and grabs my arm… Before I know it, I'm in front of 150 people doing the impossible, I'm pushing the button." – Amanda
My life did come through for me. I can't even describe my feelings accurately to this day. Resoundingly, I feel grateful, treasured, and worthy of love. Life is still hard, but that moment proved to me I'm going through these things as part of the evolution to my next great self."
march 2, 2018 – San Francisco, California – Stephanie R.
"I've been following A&B for almost 5 years now. About 4 of those years have been filled with me dreaming of one day being blessed with the chance to Push the Button. I have anxiety and bad claustrophobia that have got in the way in the past and stopped me from going up to the rail. […] When tour dates came out for Common Ground, my friend Eevee invited me to the San Francisco show, though I was going to Portland. I kept having this gut feeling that I needed to go to that show in San Fran… so I made it happen! More and more signs were starting to show that I'm on the right path for my life.
As doors opened, I found us a spot front on the rail and said "I am not moving. I am going to push the button". Once Jono and Paavo came on to start their set, I made dang sure that I was noticed! My arms were so tired and everything on my body was hurting but I refused to stop. Once "Blue Sky Action" started, a security guard came and helped me, Eevee, and our friend Megan over the rail to bring us backstage. I was in shock and sobbing the whole time. Paavo walked up, congratulated us, walked us on stage and then we pushed the button.
"This was such a validating moment for me in knowing that I'm exactly where I need to be. I conquered crowd anxiety and claustrophobia to make my dream come true and its something I will cherish for the rest of my life." – Stephanie

November 10, 2016 – McClellan Center – Gabriel S.
I was up front all night dancing, singing along, and making eye contact with the the boys. When Tony jumped down off the stage he made a direct line to me and had security grab me from the crowd. It was the most amazing feeling going up on stage in front of all those people. I've been a fan of Above&Beyond since before TATW started. I still remember hearing their remix of Delirium's Underwater back in 2001.
"Being picked to push the button was such an amazing mix of emotions all at once. I was so incredibly happy to the point of having tears in my eyes, I was nervous and shaking, and also strangely calm all at the same time."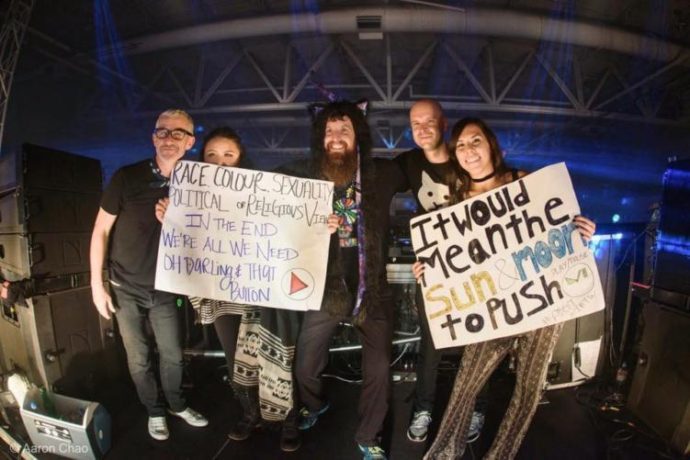 Above & Beyond are currently on a nationwide US tour to connect with fans with their latest album, Common Ground. Purchase tickets for their 'Common Ground Tour' here.