After calculating the online votes, Red Bull has announced the winner of NOLA Has Wiiings – Monique Lorden – an artist, author, and co-illustrator of "I Wish for Freedom." Her winning backboard, "Hoops Dreams and Poetry," is a visual story of childhood hope and community.
Red Bull recently teamed up with the New Orleans Pelicans and renowned visual artist Brandan "BMIKE" Oduns for NOLA HAS WIIINGS, a project dedicated to replacing backboards at basketball courts throughout New Orleans.
The city-wide art project brought artists from around New Orleans together to celebrate, brighten and educate communities through colorful displays of art that showcase the city's unrivaled ability to rebound.
As a woman who once played for an all-boys basketball team as a young girl, this opportunity seems like it was made for Monique Lorden.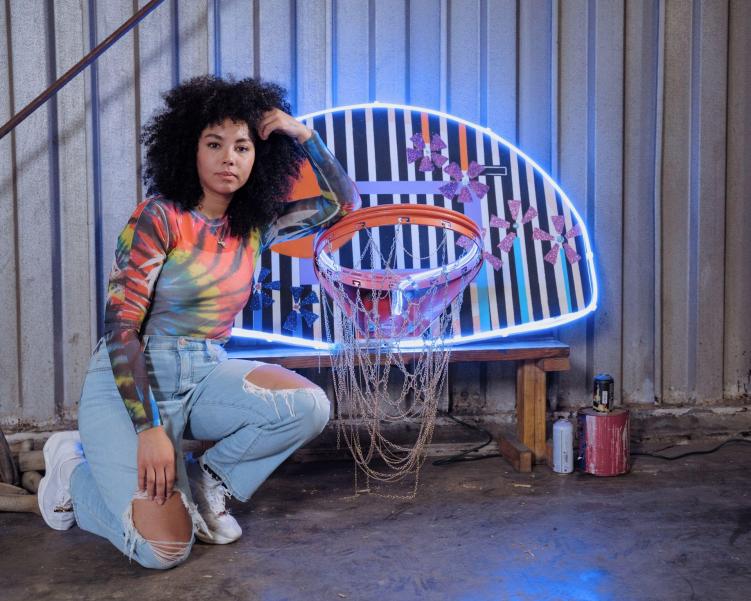 For her piece, "Hoops, Dreams, and Poetry," Lorden fabricated an aluminum backboard, iron rim, and gold chain net. Using her technical skills, she installed and programmed lights around the rim, finishing it off with painted contrasting lines.
As part of a larger community initiative to remove worn backboards from New Orleans parks and replace them with new ones, Lorden complimented all the artists on their innovation and finding their own ways of retelling the story of each backboard. "It was alchemy at its best," she says.
As the winner, Lorden will have the opportunity to conceptualize and design a basketball court that serves New Orleans.
".. I not only told my story but one that is an ode to those who dream, overcame, and those who love the game."

– Monique Lorden
Read the full story of Monique Lorden's journey, in her own words, on RedBull.com. And stay tuned to hear more about her personalized basketball court coming to NOLA.

FOLLOW RIVER BEATS NEW ORLEANS TO STAY UP TO DATE ON YOUR FAVORITE ART AND EVENTS IN NEW ORLEANS.