The iconic artists of New Orleans' Dohm Collective are joining forces with the Krewe De VOID for another epic street party. Silence of the VOID is taking over the streets of Mid-City next weekend with a locally-curated, outdoor silent disco.
On Saturday Sept. 8, members the Dohm Collective and other local artists groups will perform late into the night at DMac's Bar and Grill on the Jeff Davis Parkway. Both indoor and outdoor stages provide a variety of listening opportunities for fans, or locals that just happen to be strolling by.
Friends of the Dohm have been throwing some of the city's most notable parties since 2015. Their team of DJs, visual artists and creatives have an infamous reputation in the electronic scene. From the Dragon's Den and Hell's Gala to Bonnaroo, they create an immersive experience for their audiences. Their last event took over the Republic in June.
Zupparty and Dino Brawl of the Dohm Collective join Techno Club members Tristan Dufrene, Otto, and other local artists at Silence of the Void's outdoor stage. Inside, local "swamp funk" group The Iceman Special play a doubleheader alongside trap artist R!llo and a King Gizzard and the Lizard Wizard listening party. Live painting, a local market, and flow arts performances help round out the classically Nola event.
Music at DMac's starts at 10 p.m. and entry is $10 at the door.
If you're in the neighborhood before then, hit the pre-party down the street. Grand Nathaniel and the Ghosts are performing at Banks St. Bar starting at 8 p.m.. Entry is free. At 10 o'clock sharp join the unofficial parade as they stroll down to DMac's for the big show.
See the full lineup for Silence of the VOID below.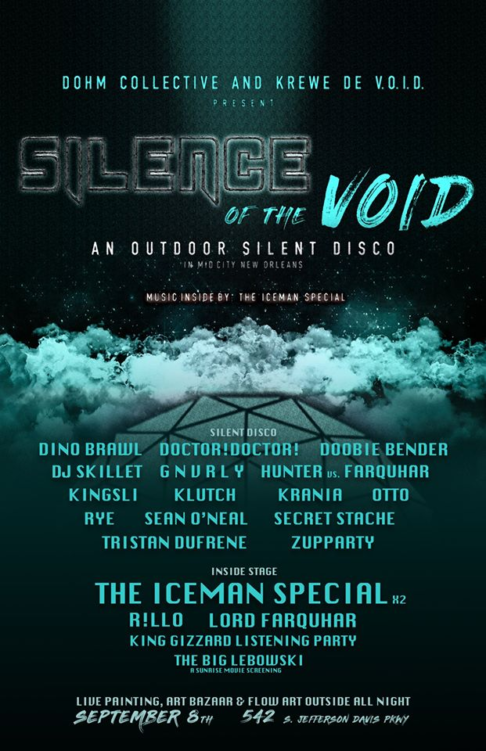 Follow River Beats New Orleans to stay in the know on events in New Orleans!
---
Images via Dohm Collective