Sylvan Esso is returning to The Fillmore in New Orleans this September! Grab your tickets here.
---
At the heart of sylvan esso is a really fun argument. That's what lead singer Amelia Meath says of the electronic pop band she co-creates with her now-husband, Nick Sanborn. The pair are once again on the road in support of a new album. This time, it's their fourth album, No Rules Sandy. You can catch Sylvan Esso along with electro-pop project GRRL in New Orleans at The Fillmore on September 19th.
The argument in question is less of a marital spat and more of an inventive collision of creative ideas. "Nick wants things to sound unsettling, but I want you to take your shirt off and dance. We're trying to make pop songs that aren't on the radio because they're too weird," says Meath.
The North Carolina natives have already snagged a Grammy nomination for their sophomore album, What Now. Similarly, pop triumphs like the hit tracks "Coffee" and "Die Young" have upwards of 60 million streams on Spotify alone.
True to its title, the new Sylvan Esso album No Rules Sandy doesn't just reverse the duo's songwriting formula; instead, it completely abandons it. The outcome is an album that exudes an effortless and genuine blend of the couple's talents. Gone are the signature earth-shaking basslines that defined earlier hits like "Hey Mami" and "Die Young," replaced by the weightless soundscape of songs like "Your Reality" and "Didn't Care."
Don't miss GRRL and Sylvan Esso in New Orleans on Tuesday, September 19th at The Fillmore. Tickets are on sale now. General admission tickets start at $32.50 each.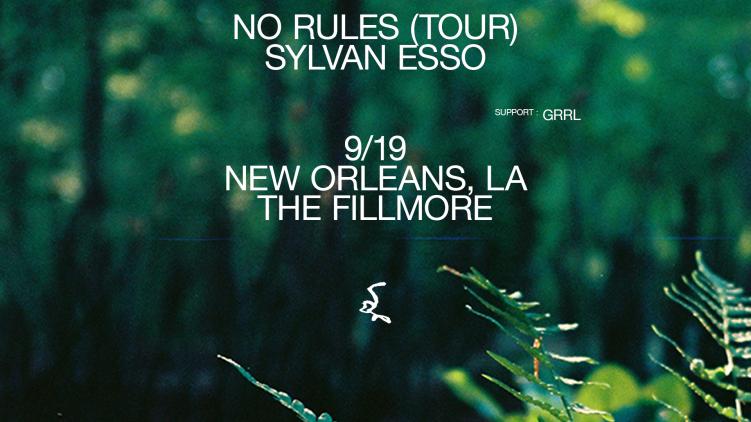 ---
Doors: 7:00 PM | THE FILLMORE – New Orleans | Tuesday, September 19, 2023
---
This editorial is Supported By Live Nation. Supported by is an advertorial series used to describe editorially independent River Beats content that is supported by a client's advertising spend.