The Soul Rebels just announced their "Epic Vibes" tour. Get your tickets for the tour here.
---
On days when it seems like all we hear is cancellation news, The SOul Rebels are here to bring the joy of brass back to the streets. The band just announced part 1 of their EPIC VIBES TOUR, spanning Fall 2021 through Winter 2022.
Touring will include concerts in the Midwest, Northeast, The South, West Coast and a robust schedule of performances in New Orleans. A press release also revealed that The Soul Rebels are excited to release new music this fall in support of the tour and will announce the second installment of the tour in fall 2021.
The Epic Vibes Tour features select concerts with star artists including Tarriona 'Tank' Ball of Tank And The Bangas, famed jazz trumpeter Keyon Harrold and hip hop icon GZA of Wu-Tang Clan.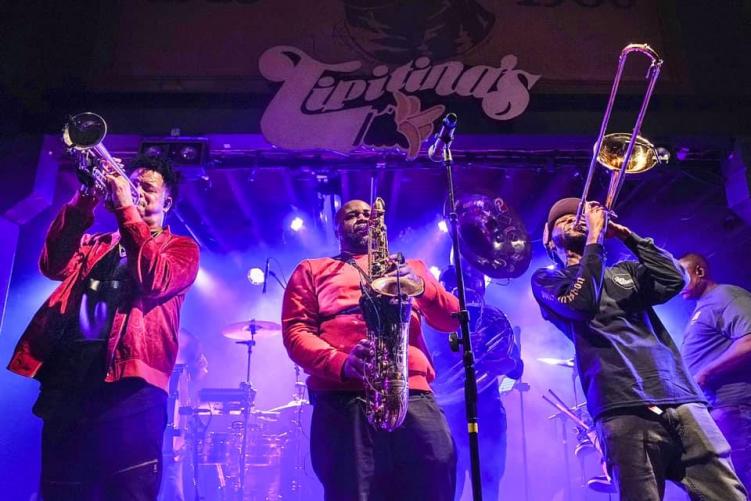 Always bringing the heart and soul to their sets, the 8-piece brass ensemble continuously shares rich musical roots & culture through music. It's a fusion of contemporary music with old-school heart and soul that could only come out of a city like New Orleans.
New Orleans bred and locally loved, The Soul Rebels are already smashing 2021. Coming off of the 2019 success of the POETRY IN MOTION album, the group appeared on The Late Show with Stephen Colbert's popular #PlayAtHome concert series. They also scored a billboard placement in Times Square,  plus new music featured on Netflix, ESPN, and in film and television. It's clear that The Soul Rebels are taking New Orleans brass to national awareness.
They've also become the go-to live band for major artists to share the stage with, from the likes of Katy​ Perry, Nas, Marilyn Manson, and DMX to​ G-Eazy, Rakim, and​ Joey Bada$$. They even toured with Wu-Tang​ Clan and opened for The​ Rolling Stones at​ the Superdome.
Be sure to check them out when they come through New Orleans this October.
---
Check out The Soul Rebels upcoming tour dates below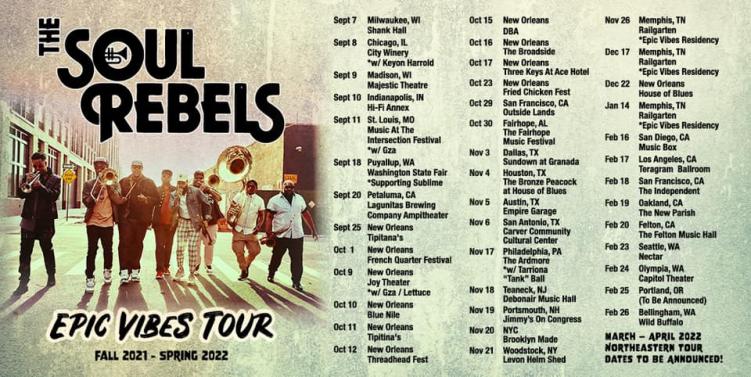 Follow River Beats New Orleans to stay up to date on Music IN NEW ORLEANS.