2018 marks the Twentieth Anniversary for our beloved Voodoo Festival. This year we'll spend another Halloween dancing under the stars at the Altar stage.
We'll enjoy the poboys and fried duck quesadillas at the Forked Up Food Court. We'll wander the market place and immersive art installations while the ferris wheel twinkles behind us. We'll take a refresher at the Brew Dat Beer Hall and ride the rail with all we've got at the PLUR Stage. 
Earlier this week River Beats reported on a special promotional event held in the city of New Orleans. A Zoltar themed fortune telling game outside a popular New Orleans restaurant Dat Dog on Frenchmen Street revealed several headlining artists. The game also gave out free tickets to lucky patrons passing by. After all the speculation, Snapchat slip-ups and fortune telling, we finally have the full lineup ready.
Odesza was circling on the rumor mill for awhile as a Voodoo headliner. They were officially confirmed during the Zoltar promotional event. Arctic Monkeys and Childish Gambino will both be making appearances to support their latest album releases. Other notable performers include Marilyn Manson, Tipper, Modest Mouse, Rufus Du Sol and the new live band Boogie T.Rio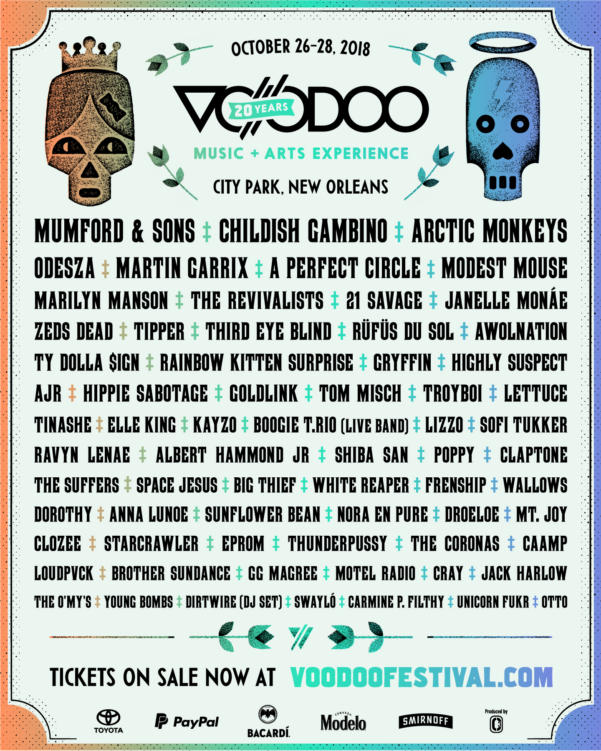 Check out Voodoo 2017 Highlights Below
[youtube https://www.youtube.com/watch?v=fNYpqvtiVVE]
2018 Voodoo Music + Arts Experience will begin at 12:00 PM on Friday October 26th and conclude on Sunday October 28th. Get your tickets here.