What does it take to receive a Lifetime Achievement Award? For Preservation Hall, what it took was 58 years of relentless dedication to the people & culture of New Orleans.
Last week, the Folk Alliance International gathered for an annual meeting. The FAI Conference is a yearly event, billed as the world's largest gathering of all things folk music. This year, New Orleans hosted the international gathering. The conference has a big impact: at 32 years old, FAIC draws more than 2,900 artists and industry professionals from 48 different countries. But the city didn't only set the scene for this conference, it took center stage as well when Preservation Hall received FAI's most prestigious accolade.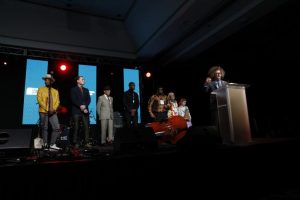 A Lifetime of Achievement for Preservation Hall
The Lifetime Achievement Award was decided by voting members of Folk Alliance International. Pres. Hall received the award in honor of the storied work it has done since the doors opened in 1961. Pres. Hall had earnest beginnings as a small art gallery and rehearsal hall before proprietor Larry Borenstein handed the keys to Sandra & Allan Jaffe. The Jaffe's were a couple from Pennsylvania who fell in love with the Crescent City. Transplanted in New Orleans, Allan and Sandra dove headfirst into the art that is New Orleans Jazz. At the time, the cultural piece was fading behind the country's appetite for rock' n 'roll.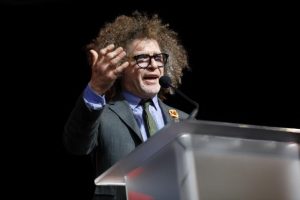 Back then, Allan and Sandra Jaffe were on a mission to preserve pure and traditional New Orleans Jazz. 59 years later, it was their son, Ben Jaffe, who was present to receive the award. Jaffe the younger is the current Creative Director for the Hall. In acceptance of the Lifetime Achievement Award, he had this to say:
"Preservation Hall and our Collective of musicians could not be more grateful to receive the Lifetime Achievement Award from (FAI). We are very proud of what my parents Sandra and Allan Jaffe created 59 years ago and what generations of musicians, from "Sweet" Emma Barrett to Charlie Gabriel, have upheld as a unique and sacred place for New Orleans music and culture. Our sincere appreciation goes to the Alliance for this honor and our love goes out to every musician, staff member and visitor that have shared their passion for Preservation Hall."

Ben Jaffe, Preservation Hall
A Thank You to the Hall
Culture bearers like Pres. Hall is what keep this city true to its values. The staff at River Beats would like to say congratulations and appreciate ya' to Preservation Hall and the Preservation Hall Foundation. The work that these organizations do for the local community cannot be overstated. Thank you for keeping New Orleans marching.