It's Valentine's Day. Whether you cook a fancy meal at home or decide to partake in one of the many amazing restaurants in New Orleans, there's somewhere and someTHING for you to eat. Plenty of restaurants in the NOLA area are offering deliciously delectable specials that they normally don't offer, and we compiled some of these offerings below for you.
Where will you be dining at this Valentine's Day? Let us know in the comments below!
Parades
We will be starting this list by showing some love to the Krewe of Cleopatra ladies as well as Oshun and Alla! Check out the parades start times and their routes here.
Avo
Avo will be serving a Valentine's Day prix-fixe menu which will be available all day on Friday, February 14. For $67 per person, enjoy four delicious courses including Cesar Salar or Poached Shrimp, Shortrib or Grilled Redfish, and Strawberry-Lemon Tart or Coppetta "Italian Sundae." Check out the full menu and details below.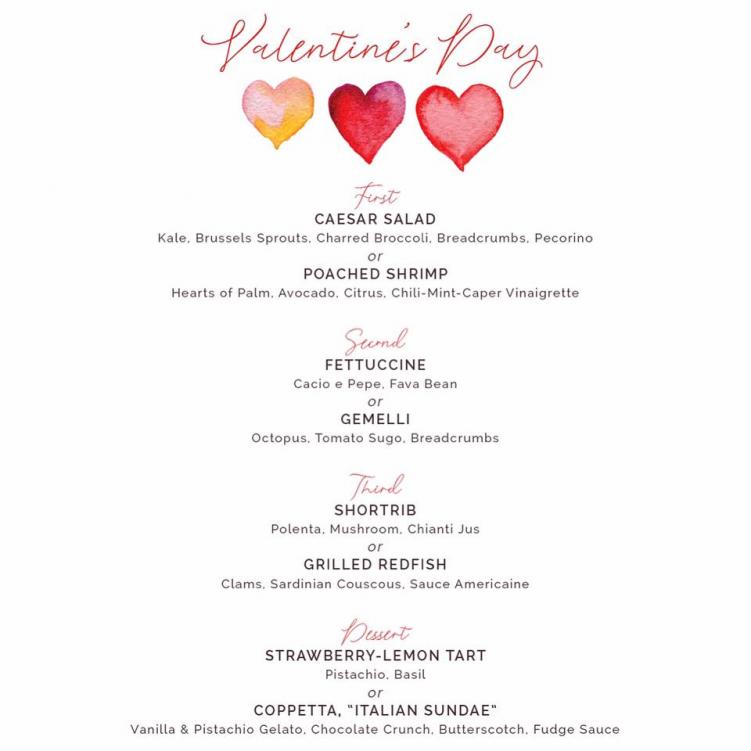 Jack Rose
Grab your gals and head to Galentine's Day at Jack Rose on Thursday, February 13! The hot-spot located in the Pontchatrain Hotel will be offering their dinner menu, as well as specialty brunch items like their famed Chicken & Waffles. Reservations are encouraged.
Bar Marilou
The swanky new cocktail bar, Bar Marilou, is offering regular menus for Valentine's Day on the 14th including specialty cocktails and dishes ranging from Ceviche to Pommes Marilou. Snag your reservations here.
Toup's Meatery
Take advantage of some delicious dinner specials at Toups Meatery in Mid-City! They will be offering their menu + dinner entrees including rack of lamb, bone marrow, and scallops. Dinner is served from 5pm-10pm on Thursday, and until 11pm on Friday/Saturday. Visit here for their website.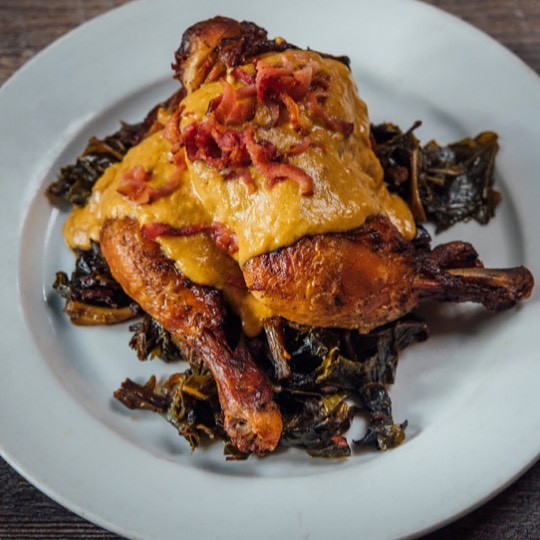 Josephine Estelle
Josephine Estelle is the Italian-by-way-of-American-South restaurant located at the Ace Hotel. For Valentine's Day, they will be offering a full menu of specials alongside their regular offerings. Specials include a Seafood Cocktail for 2, 24oz Bone-In Ribeye for 2, Semifreddo Sundae for 2, and more! Reservations are available via Open Table.
Otra Vez
Otra Vez is celebrating Valentine's Day with a 3-course prix-fixe menu fit to please all. Priced at $55 per person, you will also enjoy complimentary bubbles to start the meal! Their regular menu and a taco menu will also be available a la carte.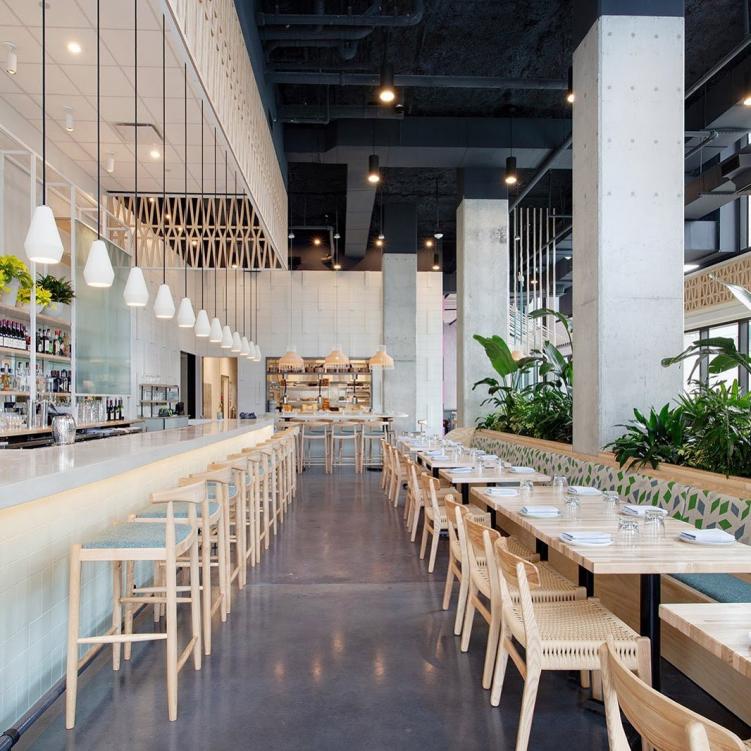 Couvant
Join Couvant for a romantic Valentine's Day 3-course dinner with a special Valentine's Day menu in addition to their regular menu. Enjoy selections such as Salad Gourmande or Parisian Gnocchi, Scallops or Hanger Steak, and a Biscuit Coolant with milk ice cream to conclude. Reserve your table here.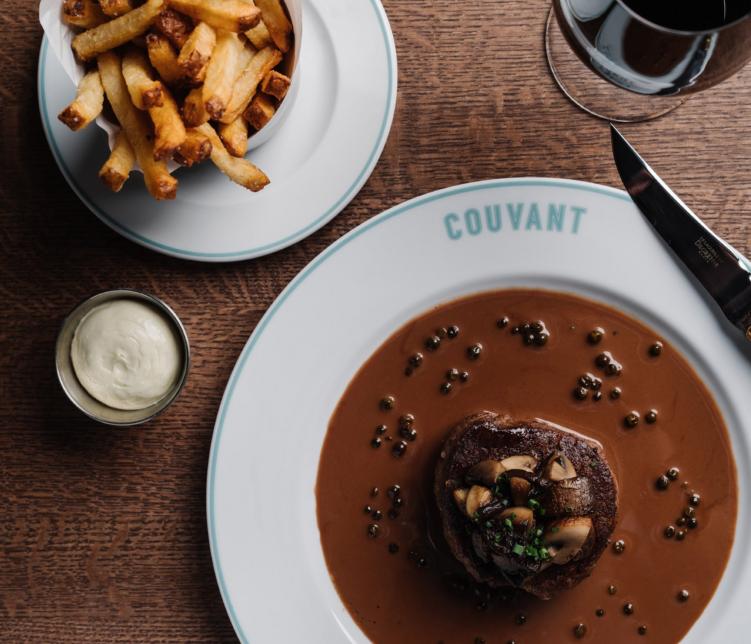 Vessel
The undoubtedly romantic Vessel NOLA in Mid-City is offering a prix-fixe Valentine's dinner for $75 per person. Their "Feast of Saints Valentine" will include selections such as Lacquered quail or Salmon Tartare and Seafood Stuffed Whole Market Fish, Scallop Risotto, or Petite Filet. Reserve your table at Vessel here.
Filmore in the Oaks
Filmore in the Oaks at 1040 Filmore Avenue is hosting a Valentine's Day Dinner in the Oaks. For $125 per COUPLE, enjoy a 4-course specialty menu as well as 2 complimentary glasses of champagne and suggested wine pairings for each course. To reserve a table, contact at 504-603-2186.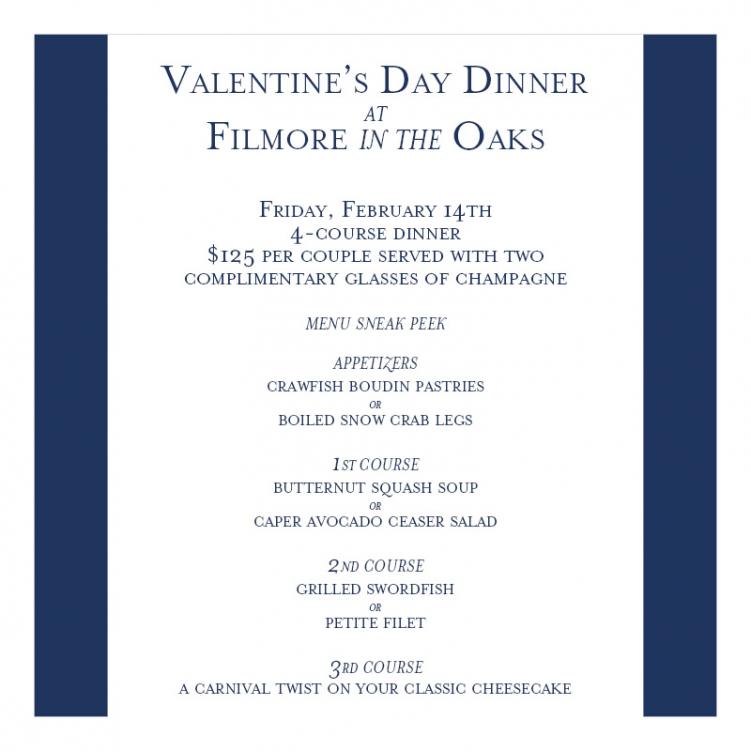 Krewe du Kanaval
To conclude, if you're REALLY looking to party, head on over to Krewe du Kanaval's Ball! The Haitian culture based Krewe is hosting a costume ball on February 14 at 8pm at the Mahalia Jackson Theater in Louis Armstrong Park. Playing the event is none other than Arcade Fire as well as Preservation Hall Jazz Band, Michael Brun, and more. Grab your tickets here.