Canadian sci-fi metal innovators Voivod are bringing their 40th Anniversary tour to the House of Blues in New Orleans alongside Imperial Triumph. Doors: 8 PM | House of Blues New Orleans | May 19, 2023.
---
Voivod has been a leading force in the metal scene for decades, constantly pushing boundaries and experimenting with different sounds. Their unique blend of thrash metal, punk, and progressive rock has earned them a dedicated fanbase and critical acclaim. This month, the band is coming to the House of Blues in New Orleans as part of their 40th-anniversary tour, and you won't want to miss it.
Voivod is a dystopian prog-rock band from northern Quebec. Formed in the early 80's they took inspiration from a myriad of sources, like the emergence of hardcore punk, new wave, and heavy metal. The original foursome set out to create a sound that was all their own. They made their international debut with the 1984 album War & Pain. By 1989, when they released their seminal album Nothingface, their iconoclastic lyrics and manic jazz metal were in full form. Their latest studio album, Synchro Anarchy, comes four decades after their initial union in 1982.
Voivod in New Orleans
The Voivod 40th Anniversary Tour kicks off in Asheville, North Carolina, and wraps up at the end of May. Their New Orleans stop comes on Friday, May 19. For the tour, the gents of Voivod are celebrating the 40th anniversary of the band, along with collaborator/friends Imperial Triumph.
"We are excited to hit the road in the USA in May, with the avant-garde metal band Imperial Triumphant," said drummer Michel "Away" Langevin to Metal Injection. "Snake was a guest vocalist on their track 'Maximalist Scream', and this tour should take us on a great experimental musical journey. Come join us!!"
Tickets for Voivod at the House of Blues New Orleans are on sale now. Tickets start at $27.50 for GA. Reserved balcony seating is also available.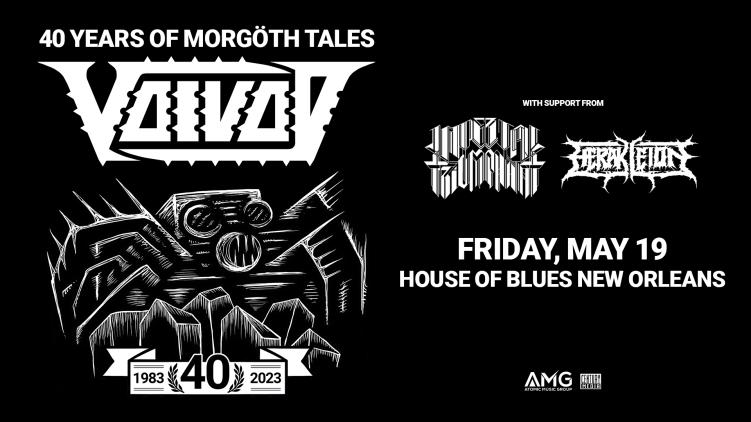 ---
Doors: 8 PM | House of Blues New Orleans | May 19, 2023
---
This editorial is Supported By Live Nation. Supported by is an advertorial series used to describe editorially independent River Beats content supported by a client's advertising spend.