New Orleans does a lot of food well. While there are the classic New Orleans dishes that come to mind like gumbo, seafood, jambalaya, po'boys, and more, it's safe to say we have every type of cuisine – and at least one restaurant that does it well. Ask any local, and everyone will have their individual favorites for every dish and cuisine – including burgers.
Those that have burgers on their menu or specialize specifically in burgers in the city all have their own twists on the classic meat and bread combination, which is why the River Beats New Orleans team has picked our top restaurants to grab those buns. Before we know it, May, aka National Burger Month, will be coming to an end, and we wanted to make sure to spotlight our favorite burgers throughout the city before then.
Where is your favorite burger in the city? Let us know, and check out the River Beats New Orleans list below!
company burger | 4600 Freret Street
Company Burger is a classic. Though they are only serving out of their Uptown restaurant (their CBD restaurant location has been closed since the beginning of COVID-19 in March 2019 with no return in sight), the locally owned and operated spot on Freret Street has been operating since 2011.
Their specialty is exclusively prepared Creekstone Farms Premium Black Angus beef, plus homemade buns, pickles, and mayo. As an added bonus, they also hand-cut their own fries and prepare their onion rings from scratch. Because no burger is complete without a side! Company Burger's burger selections include…
The Company Burger w/ two thin patties, b&b pickles, red onions, and American cheese (we recommend adding the fried egg and bacon at extra charges!)
Turkey Burger w/ tomato jam, green goddess dressing, and arugula
The Single w/ American cheese, b&b pickles, red onions
Lamb Burger w/ feta, basil mayo, red onions, chili mint glaze
Falafel Burger (vegetarian friendly) w/ lemon mayo, harissa, red onions, cucumbers, arugula
Fharmacy |
2540 Banks Street
Fharmacy is serving up comfort food in an equally as homey environment along Banks Street, right across from the hospitals in Mid-City. They prepare their 8-ounce burger with a specialty house blend, cooked medium, and served on a brioche bun with fries and a pickle spear. There are quite a few varieties and takes they have on the classic burger, including…
The Fharmacy Burger w/ House Giardiniera, bacon jam, provolone, aioli, tomato, lettuce
Dr. Tan Burger w/ Grilled jalapenos, grilled onions, house slaw, pepper jack, chipotle aioli, bacon
Dr. Seuss Burger w/ Avocado aioli, grilled ham, Swiss cheese, egg, lettuce, tomato
Cali Burger w/ Guacamole, mushrooms, Swiss cheese, chipotle aioli, tomato, lettuce, alfalfa sprouts
Portobello Burger w/ Grilled Portobello, alfalfa sprouts, mixed greens, giardiniera, tomato, lettuce
Toups' Meatery | 845 N. Carrollton Avenue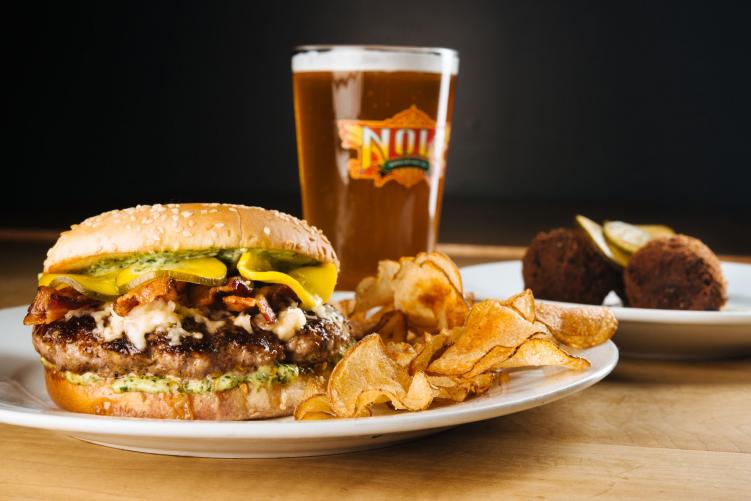 Home to "Top Chef" fan-favorite alum Chef Isaac Toups, Toups Meatery serves up the Toups Burger in a more unique fashion. Straying from the typical burger, the Toups Burger is made with a brisket and pork blend, topped with pickled squash, cheddar, bacon, and Creole aioli.
Make note that this burger is available for lunch only at Toups, and can be made for the Chef's Lunch special which includes the burger and a side of boudin and beer for just $23.
Brown Butter | 231 N Carrollton Avenue
If you haven't been to Brown Butter, add them to your list immediately. Founded by Chef Dwayne Womax and Simon Beck, the locally-owned and operated restaurant has been serving up in Mid-City since 2015. Their food is creative, "yet rooted in Southern culture and tradition using the freshest, seasonal, local ingredients that the American South has to offer."
Brown Butter offers two different burgers that should be on your NOLA burger bucket list, including…
Pimento Cheese Burger w/ an 8 ounce short rib/brisket ground patty, pimento cheese, pickled onions, garlic aioli on a brioche bun
Brunch Burger w/ 8 ounce short rib/brisket ground patty, brie, bacon onion jam, arugula, sunny egg, garlic ailoi on a brioche bun
Copper Vine | 1001 Poydras Street
Copper Vine at 1001 Poydras Street in the CBD is a treasure, perfect for date night dinners, happy hour chill-outs, private parties, and more. With over 30 wines on tap, Copper Vine Sommelier Lydia Kurkoski has hand-picked stand-out wines and off-beat selections, all at affordable prices that are the perfect accompaniment to your burger!
Copper Vine's burger selections match the elevated atmosphere of the restaurant, and include…
Wagyu Beef Burger w/ gruyere, caramelized onions, dijon, lettuce, seasonal tomato
Impossible Burger w/ plant-based burger, gruyere, caramelized onions, dijon, butter lettuce
Another Mid-City gem, Frey Smoked Meats has fatties and flatties cooked on an open flame. The Frey family has been in the meat business for six generations in New Orleans. According to their website, Frey became a local meat packing company in 1865, operating for over 120 years. You can tell by their delicious meats, including burgers!
Burgers come with the fixings including lettuce, tomato, onion, burger sauce, and served with fries. Check out their full list of burgers for both fatties and flatties below: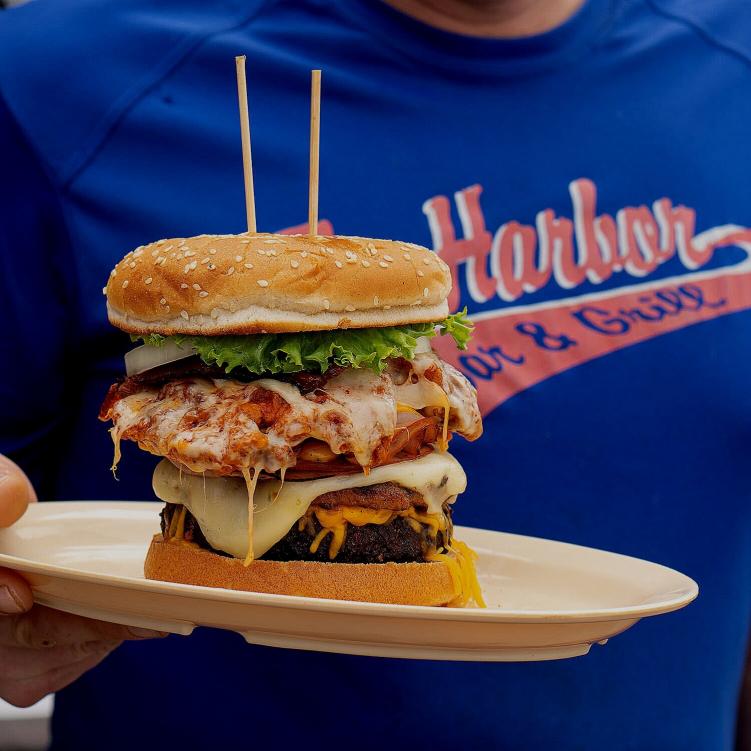 Ole' reliable. The classic late-night spot in Metairie, The Harbor Bar & Grill continues to serve up your favorite drunk/hungover grub. Grab a side of harbor Fries, topped with debris gravy, onion, and cheddar cheese, to accompany your Harbor Burger.
The Harbor's massive "World Famous" 12 Ounce Burger tops the list; other selections include The Galley Burger – pictured above, a colossal concoction with a 12-ounce patty, hot sausage, spicy fried chicken, grilled ham, bacon, and cheeses. Not for the faint-hearted, that's for sure!
Justine | 225 Chartres St
A suave and stylish French restaurant in the French Quarter itself, Justine's embraces the French brasserie culture in a large multi-roomed restaurant with versatile spaces to enjoy for all courses throughout the day. The café side opens to the Chartres Street sidewalk, emulating the quintessential Parisian street experience with the daytime fare.
One may be surprised to see a burger on their elegant menu, but don't be fooled. The Justine Burger means business. The 8-ounce peppercorn crusted wagyu patty is served with arugula and pommes frites, and we highly recommend adding the sauce au poivre for dipping purposes. You'll want to sop up every last bite with this sauce!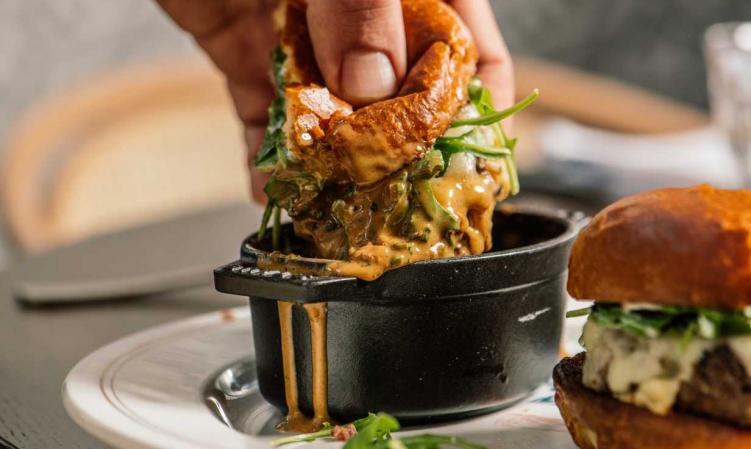 ---
Featured image via Company Burger.