If you have been on social media in the last year, you have undoubtedly seen videos flying around of a meat and cheese-double stuffed taco being dipped into a broth mixture. Ever since, Birria Tacos, also known as the quesabirria, have exploded into a food (and Instagram) phenomenon.
Birria Tacos are filled with melty cheese and tender, pulled beef tucked within a crispy taco. The taco is then dipped into a cup of consome broth, typically served with onions and cilantro, of course. Consome is a meat broth served on the side made for dipping; traditionally, consome was served as a stew and was made for sipping, not dipping.
The quesabirria was born in Jalisco and reimagined in Tijuana and until recently, made its way into the United States. It was first created in the "southwest coastal state of Jalisco, when a famine wrought by Spanish colianals forces the locals to discover that goat can also be delicious," per Pilot Online. It was traditionally served with goat meat, but moved to pork and other savory meats.
In New Orleans, you can find these taco beauties throughout the city. Check out where you can find them below.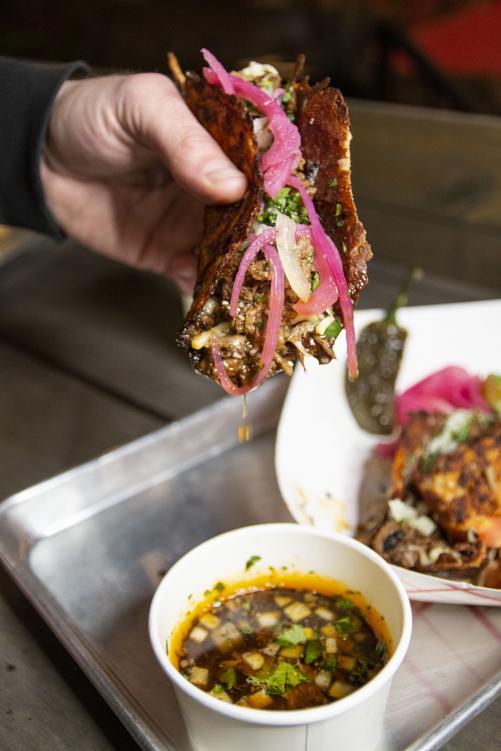 Heavy metal meets tacos over at El Cucuy, located at 3507 Tchoupitoulas Street. El Cucuy boasts a fantastic menu, South American folklore, automobile culture, and of course, tacos – including the infamous Birria.
Birria Tacos are unoficially on the menu which boasts various tacos, taco plates, tortas, and a can't miss dish: elote.
Austin Lane, owner of El Cucuy, has cooked professionally for years, owned food trucks, worked in bars, built bars, you name it. El Cucuy bar manager Jennifer O'Blenis has worked in spirits for over a decade and heads multiple local & national bar programs, like the NOLA Bartenders Guild. El Cucuy is open Wednesday – Monday (closed Tuesdays) from 11:30 am – 9:30 pm.
Though not directly in the city, Mawi was one of the originals that debuted the Birria in New Orleans last year mid-pandemic. The popular taco was initially only offered on Tuesday and Thursday, but has since been expanded to their every-day menu due to the demand. Mawi is owned and operated by father-son duo Carlos and Chef Will Avelar. Located at 5050 W. Esplanade Avenue C in Metairie, the restaurant is tucked away in a little shopping center right off Esplanade.
They are known for their fresh, authentic corn tortillas made in-house, but have also become known for their delicious Birria Tacos. They serve them 3 to an order for only $9, and trust us, these bad boys are HUGE and plenty enough to share with someone else!
In addition to their Birria Tacos, they offer rotating menus with signature dishes including fresh Shrimp Ceviche, multi-variety Papusas, and homemade salsa. Give them a follow on social media to stay up-to-date with their daily menu offerings!
View this post on Instagram
Pacos Tacos
Pacos Tacos is a newer spot in the game also located in Metairie at 4726 Veterans Memorial Blvd. They had their official opening just weeks before COVID-19 hit. Pacos has a variety of specialty selections made with house-made meats, including Arrachera (Angus chargrilled skirt steak), Trompo, and Suadero.
What they are really rocking with, a Paco's top favorite: the Rock Taco. The Rock Taco is what they call their Birria, a traditional Mexican hard taco filled with slow-cooked pit style chuck roast and cheese. Served on the side is consome to dip, sip, and slurp! View their website here.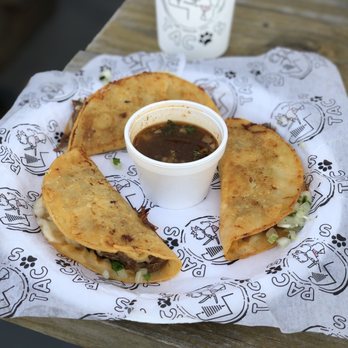 Secret Birria
You'll have to mark your calendar if you want to give Secret Birria a shot! The low-key, grab-n-go with outdoor seating restaurant is only open Thursday through Sunday, though for good reason. The self-dubbed "speakeasy-style birria restaurant" is located in Uptown New Orleans and just opened their doors in November.
Since then, they have been making waves not only with their Birria Tacos, but with the next level up: Birria Ramen and Birriarito (yes, a birria burrito!). Birria Tacos are served 3 per order and come with the signature slow-cooked beef for over 5 hours, topped with mozzerella, fresh onion and cilantro on a flour tortilla. You can order a single taco for only $4, or $12 for 3.
Also on the menu is Fried Fish Tacos, Chicken Burritos, Queso & crispy cajun Cracklins, plus other goodies. This is the perfect Friday night spot when you want something casual without all the fuss. Find them at 323 Octavia Street.
View this post on Instagram
Tacos Del Cartel
With a beautifully decorated dining area, Tacos del Cartel is serving up authentic Mexican street food at 2901 David Drive in Metairie. They are proudly serving up inventive Mexican food with healthy-minded options in an off-the-beaten-path area, right next to the New Orleans Airport.
Short-ribs are braised in Chile adobo and chihuahua cheese, served with chile brother onions and cilantro. And though we haven't tried it before, they even have a Birria Jerk Michelada beverage! Find them at 2901 David Drive.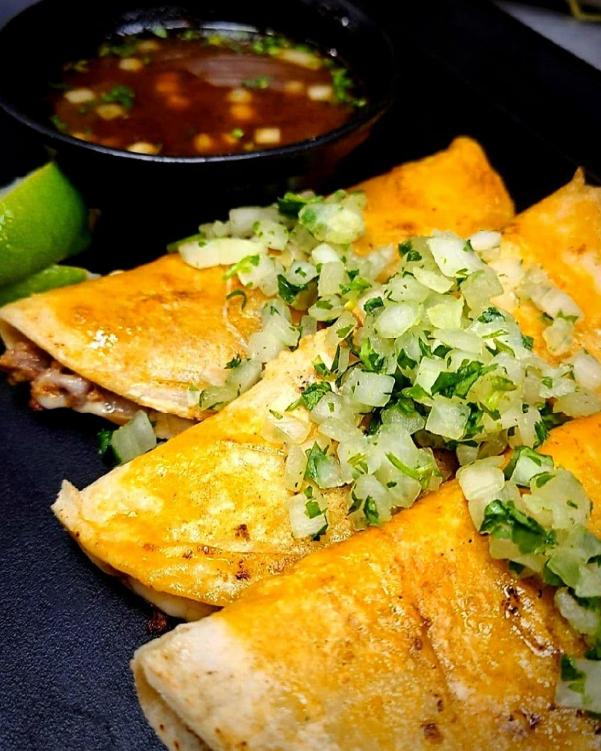 Tacos Para La Vida
This taco pop-up has quickly grown a fan-favorite following. Started by Reave Bell, "Bell moved to New Orleans from his hometown of LA 10 years ago to work at SoBou," as reported by NOLA.com. Tacos Para La Vida popped up mid-pandemic in December 2019, and has established pop-ups at some of New Orleans' most beloved neighborhood bars including Pals in Mid-City and Okay Bar in the Bywater.
But not only do they serve Birria Tacos, they also serve an insane Birria Ramen. They get their noodles for the ramen right from their friends at kin ramen, served in a homemade stewed beef broth, topped with beef birria, macha mushrooms, a 6-minute egg, radish, scallion, cilantro, and sesame seeds. A must-try dish! Find them throughout the city via their pop-up schedule on Instagram here.
View this post on Instagram
Featured image via Yelp restaurant pages.