In 2015, Chef Nina Compton and husband Larry Miller opened the Caribbean-inspired Compère Lapin to national acclaim. The restaurant has been the culinary gem of the Old No. 77 Hotel in the years since, garnering Ms. Compton numerous awards and accolades along the way. This year, The Tales of the Cocktail Foundation honored Compère Lapin with the award for Best American Hotel Bar. Doubling down on their success, the restaurant is launching a refreshed program for their cocktails. Bartender Jordan Deis is at the helm.
Deis, an accomplished bartender and Sommelier, says the assortment of cocktails are as varied as the skilled bartenders who make them. The team took months to craft offerings to pair with and compliment the bold flavors of the restaurant.
The new bar program is sourcing their ingredients from local farms and purveyors, offering creative cocktail choices with fresh components. There's the Melonious Funk, featuring Bolden local vodka, melon shrub and citrus with a spiced salt rim. The Penultimate Oath is a cocktail based with Sotol: a tequila-like liquor made from wild harvested agave. Rotating seasonal daiquiris offer unique flavors of frozen cocktails, like the citrus and orange blossom combo called The Ramon Gin Freeze.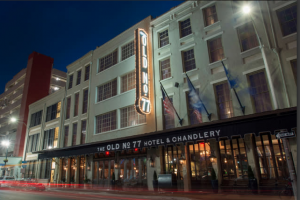 Compère Lapin is located in The Old No. 77 Hotel & Chandlery at 535 Tchoupitoulas Street, New Orleans, LA 70130. The restaurant serves lunch daily 11:30AM–2:30PM; light bites 2:30PM–5:30 PM; Happy Hour 3PM–6PM; and dinner nightly from 5:30PM–11PM. Brunch is served on Saturdays and Sundays from 10:30AM–2PM. Compère Lapin is a participant in COOLinary month. Check out www.comperelapin.com for a full menu, or call (504) 599-2119.