The Revivalists sure made New Orleans proud last weekend during their set at Lollapalooza. The infectious rock band played to a slew of thousands as they started the day off on Sunday. Comprised of acclaimed musicians David Shaw [lead vocals/guitar], Zack Feinberg [guitar], Andrew Campanelli [drums], George Gekas [bass], Ed Williams [pedal steel guitar], Rob Ingraham [saxophone], Michael Girardot [keyboard & trumpet], the septet are known for being an extraordinary band and bringing charismatic energy everywhere they go and perform.
Their set at Lollapalooza followed the unfortunate news of two mass shootings that took place in a 24-hour span between Saturday and Sunday. They flashed up the graphic below stating to "End Gun Violence." They also accompanied the photo with a message on social media: "Music is the great healer, and always will be, but we also must be proactive in mitigating the ills of our society that aim to harm one another. Text Everytown for Gun Safety at 64433 to learn how you can help end gun violence."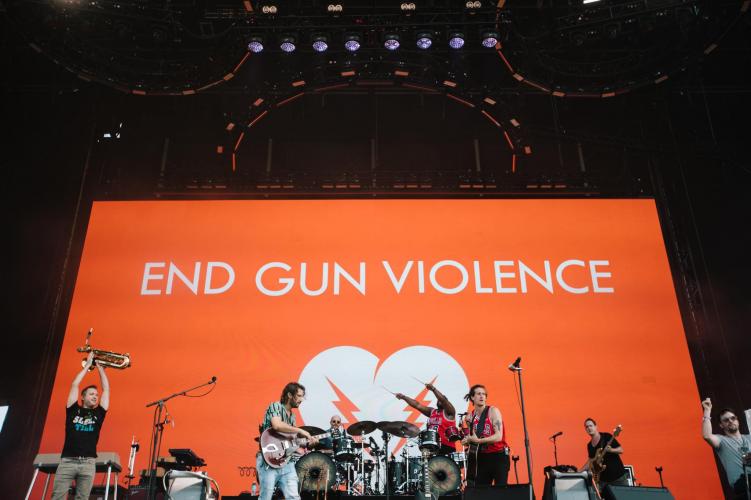 the set was live-streamed but if you were unable to catch it, here's a highlight during "Wish I knew You."
They also chatted with Lisa Allen for an interview.
Lollapalooza in Chicago, Illinois draws thousands of people each and every year to the festival. This year's lineup included performances from Flume, Donald Glover, Kacey Musgraves, Twenty One Pilots, and more.
Featured image via artist Facebook page.