It's going to be a big one tomorrow, New Orleans! LSU (1) takes on Clemson University (3) at 7 pm in the Mercedes Benz Superdome. The game will be televised on ESPN.
For those that couldn't afford to make it to the Dome, there's plenty of spots to watch the game and things to do this Monday around town!
Barcadia Game Day Block Party | It's about to go down in the CBD! Barcadia is hosting a block party on Monday and will feature a massive LED wall with the game, Mannie Fresh on the 1's and 2's, and tailgating fun. 601 Tchopitoulas Street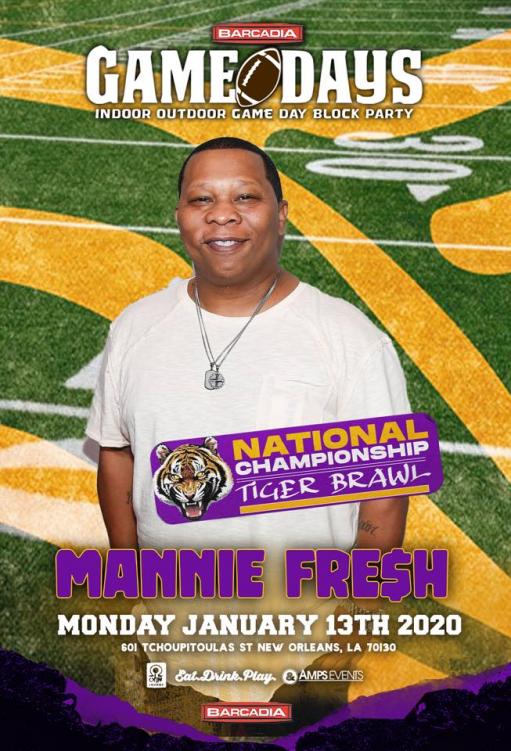 Walk On's x Vintage Rock Club Watch Party | Walk On's and Vintage Rock Club have partnered up once more to host an amazing event for the National Championship.
From 1:30pm-5:30pm, they are hosting a VIP tailgate that includes your own personal VIP tents with TVs, catered food, an open bar, and the complete game day and concert experience by Vintage Rock Club. Tickets are $150.
At 6pm, they will showcase Vintage Rock Club's video music experience with food and beverage from Walk-Ons available for purchase. Tickets are $20 – purchase at the door.
Tailgate Plaza at Jax Brewery Parking Lot | Head on over to the Jax Brewery Parking Lot ALL weekend for musical performances, barbecues, zip lines, and other tailgating activities all weekend long! Opens at noon tomorrow. Tim McGraw and Judah & the Lion will be providing the tunes.
Lula Restaurant Distillery Watch Party | This option is perfect for those looking for an all-in-one spot where they can eat, drink, and watch the game indoors, starting at 5pm! Enjoy an all-you-can-eat buffet with wings, gumbo, and more, as well as all-you-can-drink speciality cocktails, beers, and wine. Tickets are $75 for adults and $15 for kids 12 and under. 1532 St. Charles Ave.
Republic NOLA Afterparty | After the game, head on over to Republic NOLA for a bangin' after-party with music by DJs Chris Major, RBD, and Moxswag. Tickets are $20 general admission; $40 VIP. Doors open at 10 pm. 828 St. Peters Street
Where will you be hanging out for the game tomorrow?