The Denzel Curry Melt My Eyez Tour is coming to The Fillmore on June 24th in New Orleans! Grab your tickets here.
---
Curry's newest album, Melt My Eyez, showcases a personal evolution for the 26-year-old. Fans can catch Denzel Curry in New Orleans promoting his latest album this week. The sensational rapper is bringing his supporting tour for Melt My Eyez to The Fillmore in New Orleans on June 24th.
Guests of the show can certainly expect a high-energy performance from the hip-hop star. Throughout the album, Curry slices through bars with dexterity and confidence. It's a dazzling talent that translates well on the live stage. Curry stomps around his stage with determination & gusto. He jumps around and even breakdances a bit, all without missing a beat on his signature mile-a-minute rhymes. Add in some hard-hitting bass, and Curry is sure to set it off at The Fillmore.
Melt My Eyez
Critics are already calling Melt My Eyez a dazzling high point in Denzel Curry's career. While he's gained notoriety through high-energy rapping and trap-heavy beats, this new album changes things up for the artist. "(On Melt My Eyez) there are no tracks where I'm yelling," he explains. "This time I'm speaking."
Like many of us, the pandemic ripped Curry away from his fast-paced lifestyle. With no more distractions, the artist found it challenging to fully "sit with himself." In isolation, he was forced to take a full-frontal look at problems he'd previously distracted himself from. On Melt My Eyez See Your Future, those problems are processed in brave, intimate detail.
"I'm articulating my emotions better than ever before," Curry says. "It's my best album, period."
Fans may already be familiar with the album's lead single, "Walkin.'" With a laid-back groove and an emphatic hook, "Walkin'" has Curry trudging forward with resolve through "this dirty filthy rotten nasty little world we call a home." The record also gets an epic Sci-Fi Western music video. Directed by Adrian Villagomez, the video shows Curry trekking across a desert planet before a cinematic face-off with his antagonist, John Wayne.
Denzel Curry in New Orleans
Don't miss Denzel Curry in New Orleans for the Melt My Eyez tour on Friday, June 24th at The Fillmore. Tickets are on sale now.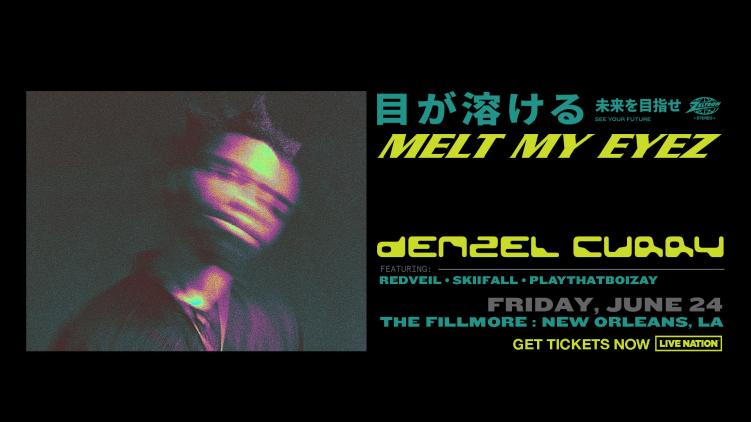 ---
Doors: 7:00 PM | The Fillmore – New Orleans | Friday, June 24, 2022
---
This editorial is Supported By Live Nation. Supported by is an advertorial series used to describe editorially independent River Beats content that is supported by a client's advertising spend.