If you're a deviled egg fan like myself, every once in a while a random craving will hit where you need a deviled egg immediately. Luckily, there are lots of amazing restaurants around the city serving up this delicious egg with a variety of accruements and assortments. From jumbo lump crab to bacon, there is a deviled egg on this list that is calling your name.
Check out some of New Orleans restaurants and their take on deviled eggs, and support local for National Deviled Egg Day today, November 2.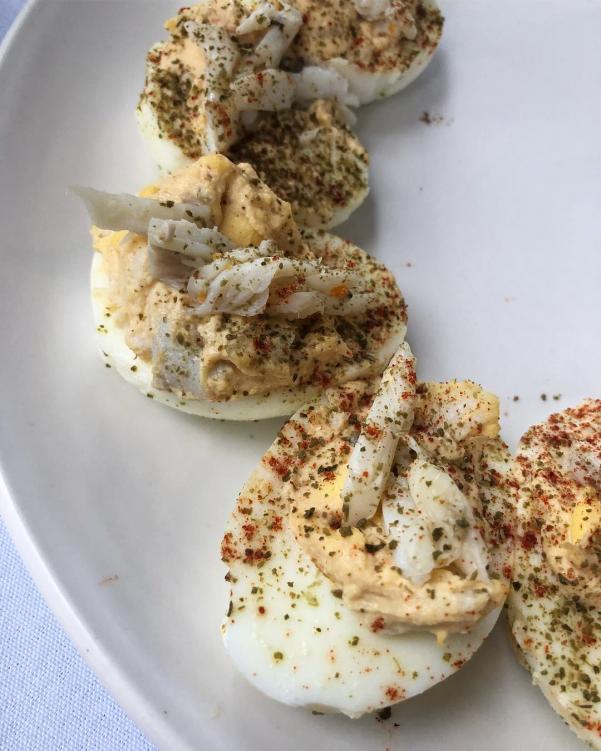 Jumbo lump crab cake deviled eggs, need we say more? Copper Vine, the chic Downtown New Orleans restaurant, boasts a variety of wine offerings, plus creative snack and main entree plates. Located at 1001 Poydras Street; indoor/outdoor dining, takeout, delivery.
Brigsten's: Shrimp remoulade with guacamole and deviled eggs
Made with guacamole and deviled eggs, Brigsten's Shrimp Remoulade is a delicious appetizer take on our favorite egg! Located at 723 Dante Street; open for takeout only Tuesday – Saturday.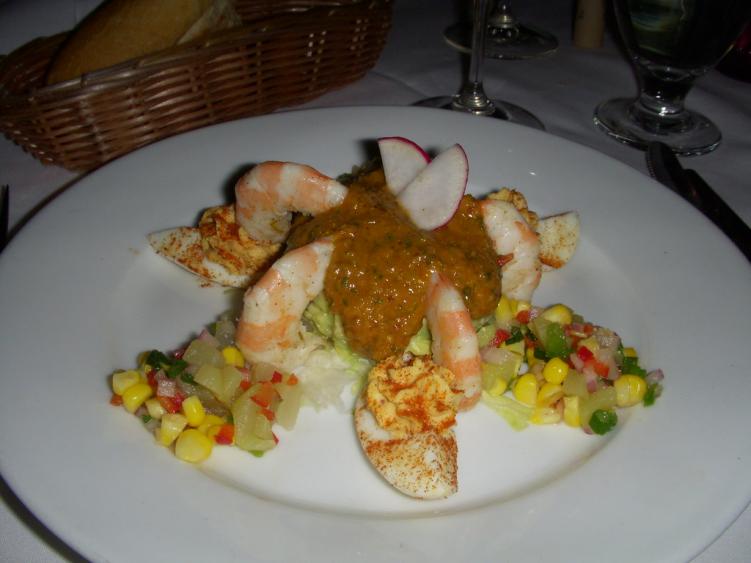 Eat New Orleans: Spicy Deviled Eggs with WJS Bacon
Eat New Orleans is a quaint farm-to-table restaurant serving Cajun-Southern meals, plus brunch on the weekends. Their take on the deviled egg is a more traditional one, with WJS bacon topping it off. Located at 900 Dumaine Street; dine-in, delivery, and takeout available.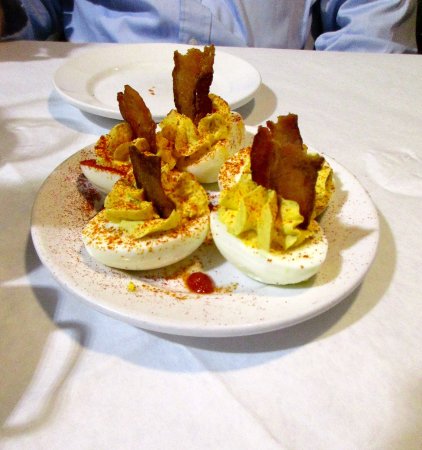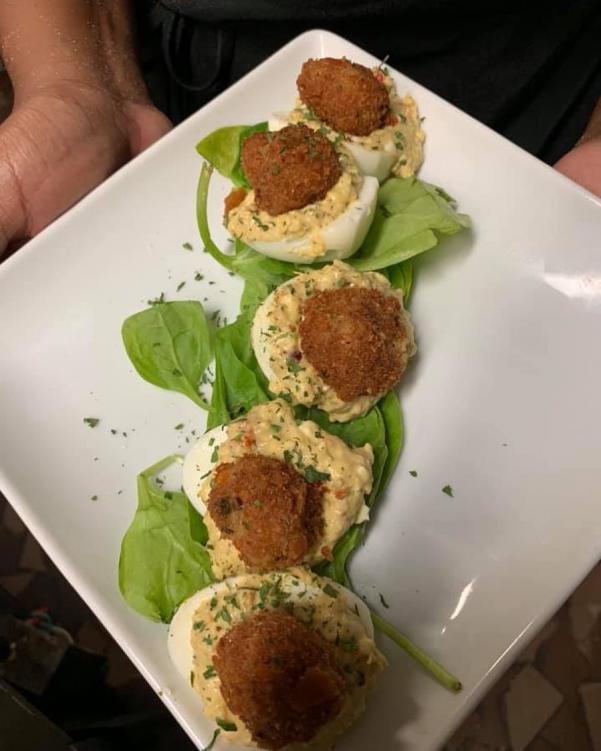 Peewee's Crabcakes: Crabcake deviled eggs
Just by looking at this restaurant's name, you know you're going to get something delicious that more than likely includes crab! Peewee's Crabcakes are legendary and will leave you licking your fingers; six delicious homemade deviled eggs are topped with Peewee's mini crabcakes. Two locations: 2908 Martin Luther King Jr Blvd & 4500 Old Gentilly Rd; delivery and takeout available.
Restaurant R'evolution:
CREOLE LOUISIANA SNAPPING TURTLE SOUP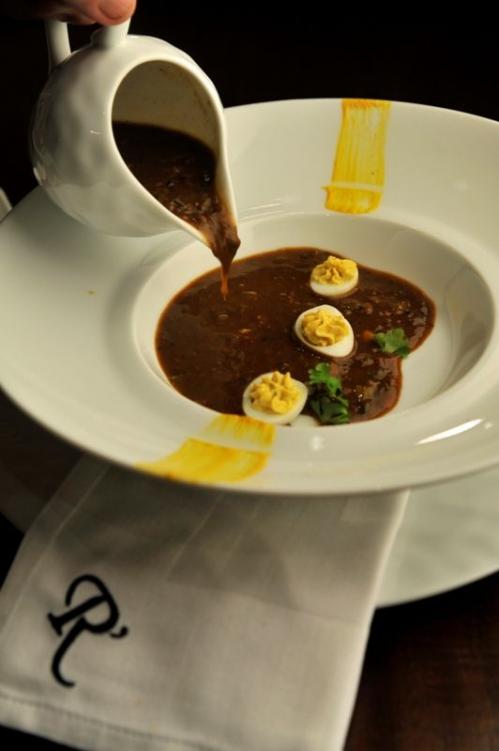 This offering is not the classic deviled egg from Restaurant R'evolution, a restaurant that prides itself on its modern, imaginative classic and creole cuisine offerings with a variety of chefs' interpretations of New Orleans favorites. If you're wanting something warm and hearty to accompany the cold weather, try their Creole Louisiana Snapping Turtle Soup with deviled quail eggs and maderia wine. Located at 777 Bienville Street, open for dine-in Thursday-Sunday.
High Hat Cafe: Pimento Cheese Plate
High Hat Cafe is a great neighborhood spot Uptown for comfort food galore! Their inclusion of deviled eggs is located with their Pimento Cheese Plate with mixed pickles, deviled eggs, and toast points. The best of all the worlds right here! Located at 4500 Freret Street for dine-in and takeout, open every day except Wednesday.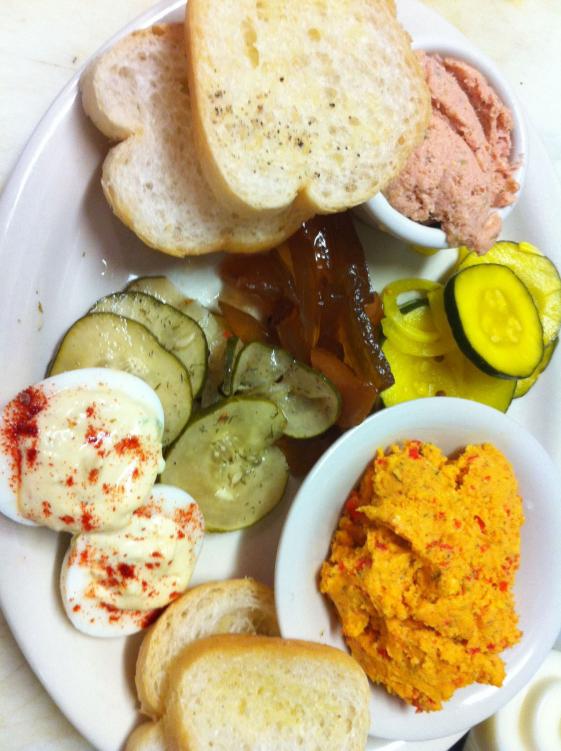 ---
Featured image via Rosalind Chang.