The annual Mardi Gras event, ZOOLU, returns to the Metropolitan this March and is bringing some heavyweight names with it.
ZOOLU is steeped in a rich tradition of drawing the biggest names in dance music, and the 25th iteration of the beloved Carnival party brings with it Kaskade and Dillion Francis. Hosted over Mardi Gras weekend, the event series kicks off on Saturday, March, 2nd 2019 with Kaskade venturing back to New Orleans for the first time since 2014.
The party shifts to the Dragons Den on March 3rd for the ZOOLU ALL-STARS; before closing out on Lundi Gras with Dillon Francis to headline the final night. While the headliners have been announced, look for AMPS events and Disco Donnie to add some great support acts to ZOOLU 25.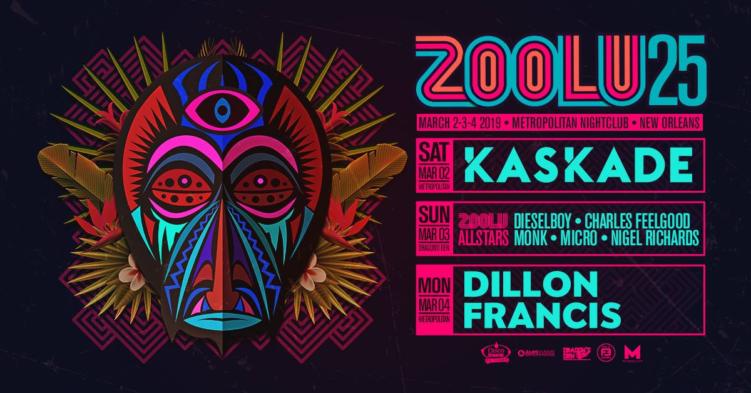 ZOOLU Celebrates 25 years
ZOOLU has been a New Orleans staple for over 2 decades, long before dance music was accepted by the mainstream. It is also Disco Donnie Presents longest running party and continues to hold a special place in their hearts. This event, which takes its name from the Zulu Mardi Gras parade, started in 1995 at the State Palace where it maintained its run as one of the region's most well known and well-loved dance party.
Ask any old-school raver about where the underground scene in New Orleans was thriving at that time. They would tell you the State Palace, especially the ZOOLU parties. 25 years later and the event is still going strong, albeit, much different from the underground raves of the 90's.
Tickets for this year's events go on sale on December 28th at 2 pm. You can find them here!