Jack White is bringing his Supply Chain Issues Tour to the Fillmore in New Orleans this week! Grab your tickets here.
---
Jack White is currently rocking around the country on his supply chain issues tour. It's been a long tour, complete with proposals, special guests, and more. If you're planning to catch Jack White in New Orleans on September 23rd at The Fillmore, here's what to expect.
The Supply Chain Issues Tour
Beginning back in April, the tour has already made headlines worldwide, not just for the music. During the tour's first show in White's hometown of Detroit, he proposed to his girlfriend Olivia Jean, who was opening the show with her group the Black Belles. While we don't expect any new proposals during the New Orleans show, we can confidently expect a lot of great music.
White's latest world tour is in support of his fourth & fifth studio albums. Both Fear of the Dawn and Entering Heaven Alive were released earlier this year. With a sprawling setlist of nearly 25 songs, White takes fans on a journey through his many musical iterations. Classic Jack White tracks sit nicely in between hits from The White Stripes and The Raconteurs (both bands feature White as a pivotal member.)
The Supply Chain Issues Tour has a massive spread of support acts. Over what will be a seven-month tour, 15 acts will rotate as White's opener. The New Orleans shows will be supported by the Paranoyds, a gritty, garage-rock group from Southern California. White is an icon in the rock and roll world. This is a show you certainly don't want to miss.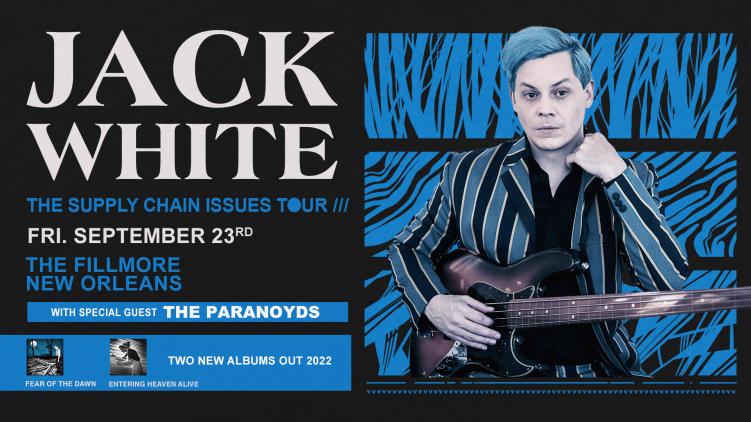 ---
Doors: 7:00 PM | The Fillmore New Orleans | Fri. September 23rd, 2022
---
This editorial is Supported By Live Nation. Supported by is an advertorial series used to describe editorially independent River Beats content that is supported by a client's advertising spend.