While Carnival season may look different this year, the local restaurant industry knows the importance of Mardi Gras celebration for New Orleanians.
"Being on St. Charles, we've always been smack dab in the middle of the parades and celebrations," says Chef / Co-owner Brian Landry of Jack Rose. "Since there aren't any parades running down the Avenue this year, we figured why not find an alternative? We're excited to give our friends and community a taste of the season in a safe and convivial environment with lots of great things planned."
If you're looking to celebrate carnival with some Mardi Gras inspired food & drinks, check out some of the local eateries celebrating below!
Festive Libations at Hot Tin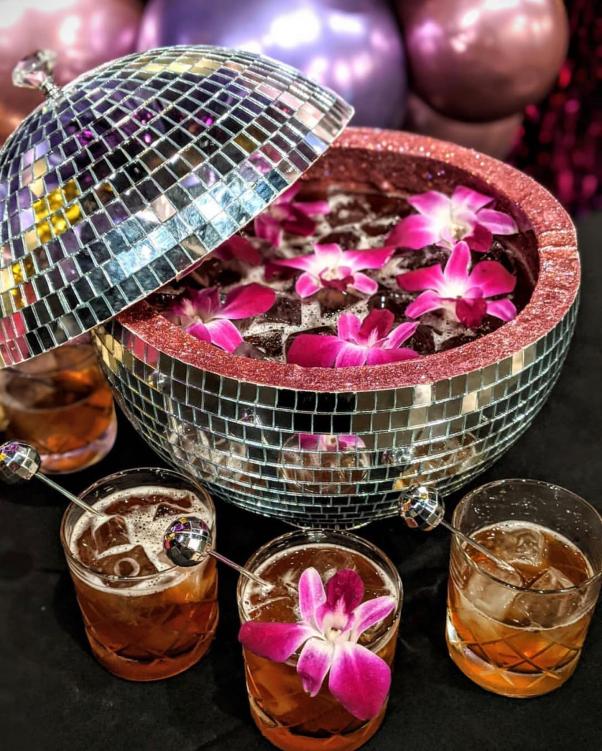 What's Mardi Gras without festive spirits? Guests can imbibe a selection of classic cocktails, Hot Tin signatures, and Mardi Gras specials including Frozen King Cake Daquiri featuring Marsh House rum, king cake syrup, lime; Krewe of Ube – white rum, coconut rum, lime juice, ube syrup, and pineapple juice.
Or maybe you'd like to try the Disco Punch – a stunning, purple, large-format cocktail featuring Mt. Gay Eclipse Rum, Bigallet China-China Liqueur, Suze Liqueur, Falernum Syrup, lime juice, pineapple juice, simple syrup, and prosecco served up in a sparkling disco ball.
Mardi Gras Menu at Jack Rose & Bayou Bar
Mardi Gras food gets elevated at Jack Rose. Specialty dishes include Crawfish & Cracked Potatoes with Calabrian chilies, garlic, cayenne cheddar; Grilled Pork Porterhouse with red beans and rice; Duck Leg Confit with jambalaya; and more.
Diners can end on a sweet note with the decadent Mile High Mardi Gras Pie – a twist on Jack Rose's famed Mile High Pie featuring a multi-colored layered concoction of ube, mango, and pistachio ice creams with coconut meringue and a coconut-cornflake crumble.
Of course, Jack Rose's playful "chambongs" will also be on offer.
PJ's Coffee of New Orleans Mardi Gras Flavors
King Cake Crème: King Cake cold brew concentrate steamed with milk and pure cane syrup and garnished with whipped cream.
King Cake Latte: This Mardi Gras favorite is made with rich Espresso Dulce, steamed milk, and flavors of vanilla and cinnamon, topped with whipped cream and purple sanding sugar.
Zulu Coconut Iced Mocha: The perfect indulgent drink to celebrate Mardi Gras. Our classic Viennese blend cold brew is paired with milk, Hershey's syrup and coconut concentrate served over ice.
King Cake Protein Velvet Ice: King Cake cold brew concentrate, skim milk, no sugar added vanilla powder, and protein powder blended to perfection.
King Cake Daquiris from Gris Gris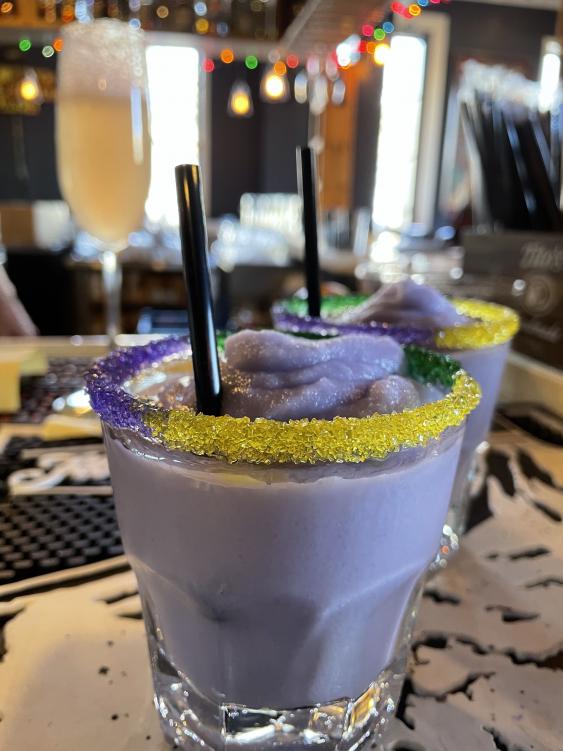 Available now through Mardi Gras Day!
Try New Orleans' Mardi Gras favorite with a Gris-Gris twist: prepared frozen with Deep Eddy Vodka, Evangeline Praline Liquor, dairy-free vanilla soft serve, cinnamon, and seasonal spices. The seasonal cocktail is available at the restaurant or for pick-up. *Please place pre-orders 24 hours in advance*
For those who are super thirsty – Grab the Mardi Gras Flight Krewe: One of each color – purple, green, and gold, available in 16-oz OR half-gallon servings!
PRICING: Single 16-oz serving: $9 || Half-gallon serving: $30 || MARDI GRAS FLIGHT KREWE: Three 16-oz servings: $25 OR Three half-gallon servings: $75
Follow River Beats New Orleans to stay up to date on your favorite FOOD IN NEW ORLEANS.
---
featured image via Toups Meatery