Though many public establishments are closed, it's still in the heart of New Orleans to celebrate our most revered holiday. In celebration of Mardi Gras, local electronic music staple, Techno Club, is hosting an all-day live stream.
Though the club was forced to close its public venue in a new COVID-era back in June, the spirit of the collective never died.
Techno Club is not an event, venue, or radio station per say. In essence, Techno Club is a collaboration of like-minded individuals and anything that is done with the name Techno Club is a voice that represents that collaborative union. Techno Club would not exist without its members, their voice, their passion, their ideas, and their hope for a better future.
During their special Mardi Gras live stream, the Club will host seven artists across a 16-hour live stream through their mixlr account. The festivities start at 8 am and last until midnight in traditional, Mardi Gras fashion.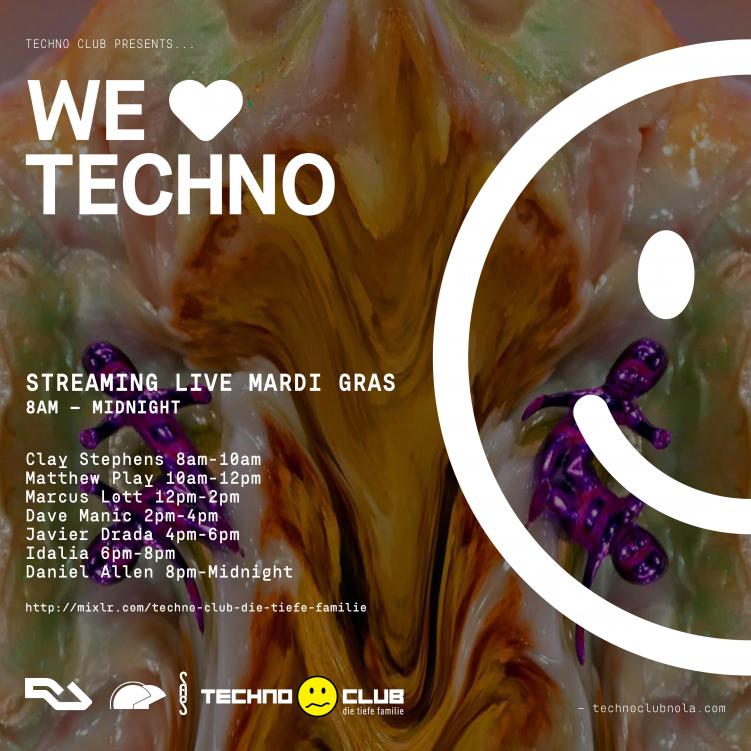 Being that the city of New Orleans is still in a modified Phase 2 lockdown for COVID, Techno Club leader Javier Drada understands the importance of maintaining safe guidelines.
"Techno Club has no intent on hosting any events until it is absolutely safe to do so, so to honor such an amazing day and not to step over others in the local community, we chose to host an all-day stream for those that will be celebrating Mardi Gras from home during these sensitive times," Drada said. "It's important to celebrate and be safe while doing so."
Join the Techno Club Mardi Gras live-stream from 8 am – 12 am on Tuesday, February 16th.
Follow River Beats New Orleans to stay up to date on your favorite music IN NEW ORLEANS.
---
featured image by Clay Stephens