Break out your tuxes and ball gowns and get ready to roll out the red carpet for this year's New Orleans Film Society Gala. This year's gala is marking the 30th anniversary of the NOFS as well as celebrating the achievements of philanthropist Susan Brennan, owner of Second Line Stages.
Joining in on the celebration are musical acts from local legends Kermit Ruffins & the BBQ Swingers, Mahmoud Chouki Band, and DJ RQ Away.
It is held on Saturday, March 16th at the Farrell Estate located on St. Charles Avenue and tickets are available here.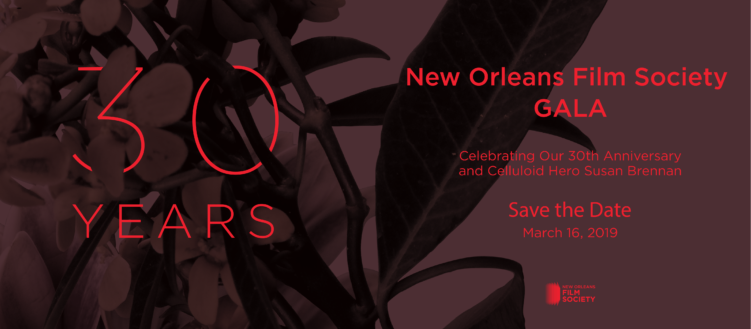 Silver Screen for the Big Easy
The New Orleans Film Society is a staple in this city's film community. They provide countless resources and opportunities for any fledgling film maker. The NOFS "discovers, cultivates, and amplifies diverse voices of filmmakers who tell the stories of our time."
They also provide great tools for local filmmakers. The NOFS offers "directors lab, producer's lab, pitch competition, [and an] industry exchange," according to executive director Fallon Young. These programs are "designed to open doors for independent filmmakers in Louisiana and beyond."
Beyond the resources and networking provided by the society, the NOFS is a partner to several community organizations. In 2017, the NOFS sponsored $10,000 towards grants for Create Louisiana. Create Louisiana is a program that offers grants and programs to help local filmmakers share their stories. They are also partners with other programs like Magnifying Glass which supports films that focus on exposing social injustice.
"In 30 years, I hope that top filmmakers will look back and think, 'I got where I am today because of my talent, tenacity, and with support from organizations like the New Orleans Film Society,'" -Fallon Young, Executive Director of NOFS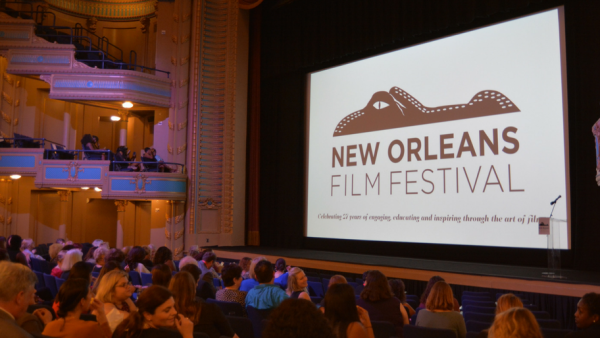 Show Off Your Talents
The New Orleans Film Society provides a showcase for filmmakers in their annual New Orleans Film Festival. 25,000 people in attendance over a nine-day weekend is a great opportunity to gain exposure for your work. NOFF is also one of the few festivals that is Oscar-qualifying in all three Academy-accredited categories.
But it's more than just a showcase. "It's also an industry conference. [It] gives local filmmakers an opportunity to network with industry professionals of note and attend panels and round tables focused on an ever-evolving industry," says Young.
And for you Francophiles out there, the NOFS hosts a week-long showcase of French films with the New Orleans French Film Festival. Fans can expect both classic and contemporary French-language Cinema at the historic Prytania Theater.
Gala for the Stars
New Orleans Film Society events bring Hollywood to your backyard. "You never know who you'll see at the New Orleans Film Festival that might be famous one day," says Young.
"In 2013 actresses Lupita Nyong'o and Sarah Paulson and director Steve McQueen appeared onstage on opening night with their film, and second lined through the streets from the Orpheum to the NOFF opening night party." Lupita Nyong'o went on to win the 2014 Oscar for her role in 12 Years a Slave.
This year's honoree, Susan Brennan, is a developer and philanthropist, as well as the founder of Second Line Stages. Susan helped lead the charge to turn the city into a major hub for production work.
Second Line Stages is also the first independent green studio in the United States. She also serves as an Honorary Board member for the New Orleans Film Festival. In addition to the NOFS, she is involved with several other non-profits around the city, such as Prospect New Orleans where she also serves as Immediate Past President & Board Chair Emerita.
This event is for filmmakers and film fanatics all the same. Come out and support a fantastic organization in their 30 years of collaboration and creativity. Who knows, maybe you'll be rubbing elbows with the next Oscar winner. Or maybe even become that winner yourself one day.
Featured Photo Credit New Orleans Film Society