Visit bit.ly/south_summit to learn more and register for the South Summit.
---
The New Orleans Film Society (NOFS) INVITES SOUTHERN FILMMAKERS, ARTISTS and  ART ADMINISTRATORS TO JOIN THE virtual 2021 SOUTH SUMMIT. 
The event is bringing together media makers, arts funders, and institutional stakeholders from around the nation. It's all with the intent of initiating conversations and actions around media content that shapes how the U.S. sees the South and how the South sees itself.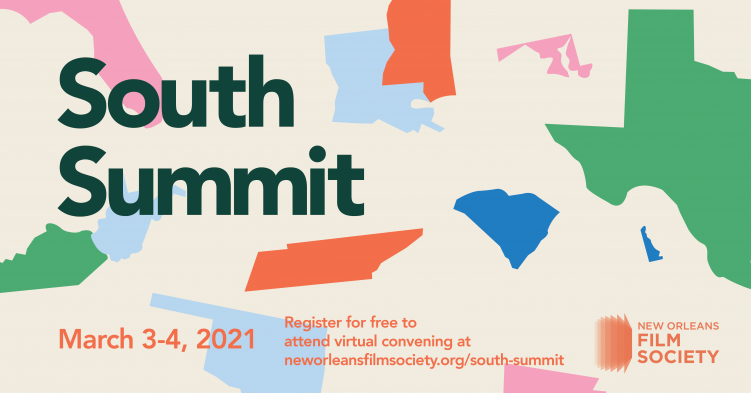 The 2021 South Summit will be the third iteration, following 2018's focus on envisioning what it means for Southern filmmaking to thrive, and 2019's focus on contextualizing and curating film at the intersection of social justice and Southern identity.
This year's sessions examine how we share power, build mutually beneficial relationships in our region, and develop creative leadership within broader power dynamics in film. They're placing emphasis on the South amongst media that tend to center power on the East and West coast.
New Orleans Film Society Executive Director Fallon Young hopes that the Summit will pass the mic to artists and thought-leaders who root their creative journeys in the America South.
"We hope South Summit provides a space for deep questioning, bold visioning, and robust dialog that challenges oversimplified narratives about the character and potential of our region, connects artists, and envisions a thriving ecosystem for Southern storytelling."

Fallon Young, NOFS Executive Director
The summit will offer keynote speeches by Chaedria LaBouvier and Alabama-based filmmaker Bo Mcguire,  panel discussions, breakout sessions, and spoken word performances.
The South Summit is free and open to the public to attend. Register for the event at neworleansfilmsociety.org/south-summit/
---
Follow River Beats New Orleans to stay up to date on your favorite artists IN NEW ORLEANS.
cover photo via Unsplash