RÜFÜS DU SOL, the Australian indie-electronic band, is making their way to the Orpheum Theater with Crooked Colours on Wednesday, March 11. The 3-piece consisting of Tyrone on vocals, Jon on synths, and James on drums, make a complete encounter that is best experienced live. You can listen to their music through your headphones, but their live show is one to not be missed.
So why should you trek from the comforts of your home during the middle of the week to see RÜFÜS DU SOL? We'll tell you why.
Each show is different. Even if you've seen them once before, you haven't seen the show that they have prepared for New Orleans. In a video with DJ Mag, the band explains that their relationship between live-playing, pre-prepared sections, and samples is kept in mind, but they throw in "on-the-spot" elements with each evening. Their gear gives them the opportunity to implement different sounds and elements with each individual show, making it different from the next. Check out the video below:
And what would the show be without their music? Their last major album, Solace, was released in 2018, but they have since released remixes of songs from the album, as well as a recent refresh of "Solace" live from Joshua Tree.
Solace contained 9 songs that weave from one into the next, one that is also implemented into their live set. You can also expect to hear some of their old iconic hits from their 2016 album Bloom including "Innerbloom" and "You Were Right."
For their Americas tour which started mid-February last month, they have 12 show dates including two shows in Minneapolis and one at Okeechobee Music Festival. New Orleans is lucky to be one of those twelve shows, especially since their last time in New Orleans was around this time last year the Joy Theater!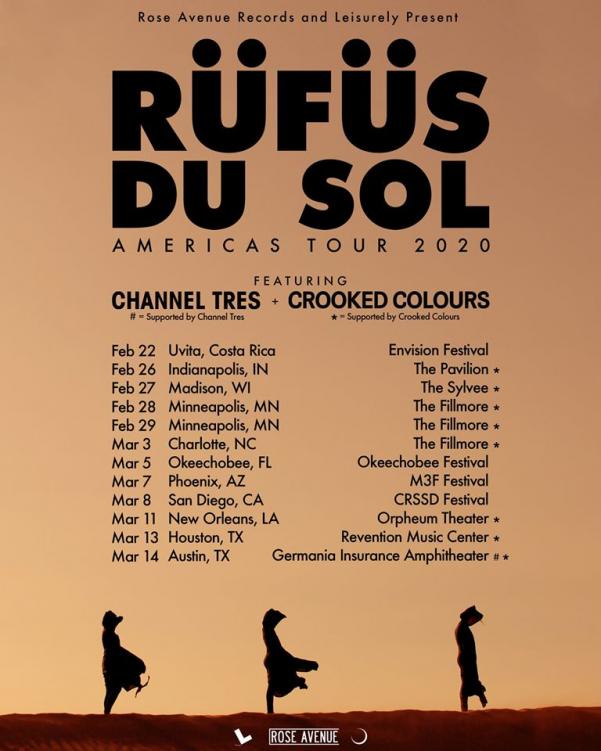 Featured image via artist.