With new music and a tour, it's an exciting time for NOLA-based band The Bummers! Following the release of their debut album titled A Very Exciting Life, band members Sean Doyle, Ben Shooter, Clay Hakes & Fox Capone took no time off and instead, dove straight into creating new music. The outcome: their newest EP titled Dairy Beach.
In Dairy Beach, the band explores a series of nostalgic memories along with "struggles of depression, lack of personal agency, the unfairness of the world, and the bleak emptiness of outer space." If you find yourself a fan of lyrics that explore topics people don't like to discuss intertwined with alt-rock indie grunge, then this EP is the one for you.


Dairy Beach
Dairy Beach features six very different singles. The Ep's theme and backstory was created by bassist Clay Hakes. Hakes devised the EP's title along with the EP art before "Dairy Beach," the third track on the EP, was written. The song and Ep title poke fun at "modern meme and anime culture."
"First Wok"
The playful title comes from guitarist Ben Shooter's favorite hometown (Montclair, NJ) Chinese restaurant. The song is a quick one, only 73 seconds long, but features a hard and fast guitar riff throughout the single. The perfect intro for the EP.
"Fontainbleau Storage 2"
The band describes "Fontainbleau Storage 2" as an "upbeat emo" track that plays into a sci-fi theme. The song describes the last moments of a doomed space mission. It's rare to see the words upbeat and emo in the same sentence, but this is a perfect way to describe this one.
"Pile of Little Arms"
This one might be our favorite track on the Ep. Inspired by a Marlon Brando quote from Apocalypse Now, the song deals with everyday problems that seem to run our lives: anxiety, depression, and helplessness.
"Kill Yourself"
Following the theme of mental health problems on "Pile Of Little Arms," "Kill Yourself" is about exactly what it sounds like, suicidal thoughts. While the single sounds a tad bleak, it does represent the daily thoughts of thousands of people every day. The band considers "Kill Yourself" to be one of their most vulnerable and visceral songs on the EP. With strong lyrics like "I hope my funeral is beautiful, and everything is black, just like in the movies, with the pictures from my past" we can see why that's the case.
"NHL 2002"
The final single from the Ep is one we can all relate to, finding comfort in nostalgic childhood memories. The band recorded a music video for "NHL 2002" in Baton Rouge, and plan to release it in August.
Accompanying Dairy Beach is an 8-stop tour in various cities around the United States. Check out their tour dates below.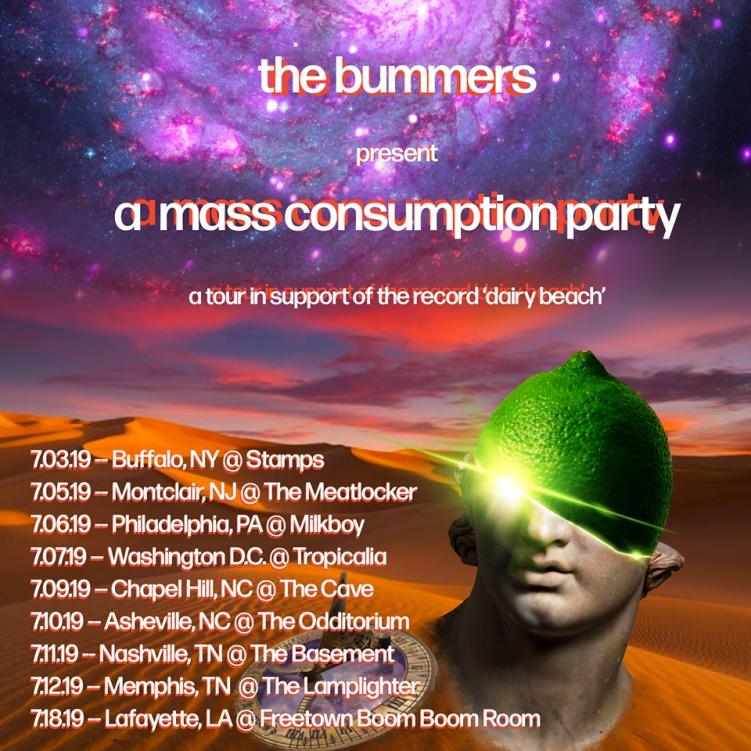 They will end the tour at New Orleans' favorite venue Gasa Gasa on July 29. Purchase tickets for the show here.
---
Featured image via band.