Tipper returns to NOLA for another weekender! Tickets sold-out fairly quick, let's hope you grabbed some early!
---
It's time to ring in another NOLA New Year. For the second year in a row, legendary British producer Tipper is coming to New Orleans for three nights of performances.
After last year's performance at the Orpheum, local fans were hungry for more. This year's tickets sold out online within the day of release. As for NOLA locals, the Saenger kept a reserve of in-face tickets available for purchase at the box office. Tipper fans lined up for hours before opening to snag these highly-demanded seats.
In classic Tipper fashion, each day will have a special, musical flair to keep fans interested all weekend long.
FRIDAY – IDM Night
IDM (or "Intelligent Dance Music") and Experimental Beat Night. These sets feature music that's more cerebral, and less inclined for dancing. Genre pioneer Prefuse73, Mike Wallis and Base2 are supporting the evening's bill. Visual accompaniment comes from The Void, Dr01d, and Tenorless. Tipper's DJ Set will feature futuristic visual interpretation utilizing Datagrama's Kinect 360 project, with art from Glass Crane, and performance routines from PopnTod, Dassy, and Boogie Frantick.
SATURDAY – Downtempo Night
Downtempo Night with the ethereal TEEBS, who will present material from his new LP Anicca. Mindex and Benji Roman will support with all original sets. Visual accompaniment from Tenorless, Johnathan Singer, and Dr01d. Tipper's downtempo set will feature fresh content from Datagrama and Synesthesia.
SUNDAY – Ambient Night
Ambient Night features highly anticipated support set from EVAC with The Void on visuals. For ambient night, a special selection of psychedelic movies or shorts will accompany the show. Tipper will be joined as always to close the weekend by 'the Melt King' Johnathan Singer.
In celebration of the event, afterparties and shows are popping up all across the city. Check out our events calendar to stay up to date on all the post-Tipper happenings.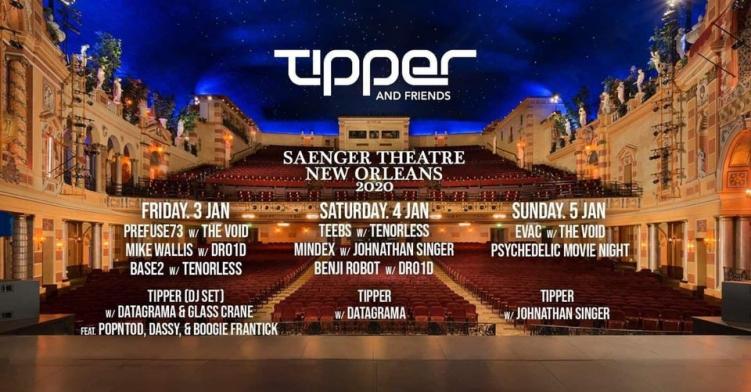 ---
Featured Image: Tipper