Virgin Hotels New Orleans is partnering up with award-winning photographer Michael Weintrob and bring INSTRUMENTHEAD Live, a celebration of music and art, to the Crescent City during New Orleans Jazz & Heritage Festival!
The INSTRUMENTHEAD collection is a surrealist look into the soul of a musician, not through their eyes as with traditional portraiture, but through his/her instrument. Since its conception in April 2000, the project has brought together more than 500 musicians from across the globe. This immersive experience comes at a time when the city is filled with travelers attending the iconic Jazz and Heritage Festival which is going on its 53rd year.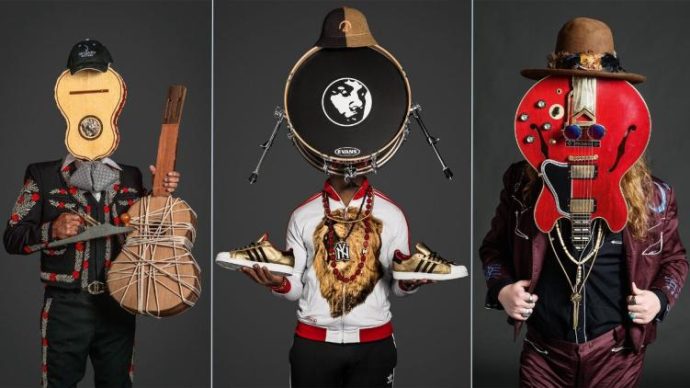 "I couldn't think of a better way to celebrate music and art while benefiting the New Orleans Musician's Clinic. Virgin's DNA is rooted in music. The synergy between our hotel, INSTRUMENTHEAD, and the city's rich history of culture and music just makes sense, and what better time to celebrate than during Jazz Fest?"

Kelsey James, Director of Marketing at VHNO
INSTRUMENTHEAD Live is open to the public and will feature live performances each night that pair with Weintrob's works of art. Weintrob's companion book Instrumenthead: Revealed showcases "unmasked" portraits of these same musicians, including Bootsy Collins, Susan Tedeschi, Mickey Hart, Johnny Winter, Charlie Musselwhite, all with their own style and artistry. Order the book, art prints, and more at Instrumenthead.com.
Three dollars of every book sold benefits the New Orleans Musicians' Clinic which is founded by a coalition of music advocates in 1998. The New Orleans' Musicians' Clinic is the first medical clinic for musicians, performing artists and cultural workers in the US.
"I've had the privilege of supporting the New Orleans Musicians clinic through my photography, exhibitions and books for over a decade," says Michael Weintrob. "Not only are we raising awareness for an important cause, but we are also creating an immersive art and music experience that is accessible to everyone. I couldn't be happier to partner with Virgin Hotels New Orleans and bring my collection to Crescent City on its 25th anniversary."
INSTRUMENTHEAD Live will kick off on Friday, April 28th and run through Sunday, May 7th. Below is a list of events throughout the pop-up experience.
For more information on the partnership, click
here.
Friday, April 28: Opening Party
9:15pm – 10:30pm

Ivan Neville, George Porter Jr., Tony Hall, Deven Trusclair

10:45pm – 12:00am

Papa Maili, Will Bernard, Eric Bolivar, Peter Levin, Kirk Joseph
Wednesday, May 3: New Orleans Musician's Clinic 25th Anniversary
5:00pm – 6:45pm

Margie Perez & Trio Latino

7:00pm – 8:30pm

8:30pm -10:00pm

The Rads Pre-Show Featuring Billy Iuso Trio & Reggie Scanlon
Sunday, May 7: Closing Party
7:30pm – 9:00pm

Eddie Roberts & Friends featuring Chris Spies, Ashley Galbraith, Taylor Galbraith

9:30pm – 11:00pm

Pete Murano Band featuring Shannon Powell, Erica Falls, Mark Brooks