NEW ORLEANS
2016 Voodoo Music and Arts headliner, and Baton Rouge native Kevin Gates, abruptly canceled his Friday performance at this year's festival after a Florida judge sentenced the rapper to 180 days in the county jail for an August 2015 incident, Billboard reports.
Last year, Kevin Gates was seen kicking a female fan during a show in Lakeland, Florida. He has been found guilty of battery. After one day of testimony, he was convicted by a jury of six women.
Along with his Friday performance, Gates was set to headline the official Friday afterparty for this year's festival. Voodoo released a statement Thursday, October 27th regarding the situation:
"Unfortunately Kevin Gates is unable to perform at the Voodoo Music + Arts Experience due to an unforeseen incarceration. Keep an eye here & on the Official #VoodooFest App for Schedule updates."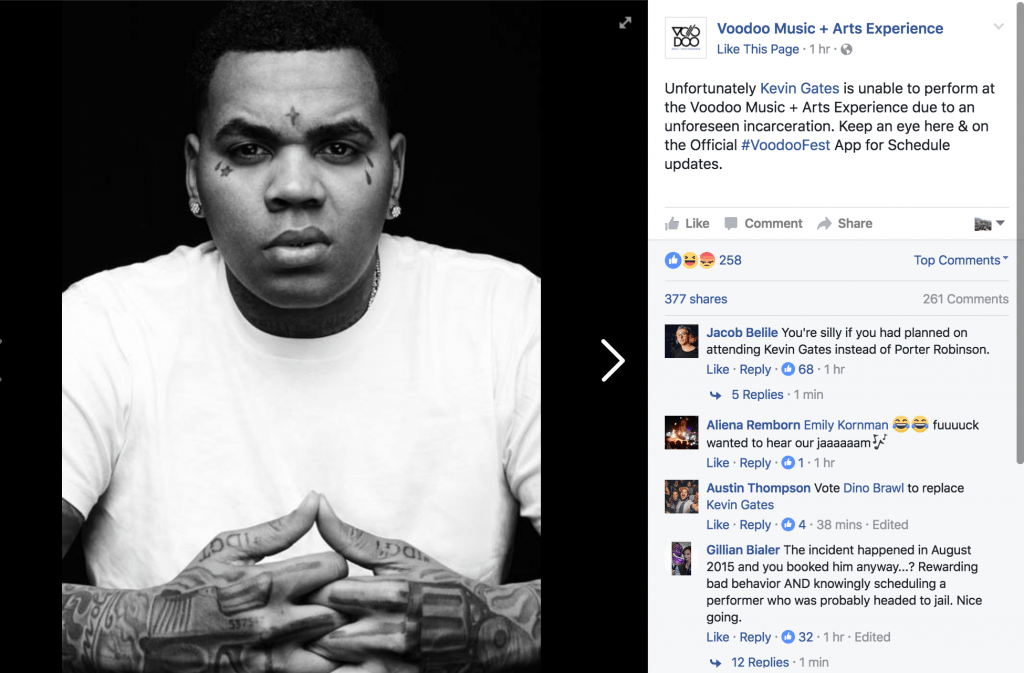 Gates claimed that he kicked  an 18-year-old attendee after the girl attempted to grab and drag him into the crowd. The video of the kick, which TMZ first posted, shows the full altercation. The jury took less than one day to convict Gates.
//cdnapisec.kaltura.com/p/591531/sp/59153100/embedIframeJs/uiconf_id/6740162/partner_id/591531?iframeembed=true&playerId=kaltura_player_1413478522&entry_id=0_9bdszi86
Who would you like to see replace Kevin Gates at this year's Voodoo music and Arts Festival?
Voodoo Music And Arts Festival is held Halloween weekend in New Orleans, La.
CONNECT WITH RIVER BEATS
facebook |twitter | instagram | youtube | soundcloud