Voodoo Music + Arts Experience returns once more for a fun-filled 3-day festival. This year, the festival takes over City Park for another amazing year on October 25-27, aka right around the corner! With a large lineup to please all, it can be overwhelming deciding where to go and who to see.
With this in mind, the River Beats staff worked together to pick 10 artists that will keep you grooving from beginning to end. You never know which artist you may stumble upon that will be your new favorite. Let's gather together next weekend for an amazing experience of music, Halloween spookiness, and all the good vibes.
Check out the lineup below: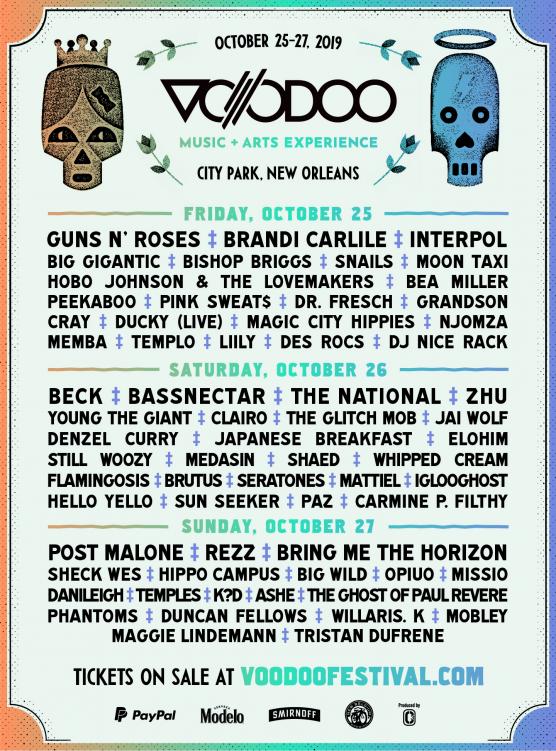 FRIDAY, OCTOBER 25
MEMBA
Genre: Electronic
The New York-based duo, MEMBA, is bringing their signature electronic tribal soundscape to New Orleans. This will be their first time in the Big Easy, and certainly won't be their last. Prepare for the unexpected when seeing them as they're known to mix it up during their sets. Must listen: their recently release Saga-II EP
Big Gigantic
Genre: Instrumental electronic, hip hop, and jazz
What do you get when you mix dance music with live instruments? Big G is what you get. The funky duo have been around for over a decade now and continues to push the envelope on what it means to be a live band in the age of computers. Using a saxophone, their mixers, and a drum kit, Dominic Lalli and Jeremy Salken are a stable in the industry and are a Friday must-see. Must listen: All Of Me ft. Logic

Moon Taxi
Genre: American indie-alternative rock
If you are looking to step away from the PLUR stage at Voodoo Fest, then Moon Taxi needs to be on your radar. This groovy 5 piece band hailing from Nashville has one of the more unique sounds on the lineup. Featuring drums, lead vocals, guitar, keyboard, and bass, the band was formed at Belmont University and has gone on to headline some of the biggest festivals in the world. Must Listen: Morocco
HOBO JOHNSON & THE LOVEMAKERS
Genre: Emo, Hip-Hop, Spoken Word
Hobo Johnson's claim to fame is an NPR Tiny Desk submission in 2018 that went viral on Facebook. Since then, his poetic beat-making tunes blew up and have taken him and his band around the United States on multiple tours. Must listen: the song that started it all: "Peach Scone"
BISHOP BRIGGS
Genre: Indie Pop, Indie Rock
Bishop Briggs blends a unique mixture of genres including folk, pop, and electronic music to create her distinct sound. Her story is inspirational for those looking to get into music; she moved to LA after living in both Japan and Hong Kong where she was trying to pursue her musical career. She was discovered in a small hole-in-the-wall and now, she's performing at major festivals around the world. Must listen: "Tattooed on My Heart"
Saturday, October 26
The National
Genre: American indie rock
This year The National released I Am Easy To Find, the band's eighth studio album and the follow-up to 2017's GRAMMY®-award winning release Sleep Well Beast. The National are easily one of top headliners to see at this year's Voodoo Fest. Get a taste of their original sound below. Must Listen: I need My Girl

THE GLITCH MOB
Genre: Glitch, Electronica
The Glitch Mob comprised of Justin Boreta, Ed Ma, and Joshua Mayer, return to New Orleans for Voodoo Fest day 2. The trio has been together since 2006, and as The Glitch Mob, they create one of the most unique live electronic experience that one can witness. You don't want to miss them. Must listen: 2018 album See Without Eyes
ELOHIM
Genre: Electropop, Synth-Pop
Elohim is a sultry one-woman show, singer/musician/producer, with a voice as intriguing as her performances. Her genre can be considered a mixture between alternative and electronic; her live show demonstrating her commanding stage presence and musical prowess. Must listen: 2019 album Braindead
Sunday, October 27
Hippo Campus
Genre: Indie Rock
St. Paul's Hippo Campus released Bambi last fall, amassing more than 20 million streams around the world and playing sold-out shows all around North America. They most recently released two demo EPs from Bambi, Demos I and Demos II. Must listen: Demos II

BIG WILD
Genre: Instrumental electronic
With the release of his debut album Superdream last year, Big Wild has kept himself busy, touring around the United States in support of the album. With the new tour came new live music additions including a guitarist, bassist, and live vocalists on-stage in addition to his own vocals. All together, it makes for a cinematic experience that will entrance you from beginning to end. Must listen: his debut album Superdream
TRISTAN DUFRENE
Genre: Techno, Tech-House, House, & Bass
You have to support the locals! Start your final day festivities with the techno queen Tristan Dufrene. Known for her top pick selects and transitions, Tristan will keep you grooving on Sunday. Must listen: Subject Matter live-recording
K?D
Genre: Electronic
It's been quite a while since k?d has been in the Big Easy. Since his festival debut at BUKU a couple years ago, k?d has been quite busy in the touring and music-making circuit. He began his career with multiple remixes that put him on the map, and has been busy trying to hone in and evolve his sound ever since. Must listen: "Lose Myself"
ASHE
Genre: Indie Pop
Hot on the release of her latest single with Big Gigantic – who are also playing Voodoo – Ashe has become known for her magnetic groovy vocals. She's joined large electronic music acts on tour, played plenty of festivals, and has made a name for herself. Catch her set for all the vibes. Must listen: Moral of the Story: Chapter 2 EP
PHANTOMS
Genre: Electronic
Concluding our list of top 10 artists to see at Voodoo Music + Arts Experience is Phantoms. The LA-duo rose in notoriety after their funny friendship with Dillon Francis was showcased on Snapchat. The two blend a mixture between electronic and pop, incorporating distinct synths and samples that will make sure you remember their set. Must listen: Disconnect
Temples
Genre: Indie Rock
With their third, brilliantly crafted and ingeniously intricate album British band Temples have found new ground and a deeper, darker creative well. Hot Motion is a cohesive album in a time of stand-alone singles. Temples have created an aural tapestry for dark days; an inviting and warm sanctuary away from the daily churn of information overload. It's an album of complexity, crafted for repeat listening. Must Listen: The entire Hot Motion album
---
Featured image via the festival.