There are plenty of delicious seafood dishes to be had in New Orleans. Our easy access to fresh seafood gives us plenty of delicious options to choose from, though sometimes it can be difficult to choose where to go!
Check out our list of seafood dishes throughout New Orleans that you can enjoy for those partaking in Lent.
Breakfast, Brunch, & Lunch
Crab Scramble from Bearcat Cafe
2521 Jena St | Breezy daytime cafe with an eclectic comfort food menu, plus artisanal coffee & bottled teas. Louisiana blue crab, soft eggs, and potatoes.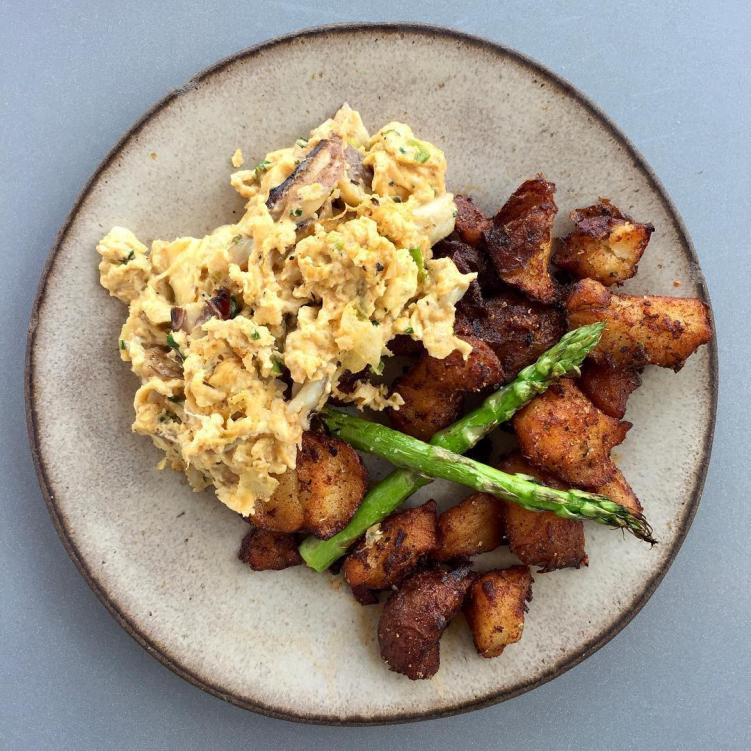 Crawfish Etouffe Empanadas from Empanola
7321 Freret St | Inspired by New Orleans stimulating cuisine and love for cooking, Empanola serves delicious fusions of the classic stuffed pastry. Louisiana crawfish, onions, pepper, and celery.
Crawfish & Grits Benedict from Ruby Slipper Cafe (featured image)
Multiple locations around the city | Ruby Slipper Cafe brings the unique flavors and hospitality of New Orleans to our all-day brunch and eye-opening cocktails. Fried grit cake topped with poached eggs and Louisiana crawfish cream sauce & chives.
Eggs 9th from Russell's Marina Grill
8555 Pontchartrain Blvd | Homegrown daytime diner with a large menu and breakfast all day. Two lump crab cakes, poached eggs topped with shrimp hollandaise sauce.
Creole Slammer from Slim Goodies Diner
3322 Magazine St | Hangover food found here at this American-Creole style breakfast & Lunch diner. Only open 7am-3pm. Hash browns, chili, bacon, cheese, and two eggs.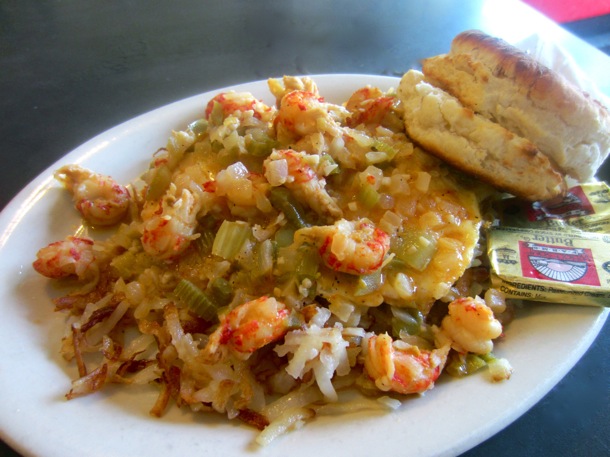 Dinner
Canebrake BBQ Shrimp from Bevi Seafood Co
236 N Carrollton Ave | In 2016, Justin LeBlanc of Bevi Seafood Co. won the New Orleans Rising Star by StarChefs award for his Canebrake BBQ Shrimp. Head-on Gulf Shrimp smothered in Canebrake beer sauce with toasted Leidenheimer bread. Crawfish also found here.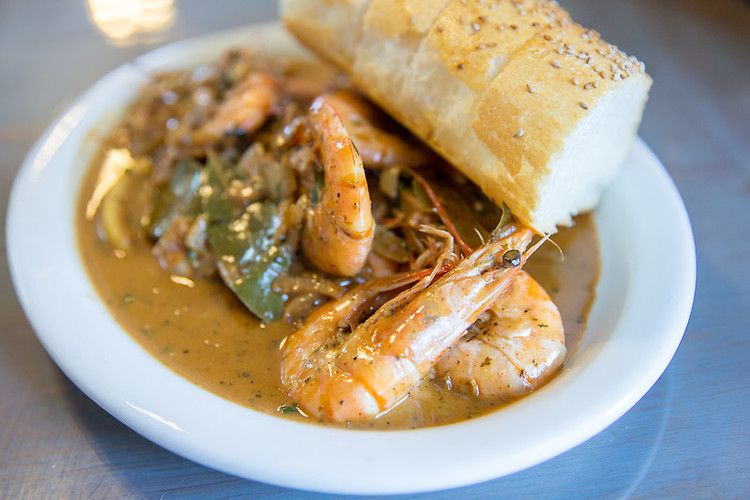 Son of a Saint Special from Clesi's
4323 Bienville St | Clesi's is a traditional family run Mid-City, New Orleans Restaurant & Catering company designed to make you feel at home while enjoying the taste of New Orleans. With every order of the Son of a Saint Special, a portion of the proceeds go directly to Son of a Saint, an organization that enhances the lives of fatherless boys through mentorship. Fried Catfish over a bed of Pasta with Crawfish au Gratin Sauce.
Giant Seafood Platter from Deanie's
Searching for fried fish? Look no further, Deanie's has you covered with the 7 inch tall pile of fried seafood. 8 shrimp, 15 strips of catfish, 12 oysters and six crawfish balls, two soft-shell crabs — all served atop french fries and a side of coleslaw.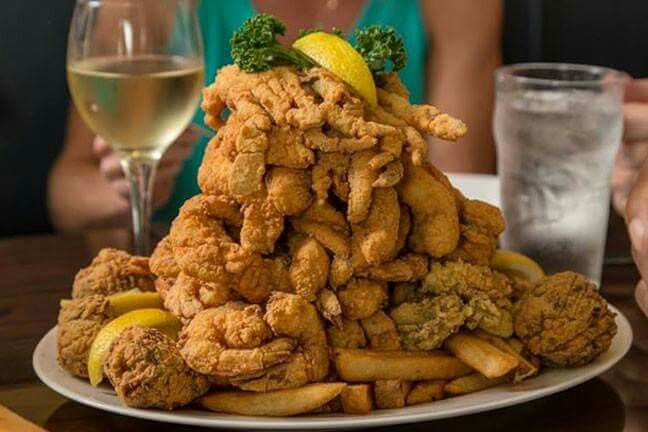 CREOLE REDFISH COURT-BOUILLON from gris-gris
1800 Magazine St | Gris-Gris is a River Beats favorite. Though we haven't tried this dish, it has received rave reviews for those that can get around the fact that you're eating a whole fish. Chef Eric Cook has poured his heart and soul into building this menu with elevated Southern and Creole classics. Whole Creole-Fried Redfish, Rich Seafood Tomato Sauce with Popcorn Rice and Charred Lemon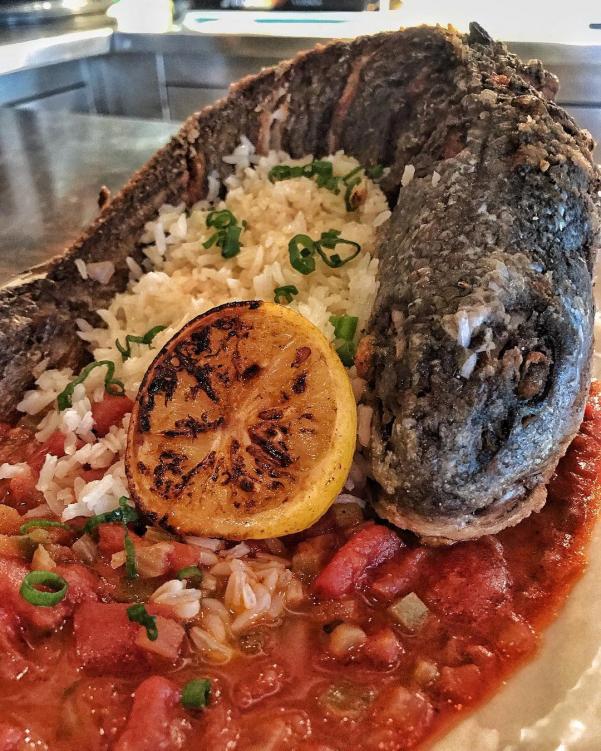 Mardi Gras Mambo from Heard Dat Kitchen
2520 Felicity St | Located in New Orleans,Louisiana Heard Dat Kitchen is a testament of fine Southern dining from the esteemed Chef Jeff. Fried fish topped with cheese, crawdat sauce, served with mac & cheese, peas, and potato salad.
Fried Catfish from High Hat Cafe
Southern Neighborhood Restaurant, located in the Freret-Uptown Area in New Orleans. Known for their crispy, thin-fried catfish. Pond-Raised U.S. Catfish served with Slaw, Fries, Hush Puppies & House Pickles.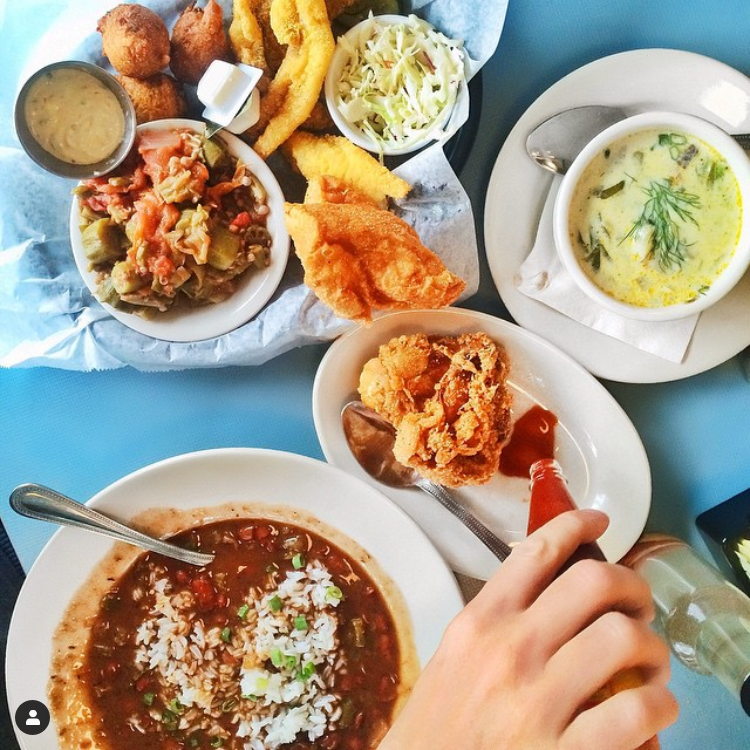 Scallops from Sofia
516 Julia St | Sofia is an ode to Sophia Loren, with art and design elements that personify Loren's natural femininity and iconic beauty serving Italian-inspired dishes. Scallops, leek butter, roasted mushrooms, speck, frisée, anchovy vinaigrette
View this post on Instagram
Ahi Tuna Tacos from Superior Grill
3636 St. Charles St | Made-from-scratch Tex-Mex fare in a boisterous spot with patio dining & St. Charles Avenue views. Fresh tuna, avocado, mango, sesame oil, and spicy aioli in a crispy wonton shell.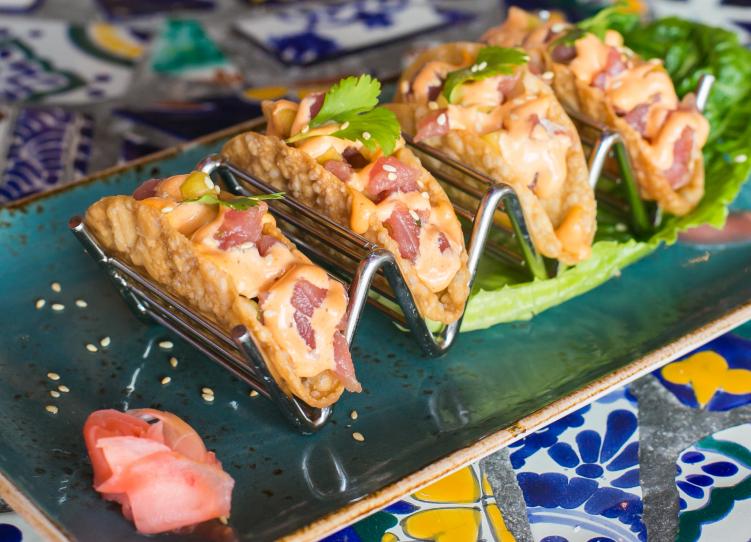 Oven Roasted Salmon from The Munch Factory
6514 Congress Dr. | Neighborhood eatery offering traditional Creole dishes in a warm & casual atmosphere. Salmon in a citrus butter sauce over stone-ground grits and asparagus
Spicy Gulf Shrimp Pasta from The Tasting Room
Polished, old-world wine & cocktail bar with fashionable decor serving premium bottles & inventive bar bites.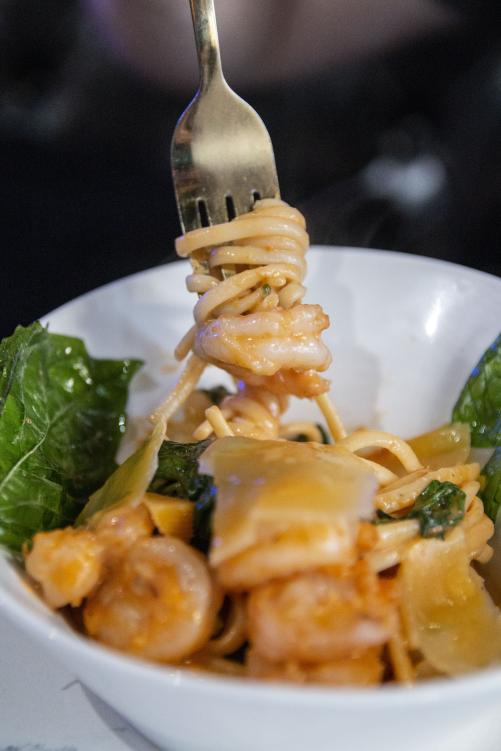 Featured image via Ruby Slipper Cafe.