Mardi Gras Wine Dinners and Prix-Fixe menus are all the rage these days with smaller events, and Copper Vine is joining in on the fun. The elevated wine bar and restaurant experience recently announced their Mardi Gras Wine Dinner series called Carnival Around the World.
Curated by Executive Chef Amy Mehrtens and Sommelier Lydia Kurkoski, you can expect a delicious 5-course meal with cuisine and wine pairings inspired by countries around the world that share our celebration of Carnival. This includes Spain, Germany, Greece, Brazil, and Portugal.
There will be three separate opportunities to Carnival Around the World starting Wednesday, February 10 at 6:30pm (dinner); Thursday, February 11 at 6:30pm (dinner); and Friday, February 12 at noon (jazz luncheon). Ticket price is $125 per person, and 10% of sales will be donated to Arc of Greater New Orleans to support their in-house programs for individuals with intellectual disabilities, which includes the Mardi Gras Bead Recycling Center.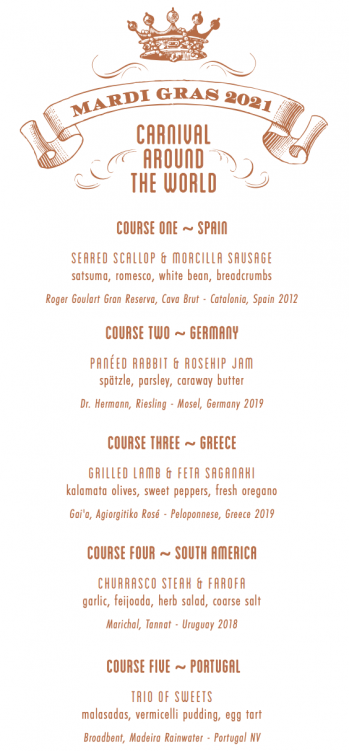 Sommelier Lydia Kurkoski says the inspiration behind the menu was unity:
"We wanted to take advantage of the opportunity the current times provide—a step back. At the heart of what we enjoy most about Mardi Gras, and what we all have missed out on this past year, is unity and togetherness. While we
can't revel en masse this year, we can recreate that feeling of togetherness through intimate shared meals that celebrate the food and wine traditions of Carnival revelers around the world."
Featured image via Randy Schmidt.