Freewater and Winter Circle Productions have joined forces to give New Orleans something special this Saturday: an old-school throw-down block party. In a city that's used to only seeing music during the summer at venues, it's a refreshing change of pace to have the opportunity to do something different for the inaugural Block Party event.
This Saturday at Mardi Gras World, the Freewater Block Party kicks the music off at 2pm. Enjoy performances from some diverse names in the trap and rap game, including Graves, Rico Nasty, DaBaby, RL Grime, and What So Not. Local support is rounded out by TVBOO, Mhadi G, and Trigem.
WCP officially announced the schedule earlier this week, which you can check out below. There are two stages: the Bung Stage and the Splash Stage. The Bung Stage is located in the Ballroom right next to the river; those that have been to BUKU will be familiar with the setup there. The Splash Stage will be outside along the river.
And for those wondering, yes, this event is rain or shine despite having an outdoor stage. Hopefully none of those random NOLA showers hit!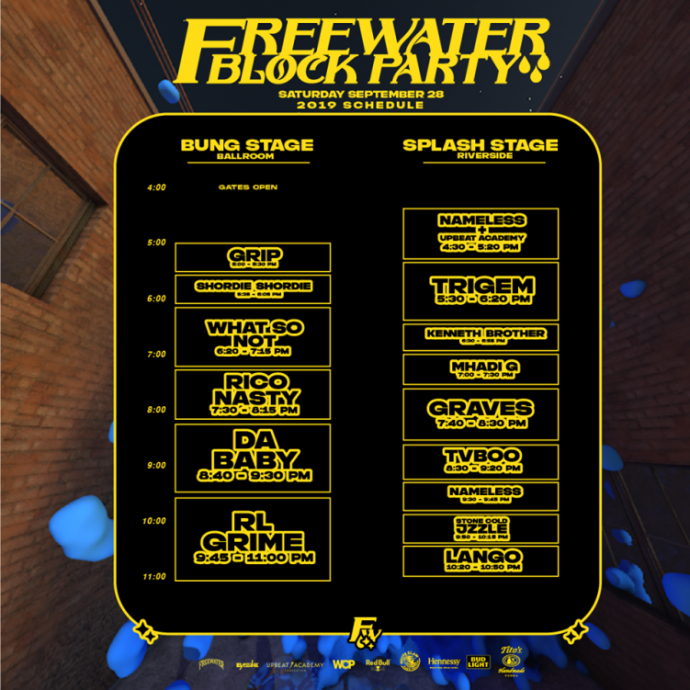 Joining the Block Party is NOLA-based skate company Humidity. Their team will be on-site to "showcase what the New Orleans skate scene is all about." Stop by their area on the grounds to see custom build outs and some of the best skating the city has to offer! In addition, Sneaker Politics' "Playhouse" also plans to join in on the fun. The playhouse will feature "fun, interactive inflatables, outdoor games, and a celeb dunk tank."
Freewater is a multimedia company and creative agency based out of New Orleans. They are known for their integration of art with the rap, hip-hop, and street culture world through various forms of multimedia.
Winter Circle Productions is the promotion and production house between NOLA's favorite festival: BUKU. They are the people behind the dance music scene and culture in the city.