For the entire month of August, expand your taste buds to some of the best New Orleans has to offer and be a tourist in your own city!
We know August is one of the most unbearable months. The days feel long, it is outrageously hot and humid outside, and many people don't want to leave the comforts of their own home. That's where the Coolinary Series comes in. With over 100 local + homegrown restaurants to choose from, the options are endless.
Each restaurant has different offerings, whether it's brunch, lunch, or dinner. Those that offer lunch have a smaller, prix-fixe option (around $20) and full three-course dinner meals (around $40).
On the main website, filter through the various cuisines, neighborhoods, and mealtime to find exactly what you're looking for. Many restaurants recommend making a reservation, which you can also do directly on the site.
This past weekend, River Beats New Orleans experienced the French Creole restaurant Broussard's, thanks to Coolinary. Coolinary comes at the same time as the restaurant's 98th birthday so, in honor of that, their 3-course dinner menu is only $19.20. Menu below.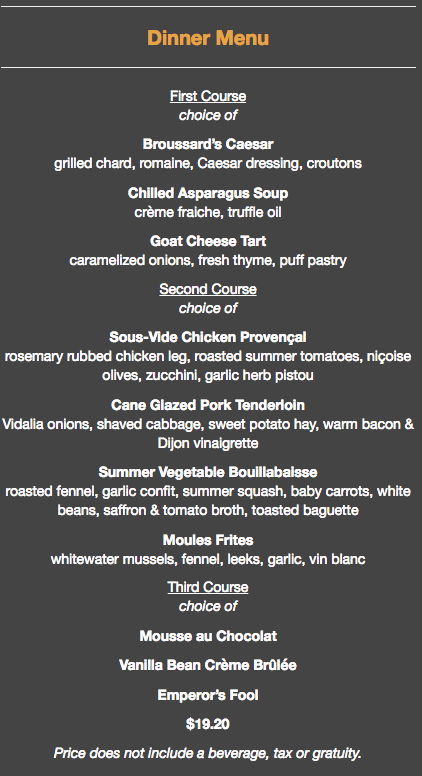 Without Coolinary, we definitely wouldn't have branched out to try something new. But we are glad we did! Next up on the list is crab cake alfredo from Pascal's Manale. 
Featured image by Katie Sikora