Those interested in working with artists Nicole Salgar should email laurajeanhyde@me.com or call at 703-869-4538!
---
Almost overnight New Orleans has become a hotspot for colorful and talented murals. Last year we highlighted how the city dropped the overall costs of the mural permits to below $100. This drastic change has led to the vitalization of ugly buildings both commercially and residentially throughout the city.
There are currently over 140 public murals throughout the city. Along with the public murals, residents and creatives have flourished in the private market. These murals can be found indoors and out, in heavily trafficked and out-of-the-way locations.
Most of them are promoting businesses, protesting issues, honoring past heroes, or helping shine the light on all sorts of social awareness initiatives.
As more and more continue to pop up, the real question becomes….do you have an available space to create something special? One artist sure hopes you do.
Miami Artist Nicole Salgar is headed to New Orleans and is in need of a space to help bring awareness to mental health issues plaguing our country.
"Lauren "Izzy" Irizarry was one of the most generous and kind people you could have in your life. New Orleans was Laurens's favorite city, and we hope to honor her with this mural project. She felt connected to the celebration of the light and dark dance of life that town offers, the culture, food, and of course the music. Lauren LOVED music, She lived for live music and never missed an opportunity to go to a show. She gave the best hugs. She craved human interaction and I believe this year, like so many, took a toll on her. She was warm, funny, and all Rock n Roll soul. She took her life in July in a dark moment. She'll be loved and missed by all who knew her. Life will go on, but it will never be the same without her."
The message for this NOLA mural will continue to focus on mental health awareness. Over $25,000 (a testament to the person she was to her friends) was raised to create murals in Brooklyn as well as one in NOLA, Lauren's favorite city next to NY.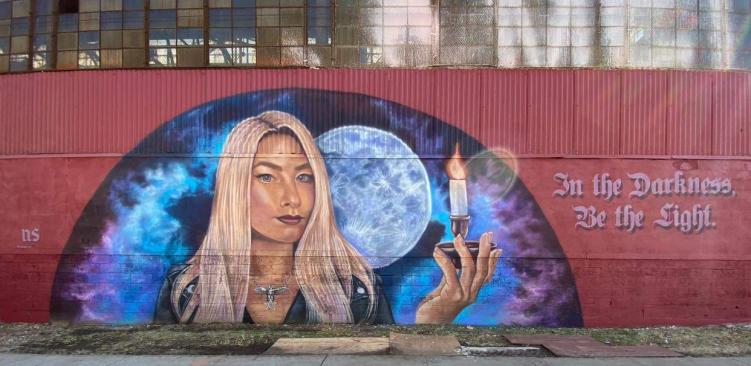 Salgar is planning to take two weeks to get this project finished. The money has been raised for this project, so no funds are needed from the potential resident interested in helping out. With over 20,000 followers on Instagram tunning in to see what new designs she creates, Salgar has filled their airspace with colorful pieces in this same style and size.
"We have had the pleasure of working directly with Fortune 500 companies, homeowners, small business owners, public art programs, non-profit organizations, and all shades in-between. Our goal is to create work that not only enhances your brand's image but gives you a quality piece that will increase your brand's longer visibility in an authentic way." – Nicole Salgar
Dive in below to see some of her recent work, including a video that shows her before to after process.
Nicole has put out some notes about what your location of the mural should have. You can read them below. Those interested in working with Nicole Salgar should email laurajeanhyde@me.com or call at 703-869-4538!
IDEAL MURAL WALL OPTIONS:
Exterior wall with good visibility to the general public
10x10ft or bigger
Smooth Surface wall (brick is ok) no textured stucco, unfortunately, it's too difficult for portraits
Preferably no windows or doors throughout the wall
Easy Access to the wall (no light poles, the area looks safe to operate on), level ground, no telephone poles.