On Saturday, June 20th, Preservation Hall will host 'ROUND MIDNIGHT PRESERVES, a benefit concert inspired by the famed concert series "Midnight Preserves."
This year's 'ROUND MIDNIGHT PRESERVES will feature unseen archived collaborations with the Preservation Hall Jazz Band as well as new performances from special guests and collaborators including Dave Grohl, Elvis Costello, Irma Thomas, Dave Matthews, Beck, Jon Batiste, Jim James, PJ Morton, Nathaniel Rateliff, and others.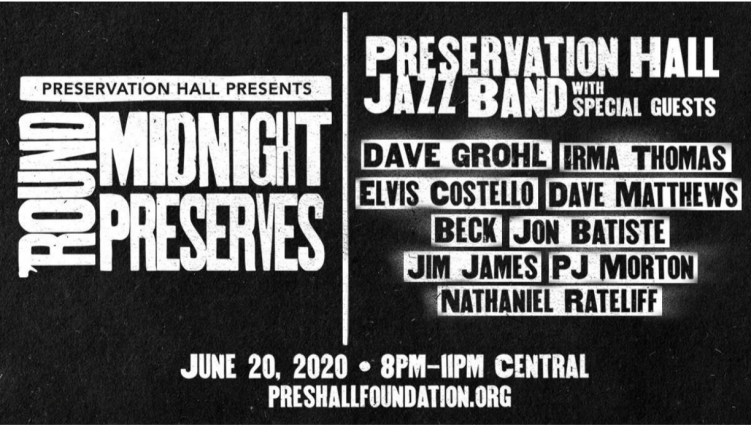 Since March, Preservation Hall has been closed and the Collective of 60+ musicians are without work and without income. Since its sudden closure, The Preservation Hall Foundation has been hard at work. In April they launched the Legacy Emergency Relief Fund to provide grants to the Hall's Musical Collective. Soon thereafter, Spotify, in its $10-million dollar matching effort, selected the Legacy Emergency Relief Fund as one of its COVID-19 Music Relief Partners. This addition was a huge boost in raising funds on a global scale for the foundation.
This weekends 'ROUND MIDNIGHT PRESERVES concert is free. Donations will be encouraged during the live stream and all money raised will support the relief efforts of the Preservation Hall Foundation. Spotify will match donations dollar-for-dollar up to a collective total of $10 Million through its COVID-19 Music Relief. Additionally, a live auction will be held to win four "Big Shot" seats to a show at Preservation Hall in New Orleans, along with 4 tickets to one of the following artists' shows in the US: Dave Matthews Band, Foo Fighters, Elvis Costello, Beck, Jim James/My Morning Jacket, Nathaniel Rateliff and the Night Sweats, and Jon Batiste.
The event will be live-streamed on Preservation Hall Foundation's website, YouTube, Facebook, and Twitch accounts from 8 pm – 11 pm CT.
About 'ROUND MIDNIGHT PRESERVES
The event was first launched in 2012 by Preservation Hall Creative Director Ben Jaffe and has been the most important fundraiser for the Preservation Hall Foundation since it's inception. The event is typically held every year during the New Orleans Jazz and Heritage Festival. With the 2020 festival canceled due to COVID, this year's show will be a live-streamed event hosted by Ben Jaffe and directed by longtime 'Hall collaborator and dear friend Danny Clinch.
"Every year we look forward to Midnight Preserves as a way to connect with our fans and old
friends. Just about everyone I'm friends with today I've met through music or a musical
collaboration that came out of Midnight Preserves. It's a blessing to have met so many
incredible humans and to have shared our stage and their stage," says Jaffe.
---