Drop the leftovers on Sunday for Mister Mao's eccentric fusion of Indian-Mexican-Asian fare.
The Uptown New Orleans restaurant is inviting guests to a festive Thanksgiving Brunch on November 28 from 10 AM – 2 PM.
The chic Tchoupitoulas Street dive Mister Mao opened back in July bringing radical new flavors to the edges of Uptown. The wildly original menu was born from a "tropical roadhouse fever dream" according to Chef Sophina Uong and husband/partner William "Wildcat" Greenwell.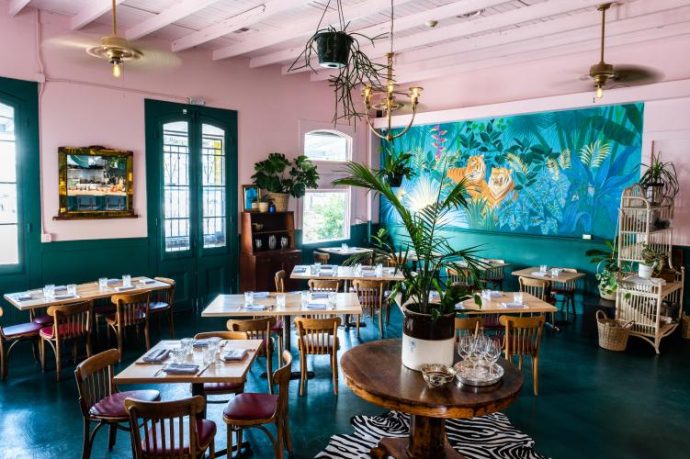 Although pushcart service was halted due to precautionary measures, the pandemic has not slowed down service at Mister Mao. The hype continues, respectively so, with nightly changes to the menu in sections like "Things That Bring Us Joy & Hellfire Heartburn."
The Thanksgiving Brunch menu stays true to Mister Mao's self-titled "inauthentic" cuisine with menu items like masala biscuits and cornbread + satsuma hot pepper jelly. The Kashmiri Hot Chicken Benedict is sure to give the leftover turkey in the fridge a run for its money. Check out some featured menu items below.
Mister Mao Thanksgiving Brunch
Morning Libations
Thunderclap
mezcal, coffee Science espresso, baharat, cocoa, orange
Hellfire Mary
vodka, spicy tomato juice, sumac pickles
Sweater Weather
ruche chinato, aperol, cava, lemon
Tantalizing à la carte
Jelly Doughnuts
cranberry jelly, orange flower water, cardamom sugar
Deviled Crab Claws
ras el hangout, chipotle Morita, leeks
Lechoń Kawali
crispy pork belly, raw garlic, citrus Toyomansi sauce
Kashmiri Hot Chicken Benedict
Hawaiian pineapple rolls, Vidalia onion milk gravy, sunny eggs
Side Pieces
POHA | potatoes flattened rice, turmeric, chiles, peanuts
See the full Mister Mao Thanksgiving Brunch menu.