Off the beaten path of Chartres, just steps away from Jackson Square, is where you'll find Sylvain. The self-proclaimed "unruly Southern bistro" is both a local and tourist favorite, catering to all with twists on classic Southern fare, plus delicious cocktails. With a laid-back atmosphere, great service, and beautiful outdoor courtyard area, Sylvain seamlessly merges both restaurant and bar, welcoming all who meander through their "alley" with open arms.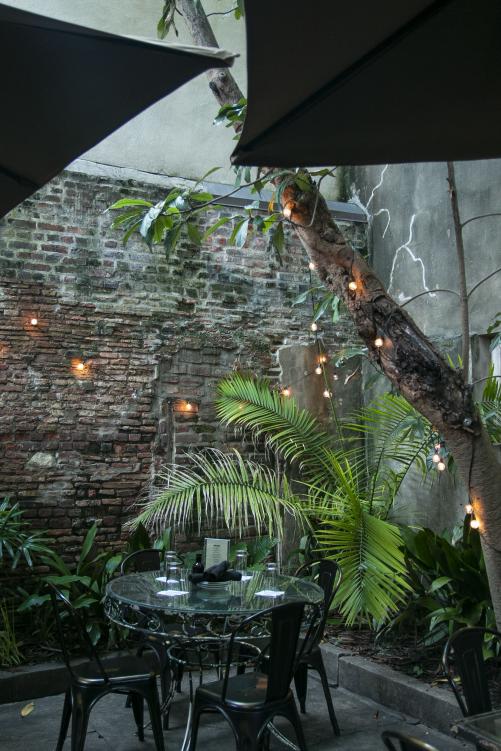 Sylvain is named for the first opera to ever take place in New Orleans. According to the restaurant's website, it was a "raucous and comedic one" and they aim "to recreate such raucous fun each and every night." The building itself is just as old as the city, having been built in the late 1700's. There is even one of the oldest brick walls in the city in their back courtyard area (pictured here), and sometimes you may see a historical walking tour peep their heads back to check it out.
Serving brunch on weekends and dinner every day, Sylvain is a must-visit when you want a true dining experience representative of New Orleans. Learn more about their offerings below.
Happy Hour
Sylvain's Happy Hour is 4-6pm, Monday through Friday, and includes discounted rates on select cocktails – like the Champagne Cocktail made with sparkling wine, lavender, and lemon twist (pictured below).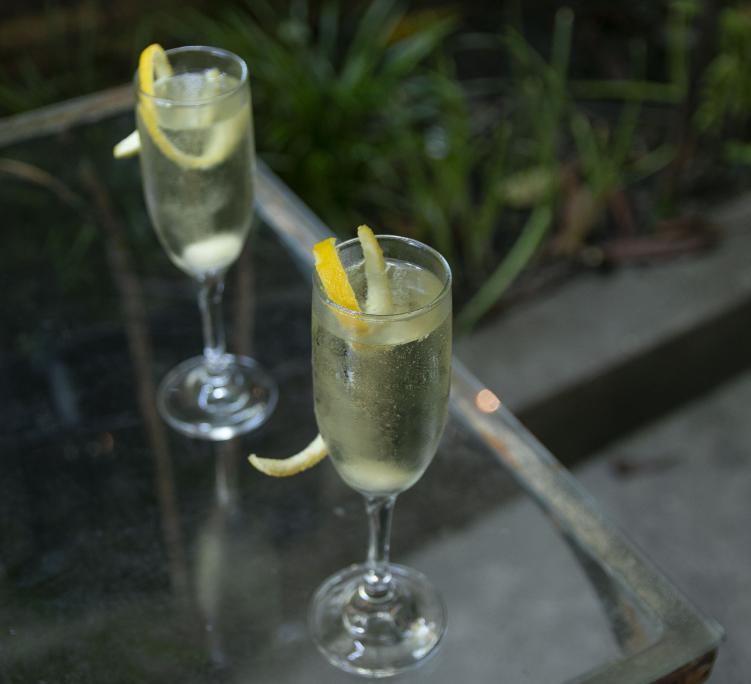 The dishes –
Dinner
Sylvain's small but mighty dinner menu is available every day from 4pm-10:30pm. With a combination of small plates and larger entrees, mixing and matching with the intent to share is a great idea here.
For a refreshing Summer dish, the Watermelon Salad with marinated tomato and watermelon, cucumber, pork cracklin, and cured egg yolk. If something a bit more savory is tantalizing your tastebuds, Crispy Pork Belly is a melt-in-your-mouth must, served with Filipino-style lechon sauce and pickled local veggies. Also, yes: you should get the Cast Iron Cornbread.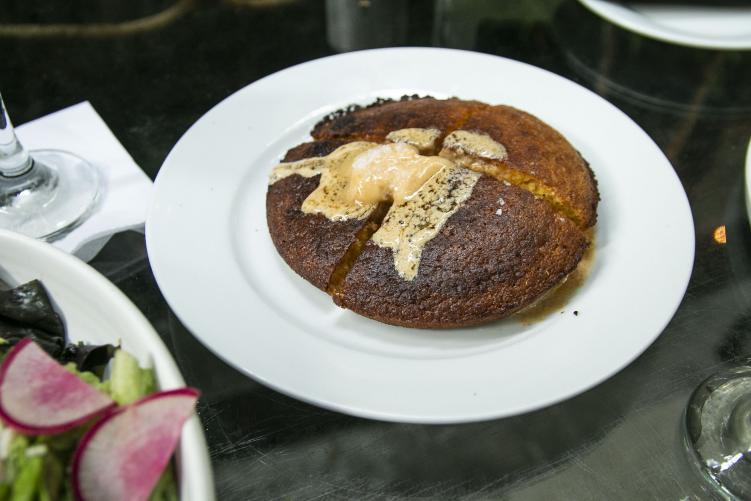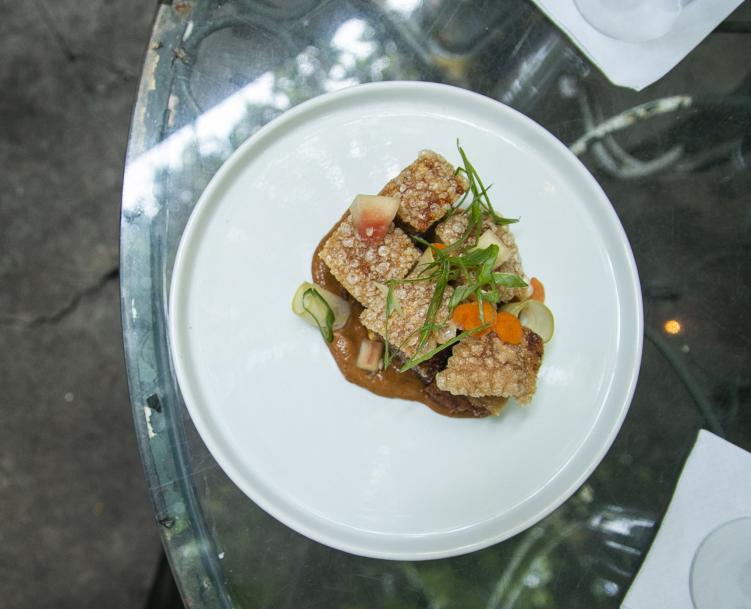 For dinner shareables (or for you to enjoy all by yourself), the Chicken Sandwich, Pappardelle Bolognese, and Tamari & Calamansi Glazed Short Rib all have high compliments from Sylvain visitors. For a more low-key dining experience, the Chicken Sandwich is one of our favorites in the city – made with house hot sauce, dill pickles, and french fries. Get the sandwich "dressed" with the fixins plus aioli. Feeling pasta? Sylvain makes their pasta for the Pappardelle Bolognese in-house. Or, go all in for the Tamari & Calamansi Glazed Short Rib, a delectably cooked short rib with bone marrow soubise, marinated kale, and rice cracker.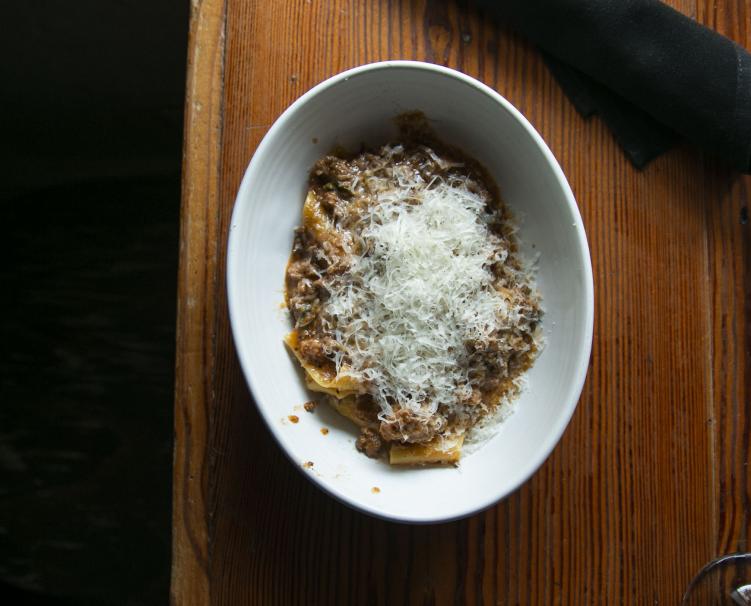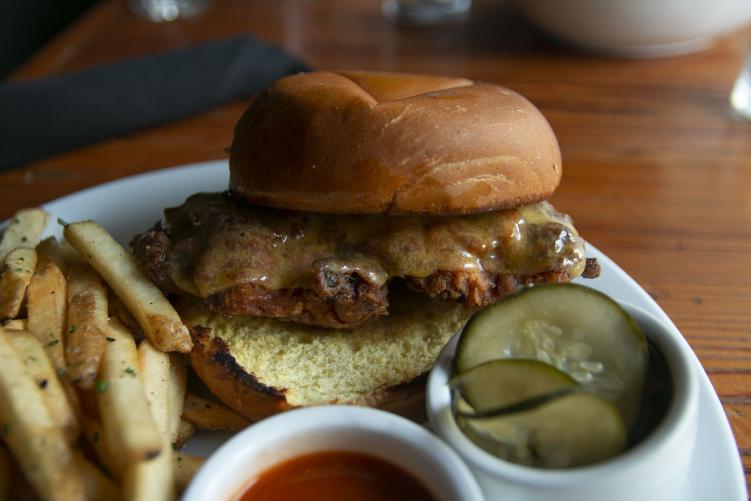 The Dishes –
Brunch
Sylvain's brunch is served Friday through Sunday from 11am – 2:30pm. You can enjoy both the Marinated Beets & Sylvain Market Salad for brunch as well as dinner, or pick a more breakfast-oriented dish like Biscuits & Gravy, French Toast, and their Chicken & Waffle – pictured below.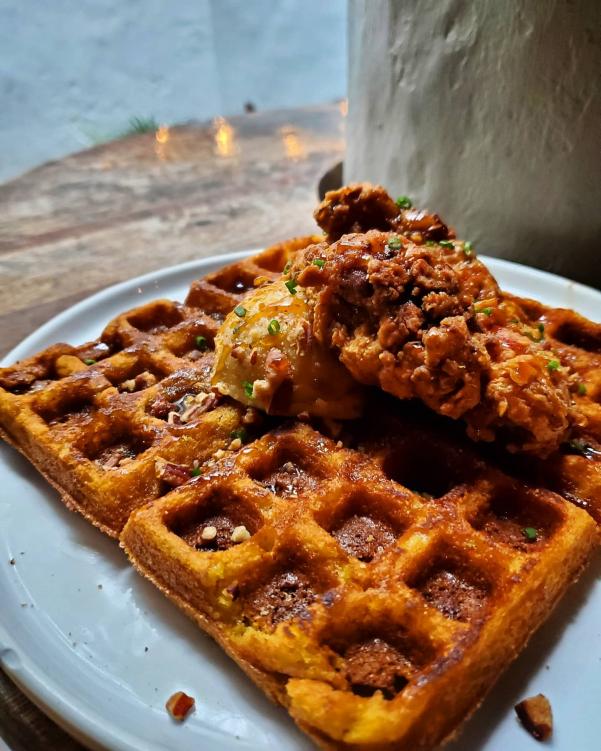 The cocktails
That hot New Orleans summer heat is no joke, and frozens are the way to cool down. At Sylvain, they're currently offering 50% off frozen drinks to anyone who is fully vaccinated. All you have to do is show a picture of your card when you order.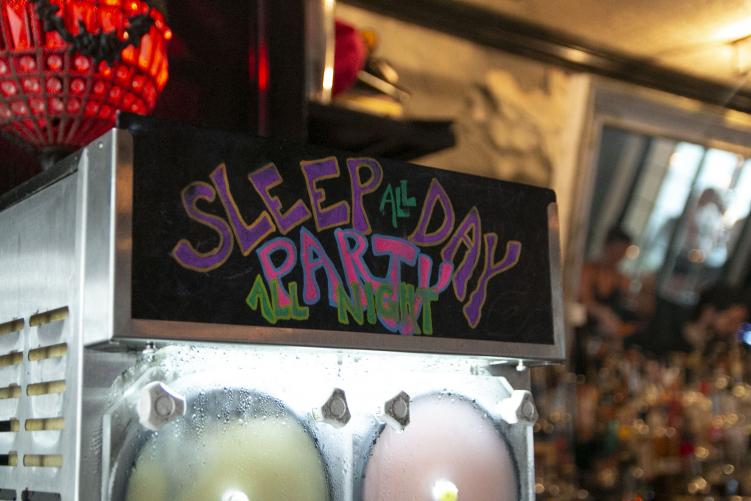 Sylvain is participating in Restaurant Week through the rest of this week, so check out their prix-fixe menu now through the 27th for only $45 per person!
Course 1: MARINATED TOMATO AND WATERMELON
Cucumber, Cilantro, Seasoned Vinegar, Cracklin', Cured Egg Yolk
COURSE 2 | ADOBO GLAZED PORK LOIN
Green Beans, Charred Eggplant Purée, Fried Garlic
COURSE 3 | SEASONAL HAND PIES
Cinnamon Sugar Glaze
+ beverages, tax and gratuity
Sylvain is located at 625 Chartres Street. Opening hours are Monday – Thursday 4 PM – 11 PM, Friday + Saturday 11 AM – 11 PM, and Sunday from 11 AM – 10 PM.
---
Images by Kelsey James.