Grab your mask and support local this week, from both the comforts of your home or from a variety of spots around the city! The Pelicans continue playing all throughout the week, restaurants throughout the Big Easy are participating in COOLinary, and lots more.
Check out our list below:
All Week Long
COOLinary | We know August is one of the most unbearable months. The days feel long, it is outrageously hot and humid outside, and many restaurants are suffering due to COVID-19. That's where the COOLinary Series comes in. Throughout the city are a handful of restaurants offering brunch, lunch, and dinner specials in partnership with COOLinary.
Shark Week at Lucy's Retired Surfers Bar & Grill | Lucy's in the CBD is hosting fun Shark Week activities all week long! Masks are required. Check out the schedule below.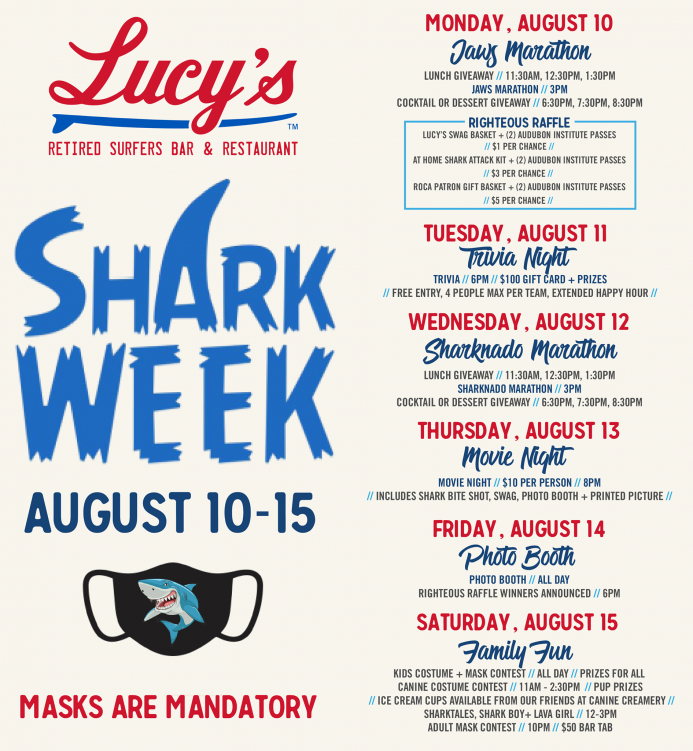 JAMNOLA | JAMNOLA, a 5,400-square-feet of pure NOLA joy, is officially open! The interactive art pop-up celebrates the iconic art, music, food, and theatrics of the city through the eyes of 20 local lead artists.
Monday, August 10
Lord of the Rings: The Two Towers at the Prytania Theatre | Prytania Theatre's Lord of the Rings marathon continues with the Two Towers. 7pm-9:30pm at at 5339 Prytania.
Nola Caye & Vending Machine Wines Dinner | NOLA Caye is hosting a 5-course wine pairing dinner with Vending Machine Winery. Tickets are $100 per person, and reservations can be made by calling 504-302-1302. Ask for Brooke or Kristen.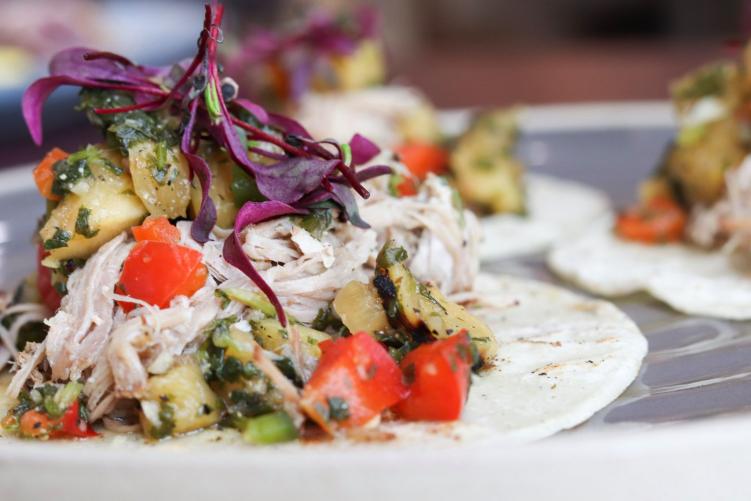 Tap Room Yoga | Join Elevate Yoga with yoga in the warehouse every Monday night from 6pm-7pm at NOLA Brewing. ALL LEVELS WELCOME. Class is donation based, with a $5 recommended donation. Beers are $1 off for attendees.
Monday Medicine ft. NOLA DJ's Otto & Tristan Dufrene | The offices of Earthbound Crew & Associates are opening back up for one night so come get those prescriptions filled. Monday Medicine will be will be live Monday 8/10 from 6pm-10pm to give you a dose of some fresh beats from otto and Tristan Dufrene. Tune in here.
Tuesday, August 11
Triple T Tuesday at Barcadia | Every Tuesday, head to 601 Tchoupitoulas for tacos, tequila, and trivia. Win gift cards and other cool prizes! Trivia kicks off at 8pm, food & drink specials all day at Barcadia.
Taco Tuesday at Ruby Slipper Cafe | Taco Tuesday: Ruby Slipper Cafe style. Every Tuesday at their 4 New Orleans restaurants, they will offer 3 Breakfast Tacos & a Morning Margarita for only $15 from 8:00 am-2:00 pm.
Wednesday, August 12
Crab Fete dinner at Ralph's on the Park | Celebrate Louisiana Blue Crab season with Crab Fete at Ralph's! Enjoy 3-courses for only $45. More details on the menu here.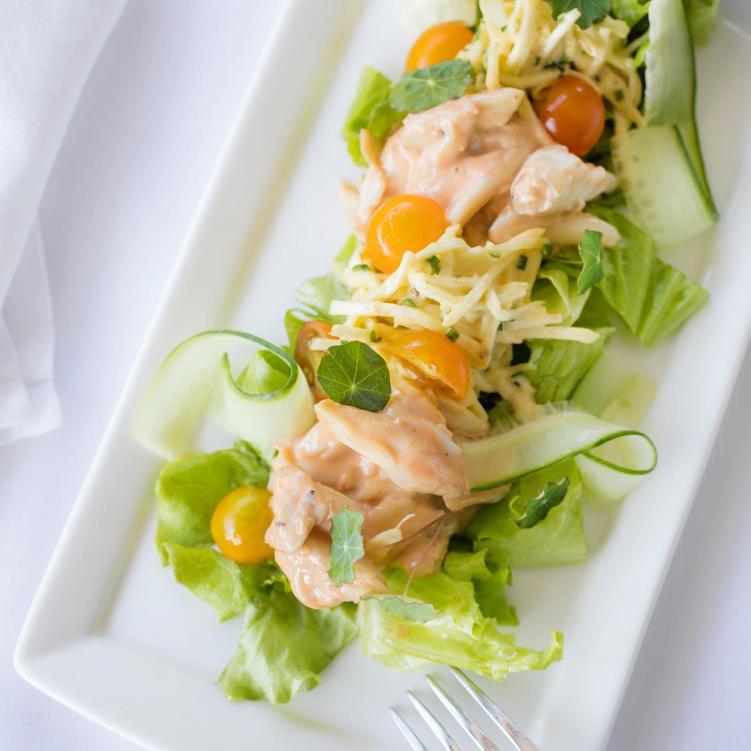 Blood Drive at Wakin' Bacon | Community blood drive event hosted by Wakin Bakin in partnership with The Blood Center, appointments required in order to regulate wait times and maintain social distancing. The Blood Center is now screening all blood donations for COVID19 Antibodies!
Don't Stand So Close to Me- Midsummer Mardi Gras Wine & Cheese Party | Join your friends and neighbors for a guided wine and cheese tasting hosted by James Beard Award nominated "Wine Guy" Dan Davis via Commander's Palace. Explore the finer points of pairing wines with cheese, drink a little too much wine, and eat a little too much cheese. August 12th Theme: Midsummer Mardi Gras. Purchase tickets here!
Twilight at Longue Vue | Enjoy a relaxing evening of live music in the gardens at Longue Vue. Feel free to bring a picnic, enjoy a walk through the garden and the music!
Thursday, August 13
Sunrise Yoga Under the Oaks | Do yoga under the Historic Oak Goves along City Park Ave with NOLA Tribe Yoga! Class is limited to 20 tickets and all attendees must sign up for class by purchasing an Eventbrite ticket prior to class arrival.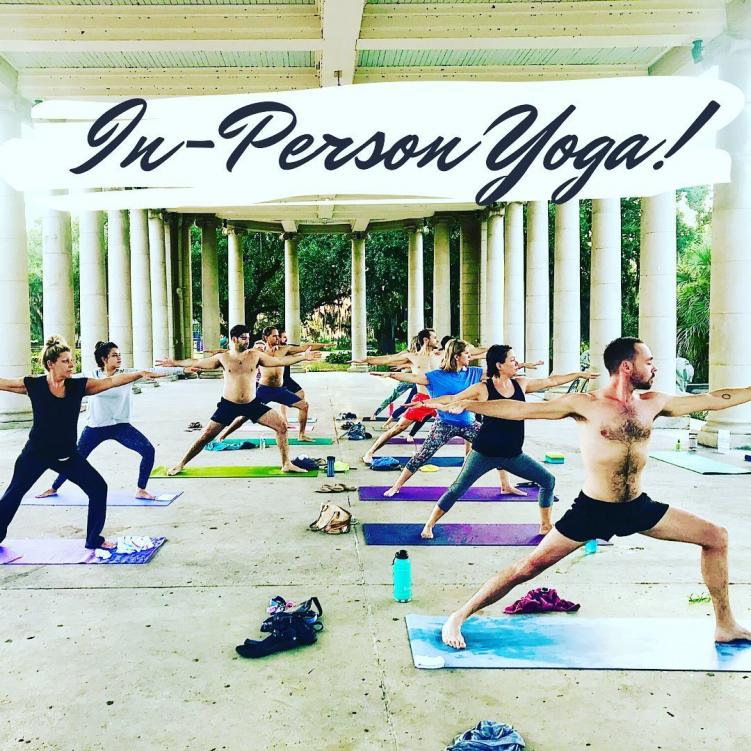 Pinot Please Wine Dinner and Tasting at Martin Wine Cellar | Head to Martin Wine Cellar in Metairie for a delicious dinner and wine tasting featuring all the Pinots! Get your tickets here!
Friday, August 14
Friday Free for All Tasting at Swirl Wine Bar & Marker | Swirl Wine & Bar's – located on Ponce de Leon Street – Friday Free for All Tastings lives on. Every Friday, they pour samples of 4-5 wines for free. Purchase your favorites!
Bub's Burger Pop Up @ Zony Mash | Bub's Burgers is popping up at Zony Mash Beer Project located on Thalia Street for to-go only burgers from 3pm-7pm.
Saturday,
The Iceman Special Livestream with Tristan Dufrene, OTTO, Mr. Ballon Hands, Captain Sasquatch | The Krewe du Void team presents CO"VOID"-19 pt. V. Support your local artists and tune into this livestream featuring some NOLA faves. Donations encouraged and accepted. Tune in on Saturday starting at 8:30pm HERE.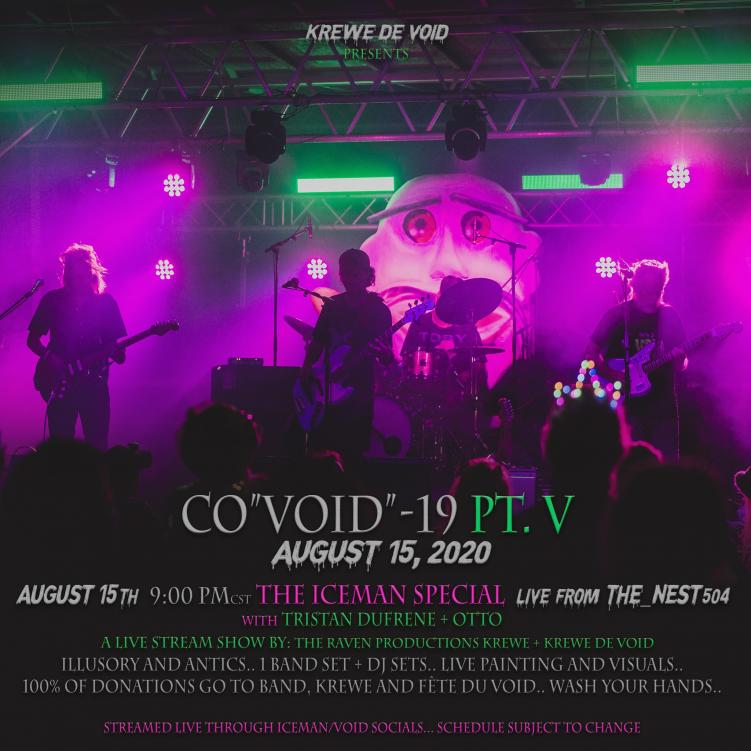 Sunday
Paradigm Plant Sale | From 8am to 10am, get A great variety of summer veggies, flowers and herbs to plant in your garden at Paradigm Garden. In addition, The Daily Beet will be there with breakfast tacos, cold-pressed juices and cold-brew coffee.
Bayou Trash Pick-Up